Beta testers
for Arctic Warfare Version 0.3
The development of the mod has been going well since the last news, and a new update to Version 0.3 will arrive soon. So, first off all, what is new in it?
In this map, the Canadian and Russian Army have captured two bases, that are split by the big Yukon river. A heavy snowstorm strikes the map, which makes it impossible for the use of vehicles. This enforces a harsh and quick CQC engagement. More details on the story and gameplay can be found
in this news
Meant to be implemented a long time ago, I now finally was able to do so.
This specialties of this weapon is lying in it's 2 shot mode, which can fire 2 projectiles before the soldier is experiencing the recoil. This way, the AN-94 is especially good for long till mid-range engagements.
A new weapon for the Russian Assault class: The AN-94 with cobra sights and the GP-30 grenade launcher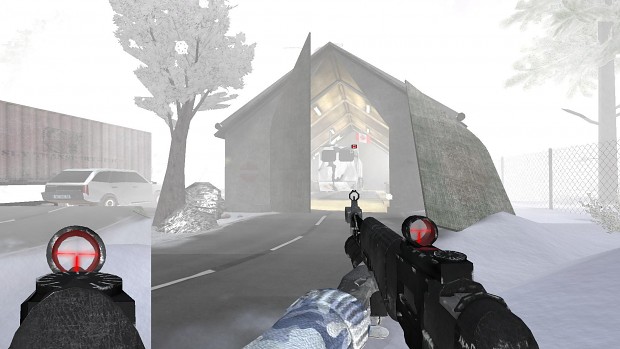 This is the same weapon as the Medics AN-94, but it features an additional grenade launcher and a Red-dot ("cobra") sight. It will give you a much higher field of view, which makes the AN-94 much more comfortable to use on mid-range engagements. The grenade launcher is the same as the one on the AK-101 from the original Bf2. (Thanks to Johnodepic for parts of the model)
Over the time since the last launch, there popped up some major bugs, such as users of the Steam version of Bf2, not being able to use the shortcuts. I have addressed this, and some other bugs in the new update.
Bug Testing
The first release of AW was kinda bug-ridden. There were some major and a lot of minor problems, which needed to be fixed with a patch. Because patches always make things a lot more complicated and are annoying for the user, I want to get rid of the most bugs pre-release. This is were I need you.
If you wanna take a look at AW, test it a bit and tell me your opinion, please write me a PM, a comment or (if you don't have an account here) an email to: chrissir@live.de. I'll then send you the files.
Within the files is a Report.txt where you can enter your opinion, the bugs you've found, and please send it back to me :)
As a dirt-poor student, I can't give you anything in exchange for this, but you will be mentioned in credits (if you want it)
Thanks for reading, see you on the betafield:
Dementium4ever