THE TRAP 2: MINDLOCK BETA RELEASE
The development of the huge puzzle-mod "The Trap 2: Mindlock" is coming to an end, and right now I give you open access to the free beta version, all 7.5 hours of gameplay that were previously only available to a couple of "the ones".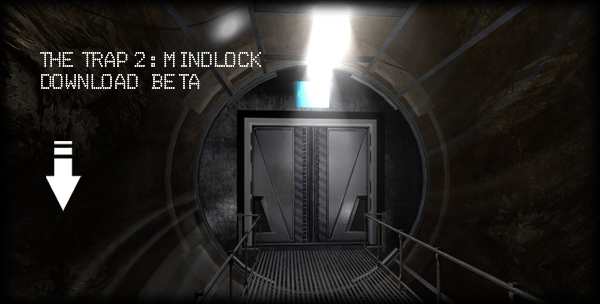 If there are any questions, ask on the store page or in a special topic in the Vk group
Looking back, you are horrified that almost 4 years have passed! When I started this mod at the end of 2013, I thought about coping until 2015. But by that time it turned out that all my design achievements could not withstand any criticism, and I had to re-do everything, after which the mod became "long-term construction". There was even a moment when I considered the option to score on the mod and did not do anything for two months. But sensible people (thank them) persuaded me to continue working, otherwise the huge and interesting work would be wasted.
And now, FAQ.
What are the main features of this mod?
- 7.5 hours of gameplay
- sinister and unique atmosphere of alien experiments
- many unusual and unexpected situations
- unique combination of action, puzzles and horror
- completely independent story without references to the world of HL
- get into the minds of captives, take complete control over them, punish them for disobedience!
- enemies appear unexpectedly, randomly, jump out from all sides and crawl on the walls!
- more than 20 types of unique devices for solving puzzles
- 9 additional missions
- a lot of emotional and spectacular scenes piercing to shivers, which will be stuck in memory for a long time
- a completely original and high-quality soundtrack
What is beta at the moment?
I tried to make this version as close to the final. This means that the vast majority of levels work globally with all the chips planned for the scenario, do not need to be recycled or added, all sound and light music is tuned, all enemies, traps and models are placed. You will not feel at such levels the difference between the beta and the final.
But, unfortunately, there are drawbacks. I want to paint them properly so that there will not be any misunderstandings.
1. The very first thing that will be especially striking is that the characters do not move their lips and behave like dummies. This is due to the fact that I was not able to cope with Faceposer. If you know a genius who spar in it despite all the glitches and hang-ups - tell me.
2. In all the mod standard models of characters, standard monsters and weapons are used. It turned out this way for two reasons. First: this mod is not about new guns and new monsters. This is a mod about puzzles, mind management and the situation in which the main character got into. Here there is a strong plot with allusions to the real events in the world. I think this is all much more important than "new cannons". Secondly, the creation of new monsters and weapons from scratch requires a colossal effort of a team of several people, and it should be professionals, not amateurs. Considering the first reason, think for yourself, are the efforts worth it? I am constantly asked in PM or in the comments to replace the standard elements, but you enter my position. I understand that you really want this, and with HL2 standard models too strongly associated, but I can not do anything about it.
3. Complete absence of secret places and Easter eggs. This is due to the lack of time to develop and the missing idea. It was assumed that the player will be able to find in secret areas special capsules that will accumulate telepathic energy. They could then be used in combat. But due to the fact that all programmers with whom I tried to work, were not able to do anything, the idea had to be abandoned including the secret zones.
4. Some models are raw and come from the alpha version. For example, models of the large cargo platform, ion cannon, and some others. And one of the "models" came as much from the pre-alpha (haha!)
5. Some of the planned scenes with the participation of characters for the reasons mentioned above turned out to be unfinished: the lack of necessary people, resources, etc.
6. Half of the voice acting remained rough. Ready only a couple of roles (they are voiced by professional actors) and voice AI (recorded using a speech generator, I think it sounds very cool). All the rest I wrote down myself with the help of a killed microphone and my not outstanding voice with speech defects.
7. The armor generator is not made. I wanted to copy it from the pharmacy, but it has a different operating principle, and therefore a programmer is needed.
8. There are no achievements. This feature should only be in the final version, this is my principled position.
9. English voice acting is not ready and will be released later. But in this game translated all the inscriptions and screen messages.
10. Subtitles in any language is not working.
Then tell me what you managed to do?
OK! I managed to do the following:
1. Achieve maximum emotion from the playing. Beta testers were delighted! And the key points, which I most counted on, worked as it should.
2. Music. The soundtrack is completely ready and it's awesome! I hope to release it on some label. If there will be an opportunity to provide it to you completely and in a normal capacity I will inform you.
3. Sound. Also completely ready, all the surroundings and effects sound right.
4. Puzzle and shooting. Here, too, everything is as it should be, everything is tested and builded up. But if there are any bugs or logical errors, you write in the subject with technical support.
5. Most cutscenes (except for the moments where the characters are acting) are also completed.
6. Additional missions, except for the moments with the characters.
How can I donate for development?
Unfortunately, I can not insert a link here, so you'd better contact me personally.
I really want to help with the development, what I must do?
One desire is not enough. First, understand one thing: you have to WORK. I do not tolerate empty promises and extra chatter. You may need to leave work in other projects, solve your problems with the computer and microphone and finally hand over you high-school sessions before contacting. Secondly, you should have a strong motivation to develop this mod. After you have decided, you can collect a portfolio and write me a personal message on Steam.
List of current vacancies:
- Programmer at Source
- 3d modeler
- a specialist in Faceposer
- an actor for voicing characters with a good microphone and perfect English (NOTE: it is the ACTOR, not the reader of the text!)
When will the full version be released?
In December of 2017.
How much will the mod cost?
The mod will cost your talents and efforts to finish it)) I did everything I could. So, your move.
In general, I hope you will get a great pleasure from the beta, experience the sensations that I myself and my beta testers experience. Talk about The Trap 2: Mindlock friends, write what you think, do reviews, in general, do with it what you want, only do not steal resources))
If there are still any questions, ask on the store page or in a special topic in the Vk group
Good game!