ASSAULT CLASS
The Assault class is the most versatile class for the situations you are likely to encounter. Being the only class featuring the Jetpack, the Assault class is extremely agile. Add to this his assault rifle, sub-machine gun and other quick-repeating weapons, the Assault class is best described as death from above.
For sticky situations, the Assault class carries 4 Frag grenades, which are guaranteed to get the job done.
PERKS:
Jetpacks / FRAG Grenade / Night Vision
WEAPONRY:
FNC-30 Assault Rifle / RNC-44 SMG / CV-10 Pistol
SUPPORT CLASS
The Support class is the survivor of the group, able to take more punishment before going down and dishing it out in turn. Equipped with both the TREK-79 long-range suppressive machine gun and the armor-piercing rounds of his TREK-12 combat shotgun, the Support will faithfully live up to his name with cover fire. If that's not enough, the Support class also boasts the ability to heal other teammates on the battlefield.
When the chips are down and you find yourself outnumbered, the Support has one last trick up his sleeve, the Shockwave grenade. Whilst not very damaging when compared to the Frag grenade of the Assault class, the Shockwave has the added effect of sending foes flying back.
PERKS:
Medic Ability / Shockwave Grenade / < vision not specified at this time >
WEAPONRY:
TREK-79 LMG / TREK-12 Combat Shotgun / M-40 Magnum
SNIPER CLASS
The Sniper is the traditional lone wolf. Able to conduct operations undetected from behind the scenes, you usually won't know he's got you in his sights until it's already too late.
Equipped with a sniper rifle, the sniper is able to dispatch enemies in a single shot to the head. When a sniper is discovered they have the additional ability of being able to literally disappear.
The cloaking device is the key to the Sniper's recon and stealthy operations, allowing him to get to the next sniper tower safely, or sneak right under the enemy's nose and bring down his security systems without ever showing himself.
If a Sniper finds himself in a bind, he carries a compliment of Light Grenades, which he can throw to cause a bright flash of light and sound, momentarily disorienting his opponent allowing him to either finish them off with his silenced SMG or make good his escape.
PERKS:
Cloak Device / Light Grenade / Thermal Vision
WEAPONRY:
TREK TRG-22 Sniper Rifle / MX-4 Silenced SMG / CV-10 Pistol ( silenced )
TECH CLASS
Skilled in all things mechanical and electrical, the Tech class is often the key to solving many problems.
The Tech is adept at holding positions with his Portable Turret, or spearheading a breakthrough with his EMP grenades. EMP grenades are perhaps the most versatile grenades available. Although they do no damage to living creatures, they can play havoc on all things electrical. A well placed EMP grenade will shutdown keypads, enemy vehicles, turrets, and scramble infantry HUD and weapon scopes temporarily.
He also has access to the most high tech equipment on the battlefield, including the OSOR Mark 2 prototype. With this device, the Tech can interact faster with computer systems, disable enemy equipment, and breakthrough security systems that the standard OSOR kit just cannot handle.
The Portable Turret is the Tech's main damage dealing tool, which canbe deployed anywhere on the battlefield and either left to it's own devices or interfaced directly to deal with any enemies foolish enough to encroach upon your line of sight.
Equipped with the Energy Rifle, he can more than hold his own against more combative classes should the need arise.
PERKS:
Portable Turret/ EMP Grenade / X-RAY Vision.
WEAPONRY:
RNC-M9 Energy Rifle / TREK-12 Combat Shotgun / CV-10 Pistol ( silenced ).
DEMO CLASS
Demo class is a lot like Support class. But instead of healing people and laying down cover fire, they are laying down flame and burning people. Equipped with a lot of flame technology, the Demo Class will also be a great threat to the Dinosaurs (coming with Beta 3.0 as well). They can use their Flame Thrower to keep oncoming dinosaurs at bay or even throw a napalm grenade to block off dinosaur predators. Dinosaurs are afraid of heat sources and fire, so use this to your advantage with the Demo class!
PERKS:
Remote Detonator & Explosives / NAPALM Grenade / < vision not specified at this time >.
WEAPONRY:
Flame Thrower / Sub-Machine Gun / CV-10 Pistol ( silenced ).
We are still working out specific details for both the Demo and Tech class. Most of the balancing will be when all the weapons are put in-game. However, the idea as of now is to do the following ( in terms of Customizable Class Load-outs in Beta 3.0 ):
Customisable Load-outs: (circa Beta 3.0)

To survive an ever changing war across multiple fronts and several theaters, it is important to equip yourself appropriately for whatever lies ahead.
Players will be able to choose weapons from a list of several for each class, to best meet their style of play and the situation at the time. example:
Demo Class:
Primary Slot #1:
Rocket launchers, Grenade launchers, Flamethrowers.
Primary Slot #2:
Shotguns, SMGs.
For balance reasons, only one higher tier weapon (such as the flamethrower) can be taken at a time.
However, you may carry two lower tier weapons instead if you wish, such as a shotgun and an SMG.
Overtime we will introduce more options for load-out customisation.
Here is a preview to both the Grenade Launcher and the Rocket Launcher (human):
Also make sure to vote for us in the ModDB Mod Of The Year Event! Click the image below: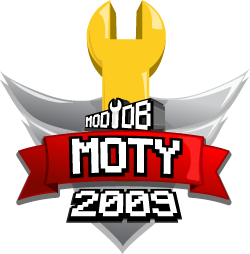 And keep on the lookout for the Revealing of the Altair classes next week! Until next time! Keep fragging and happy holidays!