I have just uploaded a third beta version of the mod. Here are a few ingame shots:
This new version was mostly focused around two features: the inn system and bug fixes. For your information, here is a screenshot of the bugs list.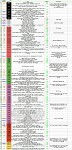 This version contains the main factions as "complete" but a lot of the surroundungs environnement is still unfinished.
Please comment on what you think is good and what you believe need improvement, but avoid the "their are still LOTR stuff" comment.Here is the download link:

Special thanks to Kooskia for his help in testing the mod.