The mod is growing by the minute, and during the last week a lot of interesting stuff has been added! This time, you can download the mod right here on ModDB as well, so go ahead and check it out. As always, any bugs should be reported, so I can solve them immediately. Keep an eye out for more updates and possibly patches too!
I've added more than a third to the landmass of Dibella's Watch, and although this is still uncolonized and untouched for the most part, I will probably fill it all very soon. you're welcome to visit The Deadlands out west and see where the action will take place, but right now, there's nothing much happening there. As in the previous update also, I've done masses of landscaping, interior work as well as work on NPC's. There's some new resources available too; cows for instance (on popular demand). Enjoy Beta 03 while I start Beta 04.
Update History Beta 03:
- More interior work done. Wordham Castle, most notably.
- A large amount of landscaping has been done.
- Worked on the City State of Vernuzen with adding NPC's and interiors.
- Dressed the Woodelf Queen finely in a new white dress.
- Added the Factions Alcoholics' Guild, Vernuzen, Wordham and Sachsmoore and assigned NPC's to them.
- Added Cows (on popular demand!) and a Dairy Farm with a farmer family near Port Zerrva.
- Added Wolves to infest the northern areas.
- Added a large amount of land in the west and north. These parts are still uncolonized.
- Wrote another quest, "The Pirate Treasure".
- Fixed an issue with a couple of guards in The City who wouldn't go to Barracks to sleep.
- Fixed a missing texture in Birkfjord.
- Fixed missing female Redguard Bronze Armour.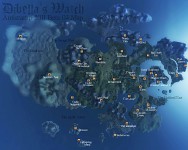 The Expanded Beta 03 Map