Hello Humans!
Finally, Story of a Cube has its own IndieDB page.
Since it's completely new, I'm guessing nobody really has any clue what this game is about. Let's change that!
What is Story of a Cube?
Story of a Cube is a 2D top down shooter game with really intense gameplay.
You can play it with your mouse and keyboard, or plug in a controller for some extra fun.
It's in pretty early development, but already features seven different weapons, one special weapon (need to make more of those), an awesome boss fight and lots of explosions!
I'd describe it more in detail, but as we all know, a picture says more than a thousand words.
Also, a video is made of thousands of images, so here's a video instead!

As you can see, I'm not very good at making trailers.
So how's the game coming along?
Why thanks for asking! It's coming along very smoothly.
I've already taken care of several big programming issues, such as difficulty levels, achievements, weapon upgrading, etc.
I prefer to deal with these things early in the development process, as it's much easier than trying to implement them into a game that's practically finished. (Trust me, it's hell).
Anyway, right now I'm working on the game's second chapter. The first one is already finished, and has a really epic boss fight in it. I have a feeling the second one is going to be even better.
Another thing I'm currently working on is the soundtrack.
Making authentic 8-bit music is quite different from other kinds of music, as it's made using a certain program known as a tracker.
The tracker lets you input a bunch of notes and hexadecimal numbers for things like volume and effects.
The whole thing is actually quite limited compared to modern music making tools, but the result is real, authentic 8-bit music that can be played on an NES.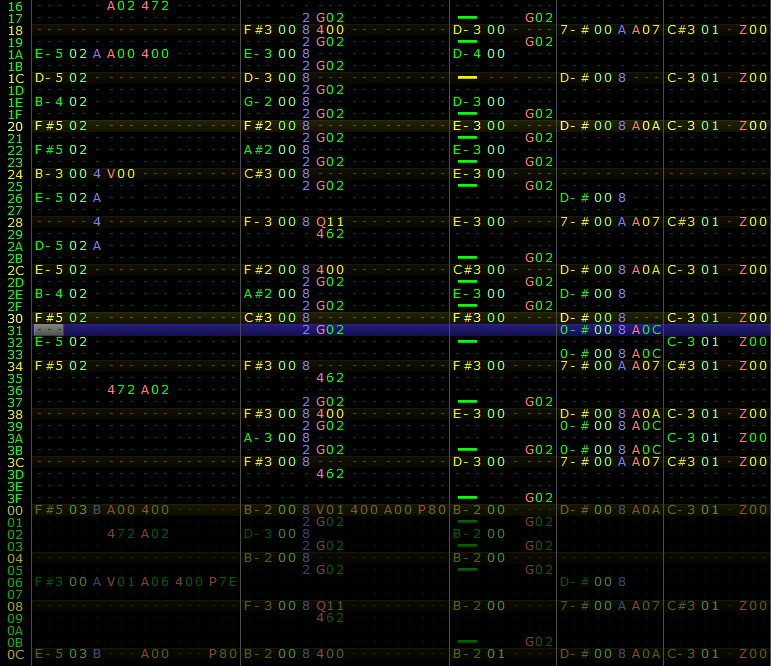 This is what making 8-bit music looks like.
Well, that's all I have to say for now. Feel free to follow, both here and on twitter. Also feel free to share this page to your heart's content. Got something to say? Post a comment! Until next time, bye bye!