Bear Story is Bearware's upcoming platform game. It's main selling point: cooperative game play. Yes, we know there are quite a few other games on the market which feature multiple characters on screen (ie 'New Super Mario Bros Wii' and 'Little Big Planet' ) except Bear Story requires both players to work together in order to progress through the game.
Bear Story will feature 3 different player characters: Sergeant Snuggles, Pyro and Panda. Whilst they all share the ability to run and jump, they each have distinct different skills which need to utilized to overcome obstacles. Each level in the game, players take control of 2 of the 3 characters to progress through the level. Some levels can be played by any combination of characters but other levels may require a certain character.
The player characters are as followed.
Sergeant Snuggles is brute/tank of the group. Though instead of using heavy artillery like a rocket launcher or a mini gun, his tool of choice is custom made leaf blower. As comedic as this sounds, the leaf blower is actually quite a versatile tool. As you'd expect, the leaf blower can be used to blow objects, enemies and your fellow companion around. But as well a blow function, the leaf blower also has a vacuum function to draw things towards Snuggles. Once Snuggles has vacuumed up an object, he is then able launch that object with incredible force over a great distance. This means that Snuggles can project another player over large gaps which normally would not be accessible to either player.
Pyro is crazy bear of the bunch. As you probably guess by his name, Pyro is a Pyromaniac and is obsessed with using fire. As such, his primary abilities launching fireballs. In pretty typical for fire, fireballs can be used to set things alight (like candles) or make ignite explosives to cause an explosive force. His other ability is flame up where he sets him self alight with a flaming vortex to protect himself from on coming projectile attacks.
The final character is Panda. She is a Ninja who is highly athletic and skilled with the art of sword stabbing and Ninja Star throwing. Her great athleticism also allows her to climb up walls and she can also be used as a platform on these walls to help other players to scale to great heights.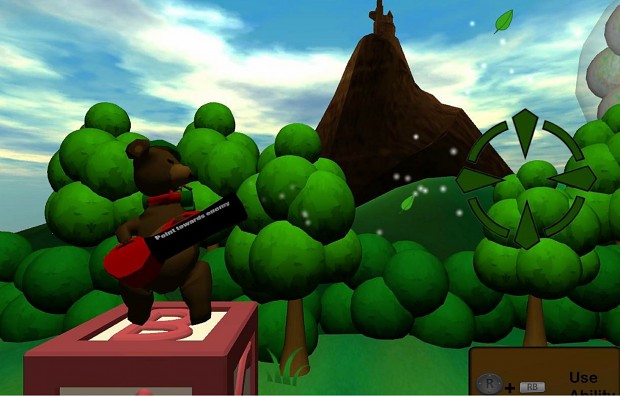 At this stage, Bearware has implemented a mocked up level, Sergeant Snuggles and Pyro player characters, one type of enemy and the evil Gummy ball of death. The development team have been gradually working on various aspects the level design, art design and implementing simple features such as triggering an event when a character stands on a switch. Panda has been modeled but is yet to be animated and implemented into the game.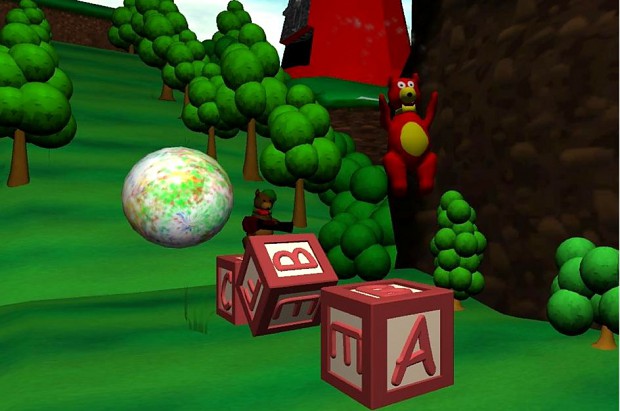 For now, I encourage anyone who is interesting our game to visit the media section and check out the screen shots and trailer for the game. Feel free to give us feedback on what's been done so far. We hope to have a playable demo to play in the coming weeks.