presents you...

We want to reward our loyal fans, especially those supporting us with their votes, by giving you special privilege to our beta testing. If you would like the opportunity to take part, please do the following:
1. Vote for us on Steam GREENLIGHT then make a screenshot showing the information as below:
Our project page can be found here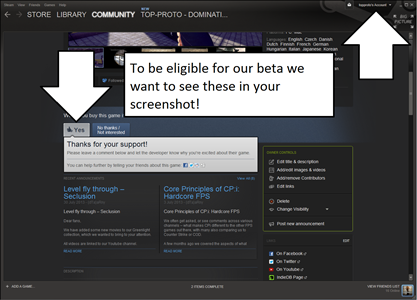 2.
Send it to
support@criticalpointgame.com
- with the subject
"I Want To be a Beta Tester NOW!"
We will be collecting all applications together for our beta tests.
After you sign up you wont receive any reply or anything like that - just know you will be in our queue and we will be getting back to you as soon as we are ready for the beta.
IMPORTANT:
Beta places will be limited to the number of servers we manage to get so make sure you vote, screenshot & email us - then get your friends to do so too!
We are getting close and we cannot wait to share this great occasion with you as soon as we can!
Share this on your Facebook and twitter pages!
Your CPi Team
P.S. Total votes at time of posting: 20,345