Well it's finally time that we showed off the ship that will be your home base in Release 1 of Diaspora. For complicated reasons that I won't go into here, the team was unable to base R1 on any of the canon battlestars we've seen in the TV show. So the decision was taken to instead use one of the concept drawings we had as the hero ship of the game. Our concept artist, Starslayer had previously designed a small battlestar together with Scotchy which fitted in perfectly with our mission ideas.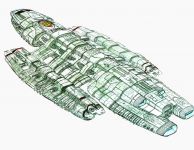 With the concept decided upon the team then faced the challenge of finding someone stupi brave enough to model it. The task fell to Meleardil, whose earlier work for us includes Ragnar, the resurrection ship and the Cylon tylium refinery. After a couple of false starts, lots of effort and a fair bit of swearing, he presented us with this.
The Sobek-class is smaller than the Galactica (just over a km long) and slightly newer (although the oldest Sobeks did see service at the very end of the 1st Cylon War). It still packs a punch today though.
Modelling is at about 98% so now we just need to find someone on the team stupi brave enough to try texturing it.
Apart from that progress is being made with a lot of things. Lt Cannonfodder has done some excellent work on the interface and the missions themselves are progressing nicely.
We also still have about a week left on our voice acting casting call. So if you'd like to hear your voice in the game, give that link a look.