Two days ago we started working on the highway and a roadhouse. Today we finished the roadhouse and the parking lot. We worked together with our audience on Twitch and Youtube. In our Livestream we builded the parking lots for trucks and cars, planned the design of the roadhouse, builded the roadhouse and created textures + materials for the signs we placed for more realism on the sidewalk.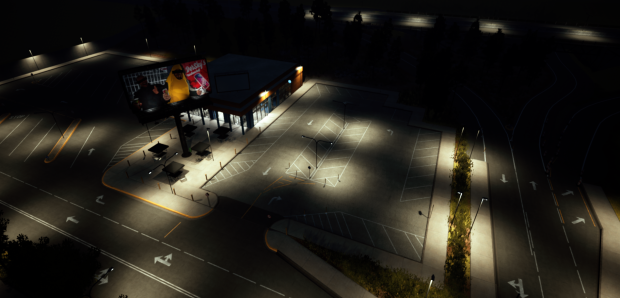 Here you can see the parking lots and the roadhouse with electricity, but ingame there is no scene in multiplayer and singleplayer (except maybe a Video-Scene) where you can see the city and the places with electricity. But on the other hand we cant be sure if we will not add electricity for some other planned gamemodes or scenes.
In the cooming days, we will start working on the Bundestraße 76 (federal road 76) and the highway ramp and exit to improve the realism through details like signs, grass, bushes and barriers.
You can watch our Streams on Twitch.tv/der_sky (In German)
See you next time!