Whew! So what's happening in CT? For the past few months, not much. But I'll try and lay out what's on the table now.
New Faction - The Drones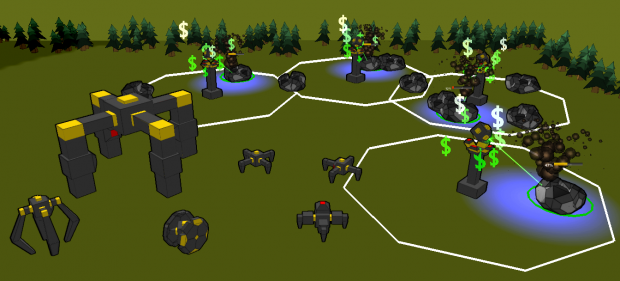 They're new, but they're not the NKG, and they're not the PN! They're the Drones! A simple, very small and straightforward faction designed to use numbers and massive movements, the Drones are being designed and built by Oksnoop2. Still requiring a decent amount of balance work, the Drones regardless are present in the game and very playable. Every unit has the ability to clone itself, and some of the units even spawn flying Air Drones after they are destroyed. Give them a try sometime!
New Chili UI
Chili is an advanced and skin-able UI being developed and found in several other Spring projects, most notably Zero K and Gundam RTS. CT has finally gotten it's hands on it, and it can be found in the game now. While not up to full functionality, (we're missing some important values like Build Times and Energy Costs) it still looks nice. Eventually we plan to create our own skin for the game, to better fit with the Conflict Terra graphical style.
New Maps
CT has gotten quite a few maps under it's belt. Mostly made by Oksnoop2, with features made by Sanada_Ujio, they provide a fun and stylistic arena for our "stylistic" game. The list of maps include:
Incidentally you can also keep track of our wiki page for Maps, to both see new maps, and to also get downloads for the latest versions of these maps.
Reintroduction of the T2 Unit Lineup
When the new economy was put into effect, and the way in which the NKG was organized was changed, the T2 unit lineup got blocked from normal gameplay. The reason for this was to create a more "sterile" environment for the T1 unit lineup to be properly balanced. We didn't want any overpowered units flying in and blowing everything up!The Development Team decided it was time to give the T1 units the thumbs up, and to pull T2 back into the mix. At the moment, Tanks and Aircraft are back in the mix, and hopefully soon the rest of T2 will be present. The build costs are being re-evaluated for these units as they're being brought in, and further balance will be put on the units to allow them to fall into their appropriate roles.
A New Distribution Method
This is not really new news, but needs to be made known. The CT Team has decided to abandon the conventional periodic Version release of the game, mostly because we are (usually) working on the game and things are changing often and dramatically. To try and organize working versions for players to download is a hassle and we frankly don't have the massive player base that may make this method make more sense.So instead we've been using the Rapid system established by others in the Spring Community, and are very happy with it. A tutorial on how to use it has been on our ModDB page here for a while, and we also have a similar tutorial on our wiki. From now on, this will be the method to acquire and play Conflict Terra. Don't worry, it's super easy and convenient!That about does it. I hope not too many of you have forgotten about CT, and we hope to see you playing soon!