A little update after the summer break (yes we actually enjoyed our real-life a bit :) ) Also this update marks the spot where we will start more frequent updates again (however don't take my word for it until you click on that donate button to your right - just kidding).
Enough with the nonsense, lets get down to business.
After our last update, moddb.com honored us with a shiny new visual delight award :

Thanks moddb, and after this and the acho website contest, we can finally call nosferatu an award winning game ;)
But no news update without some new pics. We will slowly start to feed you with new media again, and since Flakk joined our animation department ingame screens will hopefully speedup a bit. In terms of maps, Stormshadow is getting close to done with his map but also others like Gruff and MadMax showed some nice progress. Thus it shouldn't take that long till new public ingame pics start to show up. Ah yes pics, almost forgot them :)
Let's start with TheFrog4u's Molotov cocktail and lighter. As you can see the lighter is available both in gold and in silver. More over the player can select a logo for his lighter and even create new ones. No the logo won't be seen from others on your thirdperson model; not because we can't do it but it would be a bit pointless considerin the actual screensize of the lighter (thus its merely a firstperson gimmick).
Apart from that, logger felt the urge to improve his famas model. More details, better accuracy (compared to the real gun), and lots of little improvements.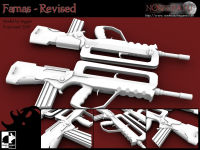 Already long overdue and finally released (no not the beta :P ), the p22 replacement model compiles for Counterstrike: Source (thanks to HellSpike for the compile), Conterstrike:Condition Zero, The Specialists and Ghost Ops.
And while the lack of updates makes us look really lazy, this isn't the case so don't worry (I was mostly too lazy to post news - nosferatu development however didn't suffer from my laziness). In other news the media section of our website has been slightly restructured by adding 2 new sub-sections (misc-models and replacement models). Take particular note on the new replacement models website which now features nice preview pics of the guns and a brand new layout.
Btw. I added a nice irc button (turn your head right) which should directly connect you to our irc-channel (of course you need to install an irc client
This newspost is already getting too long so if you are further interested in any inside news check my .plan (link below).