Chay ho! Let's talk some game-science. Hehe, ok — backstory about that phrase — I actually discovered a game development studio who had the courage to call themselves a "Game Science" Studio. So. I don't want to make it sound like we don't do scientific research (um. we go on wikipedia) (and try to stay within the bounds of "realism"), but making this game is very disconnected from things which could be considered "doing science".
This week I built various things that thicken the flight-simulator aspect of the game. There are gauges, flight controls, autopilot modes, and a realistic physics system driving the whole thing. This is excites me, but visually — is not so much to stare at. Buuut, the whole flight-simulation is now realistic enough to cruise between stars, and that's enough to start doing some goof-play world building — yes — pete is working on these first planets which will seed our galaxy. He is also doing some music (potentially) for next week.
Yeah. This UI is complicated, but hopefully more realistic and interesting. Fortunately, the ship computer makes flight quite simple — and after a bit of practice its pretty fun to play with. Of course, if things go south (ship computer breaks), you will have to worry about retrograde burns, momentum, and attitude stabilization – holy space forks. You also have to worry about Solar Power, and Space Dust Resistance — which is an all-the-time job — so, better have redundant ship computers. Or be the hottest stick in the galaxy.
Ok… I'm going to try to explain the major Flight UI components now… sorry.
This is the radar. For now it shows where solar power and space dust resistance are (relative to the ship), but in the future it will show many more volumetric-like effects: dark matter, electric storms, and other made-up space weather. Navigation is intended to be important, and this is only a small tactical radar map. More serious navigation \ planning modes will probably take up the whole screen.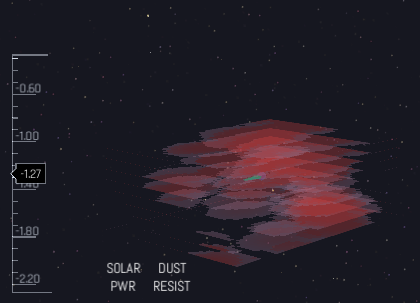 Velocity & Acceleration vectors. These vectors help you control your velocity. Ships in space build momentum, so you need to know where you are drifting, where you are burning, and where you want to go. Blue is the desired velocity (controlled by pointing ship and choosing a speed — see below). The red is your current velocity. And the green is the way the ship computer is going to burn the engines, such that the red and blue become the same. Effectively, this means that the ship computer will help you go where you point!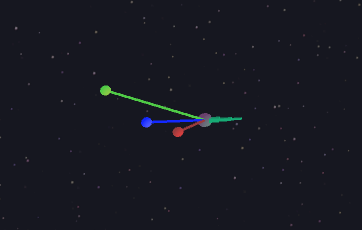 This red button enables that velocity autopilot. When enabled, the green vector is used for burns. When off, you just burn in the direction you are facing (not great when it comes to erasing any momentum you may have). The throttle controls the engine's burn rate, and the velocity controls your desired velocity. The autopilot sometimes takes control of these. They are important for slowing down so that you can safely enter solar systems.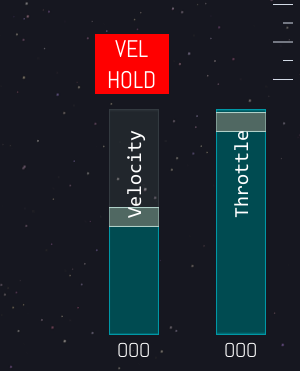 These are various attitude indicators (pitch-roll-yaw scales, the navigation ball, and the mouse fly controls). When in mouse-fly mode, you use the mouse to control the ship's attitude. You can enable stabilization to stabilize your attitude. This is important for flying to specific points. The navball is basically a 3d compass which allows you to fly various headings in space. My Kerbal space friends will find this very familiar.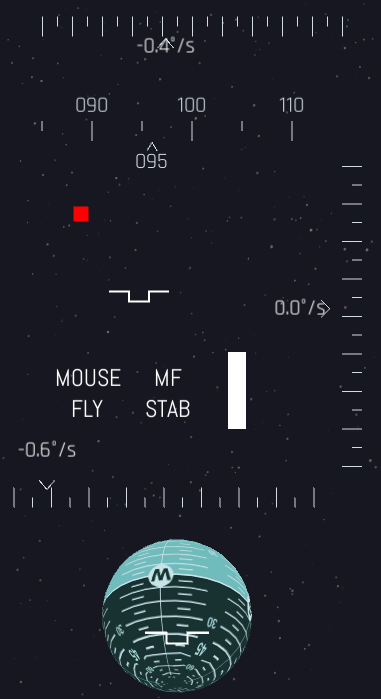 Finally, here's a video showing it all running at once. I highly suggest clicking the little gear and enabling 1080p High-Def mode.