So....
Its one month on from our last update, and a lot has happened; Crytek released their CryENGINE3 SDK; we've pretty much finished moving our work onto the new engine; and we've had new staff join us.
This is just the beginning of a hectic and jampacked few months for the team, and we'd like to have you all there every step of the way. We've got a brand new site in the works which will allow us to interact with the community better than we have before, with a brand new public forum free for everyone to sign up to - and where we'll be doing early reveals before anywhere else and offers for those who sign up and get posting on the new forums and site. We'll keep you all posted on when thats going live via our community pages.
To that end, we'll also be doing something special for the community when we hit 600 watchers, or 100,000 views, whichever comes first.
Media:
As part of our media update, we've got some further work by Sean on one of the first act's levels; "Border". As you can see, this is a vast improvement over our work on CryENGINE2 now that we've moved onto CryENGINE3.
To go with this level update, we've also got some work from Chris on the Chinook, one of the principal helicopters that will be featured in the Increment's gameplay.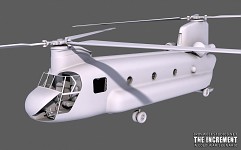 Questions & Answers
We enjoy interacting with our community, and to that end we want to hear your questions to be answered in an upcoming Q&A article - so if you want to ask anything about the project, the team, our plans, release dates, programs we use, equipment in game, the setting... get asking in the comment section or PM me! We want to hear from you!

Recruitment
We're currently looking for people with the following skillsets:
3D Hardsurface Modelling
3D Organic Modelling
Animator
C++/XML/Lua Coder
Flowgrapher
Level Designer
If you have any of those skill sets, send a PM to me on Crymod, ModDB, or email me at Jquigley@Ironwolfstudios.net and we'll get back to you within 48 hours!
Thats all for this update everyone, remember - we're looking for questions from you for our Q&A, so get asking us anything you want! We'll also have a little article coming this weekend - if you've been following us on Twitter, you'll know exactly what its about!
-J
IWS Management
Related Links: