Well this will be short but sweet
For about 3 months I've had the Dom just sitting here on my computer not shown to anybody. A month ago I redid its legs (lower detail but lower polycount as well). So I guess it is time to show this old thing.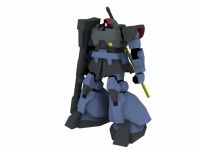 ---
Ok now for the second part of this news. Venom has recently told me that a member from Dawn of War: Gundam wants to help us out a bit. This member is known as Gundammaniac and we are excited to have one more person help out with the mod.
---
Now we are still decideing on a new name, if we change the name at all. So if you think of something PM Venomgundam, or me
---
Finally, We are still looking for help so if you can
- Modeller
- Skin
- Animate
- XML and/or Lua Code
- Concept artists
- Anything Graphics related
If you can do any of those, you can PM us or Email Venom.
you can email Venom at venomgundam@hotmail.com
Don't be shy apply
Future Updates Coming Soon