Hey everyone,
Sorry for the slight delay in our update schedule that we've been using as of late; we had a lot of hiccups and situations occur within a relatively short amount of time so we didn't really have anything really worth showing last week. However, we have been working quite a bit this last week to get some new content at least slightly polished, and we think some of it is ready to be shown publicly.
Keep in mind, all of this is WIP and subject to change as we see fit.
Also, before we get into the update material, the team has decided to move away from scheduled updates. This decision was made mostly because it set many of our content creators in a mindset where they felt they needed to contribute for the updates and make material that only looked good, and wasn't really suited for actual use. This is something that can easily wreck a mod's development, and we didn't want to have that happen any time soon. If you check our website, we recently removed the update schedule from there, which might be irksome to some people. However, we will be posting updates in the future, and we will also have occasional "mini-updates" containing a mystery map or a small amount of overall content compared to our normal updates, as well as an approximation of when the larger updates will occur. Like many of you have stated, we believe in quality over quantity, and the update schedule was just not letting us accomplish that.
Now, on to the content. Keep in mind, the images on the news update are not the only ones here. We have more, higher resolution pictures in our gallery, so check those out!
First off, the modeling department. We've got some new help recently that should allow us to make more custom models to use in both our maps and our weapons. Here is the revamped AKM model that we have recently started texturing, which you guys might see in the near future.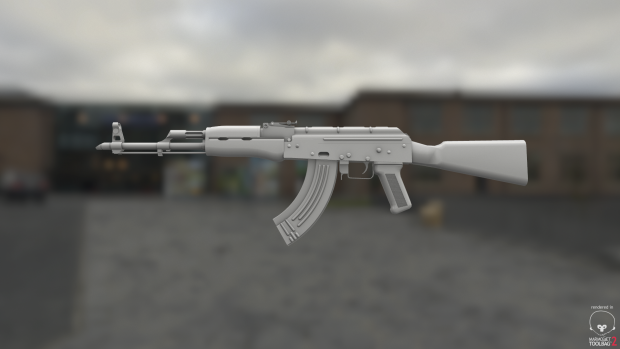 The other area that will be shown is our mapping, as of late. First up is a little update on the construction site; we've added more detailing and fog to the map, as well as incorporating the same skybox used in our previous industrial map, for continuity reasons of course.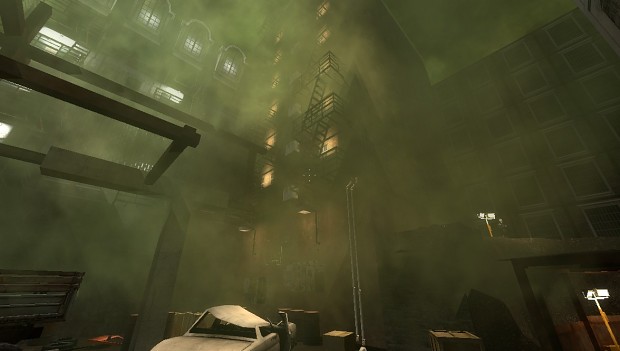 Next is a newcomer to our mod page, an early look at our version of Ravenholm.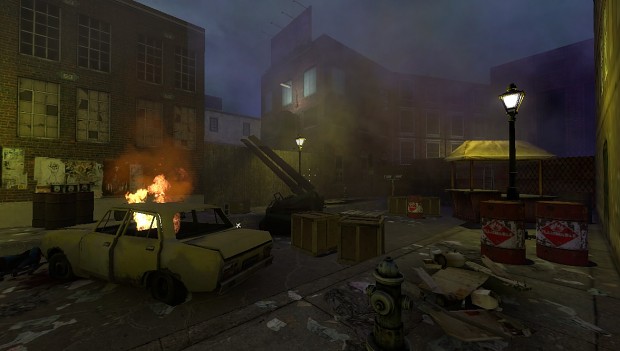 The starting area will be quite a bit different then what most people will expect, so stay tuned as we will provide more updates on our maps as time goes on.
Last but not least, we have another mystery map for you all! This one should be fun to see what names get thrown at it!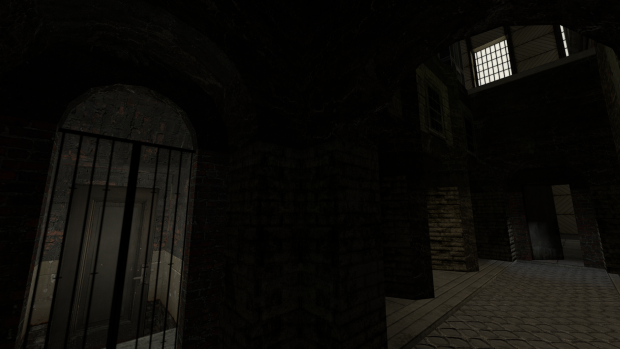 And if you don't know by now, the last mystery level was indeed our take on the entrance to the Air Exchange, that one got figured out pretty quickly; you all are sharp!
Also, keep in mind that at the moment we only have a very limited amount of custom textures and models available to our mappers, and so many of our maps are going to be heavily overhauled, at least visually, down the line.
Speaking of custom content, we would appreciate some help from you guys. If any of you have a good amount of experience making a variety of model and/or world textures, as well as mapping in Source, we would be glad to hear from you! The more content we can get working, the better our updates can get!
Thanks for reading and we hope you enjoyed it,
- The Raising the Bar Development Team