I've simplified a lot of stuff that were blowing up the scope. The world is now made out of cells that arranged in a dungeon-crawler BOI like fashion. Games got a lot more replay value and traversing it has gotten more meaning.
I also put the UI on top of the screen bcos the camera is now fixed.
Outlines are still in, they can be activated in the options when people want em. Opinions are so super divided about em that I honestly dont know what the standard setting should be >>
I also made some drop/cast shadows.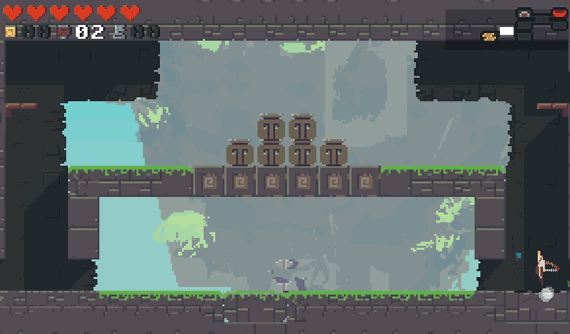 Also, good news! The game can now be pre-ordered HERE!
I've been doing a lot of refactoring after the teaser release. After getting some serious feedback, I learned that the gameplay looked a bit aimless and I decided that I need to bring more structure to the game. I've divided the open world into cells and they will be connected via 4 exits. The cells are arranged in a grid-like fashion but shifted, to make more sense in a platformer context. You need to clear the cells in order for the exits to open, similar to Binding of Isaac.