This month we passed another Exterminatus mile stone, having polished up the Orange Box version to the point it has become stable enough to roll out to our beta testers. The new beta has also been sent out to some professional developers we've been in contact with at THQ and Valve.
We have just completed a trade between Exterminatus and Renegade 40,000 to exchange Warhammer 40,000 models, helping both mods working toward their future goals. ChromeAngel has been training up a new model contributor called Farseer in the art of UV mapping. Farseer hit the ground at Exterminatus running by contributing three new props this month alone.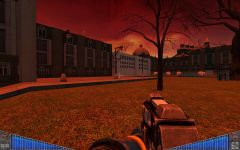 A fairly new recruit to the community DiViNiTY has made some sound cues for us to add more drama to the process of capturing objectives in-game, in addition to his earlier contribution of sound tracks. You can listen to some of DiViNiTY's work over at the Exterminatus moddb page.