Welcome everyone to the April 15th Road to the Future post. We're proud to announce that development is in full swing and would like to share the following media as proof of our recent
progress. We are also pleased to announce several new additions to our team, so please join us in welcoming them to the community. Michael Lebson – Coder, Eero R. - 2D Artist, Daniel Conroy - Modeler, Sean - Modeler.
Andrew Hayes is continuing development on the revamped and greatly improved map Lafiere and has included several images showcasing our new farm and hay prop models.
Robin Morris is continuing his work on Carentan Causeway. While several minor areas of development remain, the map is approaching completion with outstanding results, as evident by the following screenshots.
Mike Majoris has released several screenshots of his new map, based on the city of Carentan. Referencing actual photography of the city from 1944, the map aims to provide an aesthetically realistic and authentic gameplay experience.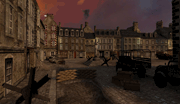 Ryan Duffy sent in the latest update to his Para Model for in game use. This time we were able to obtain a High Definition rendering. This is just a taste of what to expect with the Orange Box conversion.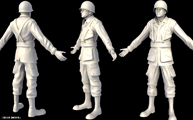 Eero is hard at work on a new website design. With new and improved artwork and imagery, a
fresh appearance will match the renewed sense of energy behind the scenes.
Michael Lebson has been quick to improve the code behind Resistance and Liberation and continue the eventual port to the Orange Box. Among recent advances in this department, he has ported Andrew Ritchie's code for parachutes, spectator camera, and the minefield system into the code base of the new engine.
Recent progress by new and old developers alike has brought a renewed energy and sense of progress we hope to soon share with you all. Along with the new website design, we will also be updating the FAQ and News sections of the website. If you have any questions you would like to see included in the FAQ, feel free to contact us.
Here is the last little bit of news!
The tram you saw in the last RTTF has been placed in the map it was made for. I was told to keep this one a bit of a secret, but I'm quite excited about it. Let me just say that this map is a different look for RnL and it is very impressive. I'm sure we will have some great screenshots and more information on it in future media releases.
Resistance and Liberation is certainly headed in a very positive direction, several vacancies still exist within the team. We are seeking talented developers to fill the following roles:
Animators
Modelers
Texture Artist
For all of us on the Development team, Thank you for all your donations. We are very grateful for all that you gave.