United Nations Space Command PR-TRANSMISSION 44877K-84
Encryption Code: Green
Public Key: file /sierra-eight-two-nine/
From: >>FLEETCOM.MO.BL.AM
To: >>CAWCOM
Subject: STATUS REPORT
Classification: Restricted
/start file/
For quite some time now the Covenant have been seriously lacking ships, with only three units fully functional, but over the last few weeks we've been concepting, modelling and texturing new ships for the Covenant's endless war on humanity. I'm going to be revealing one of these ships today, alongside a few details for a more familiar face, the UNSC Marathon Cruiser.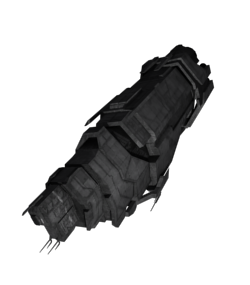 Class: Cruiser
Length: 1,190 metres
Armaments: 45 Archer Missile Pods, Dual MAC Cannon, 6 point defense turrets.
Squadrons: 24 C709 Longsword Interceptors, maximum of 5 active at one time.
Cost: 4500cR
The Marathon is an essential part of any large battlegroup, capable of holding it's own against a CCS battlecruiser for far longer than most ships in the UNSC navy.
Now you know just a bit more about the UNSC, time to enlighten you on the newest addition to the Covenant Fleet, the Covenant Light Cruiser.
Armed with 6 Plasma Cannons and 2 Light Plasma Torpedo Launchers, it is best used as an Anti-Fighter/Anti-Frigate ship. That's it from me this week, but Anh has some pretty cool stuff to show you, keep on scrolling down the page.
/end file/
---
United Nations Space Command PR-TRANSMISSION 44877K-85
Encryption Code: Yellow
Public Key: /delta-four-one-six/
From: >>FLEETCOM.MO.ANHNHAN
To: >>CAWCOM
Subject: SITREP
Classification: Restricted
/start file/
Hello everybody, something big is happening today, I won't tell you much so I can start right away. I hope you know a tower defense game like Tower Defense, South Park or Toy Soldiers (all released on XBLA within this or last year).
Snippa Tower Defense Galactica!
Let's play a round Tower Defense. You only have one type of turret. I have balls. Mass of balls. Shiny balls. If we would play it somewhere in Austria (not Australia), it would look like that:
Annotation by the author: Background HDRI (aka background image) by openfootage.com
Hey, where did your sniper go!? Get him back to work, I want to play! Immediately! Wait, where did you say was he? Over there? Ok, @everybody, please invade this planet immediately and get the sniper back!
Annotation by the author: This was my first try to get a planet ingame. UVs seem to be distorted, especially on the poles. And who has invented the MIP Maps? I have to kill him! My beautiful details!
One hour later
'Till he's back, let's take a look at the old website:
Rusty old thing, ain't it? That thing is slow, looks awful and isn't really user-friendly nor accessible.
If you visit the website, first the main site got loaded, and then the rest of the website is post-loaded and processed to viewable data. It works, but takes 2-3x more time than directly generating all the markup on the server (was quite lazy at that time...)
As said, slow. Takes 10 seconds to load with my connection…
Oh, and that was your last chance to see the good old website… From now on you can spectate new things, more awesome things. I didn't include those who were on the website since 16th April 2010, they cheated.
Shiny new
The rusty old thing is now shinier, cooler, and of course more awesome. Everything has been rewritten, everything is now faster. With one of the biggest redesigns since the beginning of H:CaW, I'm back for another ultimate announcement: v3.
Yes, I still don't have a name for it. But still it looks awesome! And takes only 1.5 seconds to load (Primed cache, on the home page with DSL6000)! This is a speed increase of 666%!
Everything has been revamped since v2.5. Funky new design, ain't it? Actually it's not only shinier, but it's also much more complex, but I luckily don't have to care about it anymore since the base is done, nothing to worry about anymore. More on that in our blog.
And thanks to the JavaScript framework change from Spry to jQuery the integration of AJAX is bigger than never before. Many things are animated (hope you got a good PC…), including an animated chat. Some to many users had problems with no response after sending the data, and with the animation they now know that something is happening on the website. Remember that nobody can have a stand against you and your problems, reader. I am still not sure if the Refresh button works though…
There are some changes more, but you'll have to look into our blog for more details. If it hasn't been posted yet, try it tomorrow again
The End
Not a bit of it! I still have one thing. Remember that F.A.Q. some updates before? It's ready for use: Hcaw.unitedstudios.co.uk Should be self-explaining how to use it. Oh, and you should use Mozilla Firefox, Apple Safari, Google Chrome or Opera to be able to see the effects of CSS3 (round borders, text and box shadow). Microsoft Internet Explorer does NOT support CSS3. I personally would prefer Google Chrome or Mozilla Firefox (with Black Stratini Theme hacked to dark gloss and red), they're the best.
Questions from the community
See above, guys. Rotate by 360° if you didn't get it. Repeat the last step as long as you still don't understand
Ads for certain sites
Actually useless, but still… It could be one day that I get 1,000,000 followers and so on…
The Real End
Wait, already? I have just started! Ok, nothing more to tell… Wait! I wanted to integrate a User System and then Comments System and maybe some more… What about a video and downloads section?
Greetz
Anh Nhan
Lead … forgot what I was … I hate my brain…
P.S.: Is the sniper already back? I have the feeling something dark's coming up… Need his sniper for some beta tests on May 3rd…
/end file/