United Nations Space Command PR-TRANSMISSION 44877H-78
Encryption Code: Red
Public Key: file /delta-one-three-eight/
From: >>FLEETCOM.MO.BL.AM
To: >>CAWCOM
Subject: STATUS REPORT
Classification: Restricted
/start file/
KAPOW! ...And we're back after a lengthy (perhaps too lengthy) break from posting updates, so I figured we should show you something pretty darn awesome, so that is exactly what we've got here for you today. Some new props, ships and some pretty sweet action for you to feast your eyes upon, I'll go right ahead and get started. To start us off we have two props, If you know your Halo 3 well you should recognise these beautys.
Pretty cool huh? But why would we need them you ask? You'll find out soon enough... Next up a rework of a ship that never really got off the ground, but now it's back, refitted with a MAC cannon and reinforced engines the Athens makes an explosive comeback.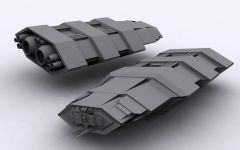 The UNSC Athens is a very old UNSC ship, with a history spanning all the way back to 2483. Before the Human-Covenant war they were all scheduled to be dismantled due to a fault in the design of their reactors and sheer age, but now the few remaining ships have been pulled from the recycling lines and refitted with newer, more efficient reactors and a MAC Cannon. I'm sure you have some questions about this particular design, I'd like to direct you to the forums for that: Z8.invisionfree.com
That's not all I have to show though, not by a long shot, no I now present to you the newly designed UNSC HUD, you may want to familiarize youself with it, you're gonna be looking at it a whole lot, oh and these images also come with some particularly awesome Alpha screenshots I took the other day:
That was a surprise attack from two AI Covenant players, it was well executed, but ultimately foiled by my sizeable UNSC fleet, suffice to say the covies got quite alot of tungsten shoved down their throat that day...
That's all from me this time, but I leave you in the capable hands of our resisdent mapper/musician DarthGaius, he has something special instore for you aswell...
/end file/
---
United Nations Space Command PR-TRANSMISSION 44877H-79
Encryption Code: Red
Public Key: file /sigma-five-seven-four/
From: >>FLEETCOM.MA.GAIUS
To: >>CAWCOM
Subject: STATUS REPORT
Classification: NA
/start file/
Hello everyone and especially the loyal fans!
Yes I mentioned you there because I think you deserve it. As you might know I haven't been really active up till the end of last year, but you guys amazed me. I had no idea that the community was this active. Cheers you guys!
On to the update, I have to warn you guys that my part won't be as spectecular as the other ones(due to circumstances, like catching a cold) but don't worry I am sure it'll satisfy you guys.
First of all I got myself working on a new map, which lasted for 5 mins and than I realised I didn't have any CaW mapping props... simply because there aren't any. So the first good news is that both Anh and Blamtroid have agreed to make me some buildings next. So cheers to them because I really need them(be sure to give them a warm applause). As for the map, I am currently looking for images as references and I'll be making the first concepts on paper soon. I am not going to reveal which map it is yet. All I am going to say now is that it wil be a land map.
Further more I got two new tracks nearing completition. One track will be for the UNSC and one track for the Covenant. Which makes three tracks, one for each faction. I am not sure if I can show you the unfinished tracks as a sneak-peak, that desicion is up to Blamtroid and I couldn't ask him before writing this update. So if you see two new tracks in the update be sure to thank the man! and otherwise I'll make sure you get them(the full and done ones) next week!
Blamtroid: Of course you can, enjoy the tracks guys!
Brave soldiers:

Covenant to War:
Well that was my update this week, I hop you enjoyed the little I had. Be sure to look out for next week, when there will be probably more. (And if it's not next week it'll bethe week after XD)
/end file/
---
United Nations Space Command PR-TRANSMISSION 44877H-80
Encryption Code: Black
Public Key: /sierra-four-nine-hotel/
From: >>FLEETCOM.MO.ANHNHAN
To: >>CAWCOM
Subject: SITREP
Classification: Restricted
/start file/
Hello, It's time for another update as I see. I'm sure that I have some stuff to show you (I nearly forgot that I did something…), but first a little notice to you guys out there. I'm having trouble with my parents, and they're putting a time limit on my internet. One single hour per day. Isn't that awful? Oh, and my parents are also always telling me that our internet will expire in one or two months. I don't believe them. Hope that I'm right.
Website Updates
I've updated the website? Cool!
Hmm… But if I updated the website, what did I change then? Oh, yes, right. Nearly forgot. It's something subtle you won't really notice: URLs. I gave it pretty URLs now. Links like this are gone now: Hcaw.unitedstudios.co.uk Instead it will be like this: Hcaw.unitedstudios.co.uk. Much prettier, right? Don't worry about your shortcuts and favorites, they'll continue working until I tell you so. And that will be when I completely rewrite the code (the code being used now is messy, so it's likely that I'll do it. All the data is being integrated into the website by the client [your computer], so you HAVE to activate javascript, which would take MUCH longer than if I make everything on the server).
Planet Maps
Yes, planet maps. Spent one whole hour into it in total since the last time I bragged around with those. Internet surfing and doing homework already subtracted. Here they are:
Gas planet:
Outer colony:
The Infection
No, not the infection spamming our and Lotr's comments, I mean the Flood. What we planned were some guys spawned at your base (preferable your space station) and bigger ships, search for enemies and then infect with the help of a modified "corrupt" ability. This is an effective but simple way to really "infect" other units. It will cost some material, and it's nothing bad because this amount of material will help us balance that ability out. So the amount of infected units at your disposal will depend on your material budget. I'm sure that you don't want get all of your units get infected right away, right? A little tip: If you play against flood and want to prevent the infection, just snipe them out from distance with a MAC or get enough cannon fodder to feed your enemy's pets.
And also the ships that don't want to get infected, e.g. because you don't have any material left or nothing to infect, can be destroyed on a conventional way: with their own weapons xD. Infect some covie ships and move them to their base to give them a taste of their own medicine... well... plasma.
But there will also be rpure flood ships, the ones you build on your own as flood, which will be weaker for balancing purposes; you can't only rely on your ships and HAVE to bash others.
Apropos shaders
Our units were designed to give best results with our shaders, so they won't look the same as with vanilla units. But they will look far more realistic, and that's what I went for when I wrote the shaders. They won't be as bright as vanilla (reason why I made them so dark), and will be more metallic (realistically reflect light). Unfortunately FoC only gives me reflections for water, but not for ships…
Ok, back to topic. For ground it will be similar, but costs and feeling may vary, and also the units of course. And to summarize the flood in case you got confused by the text above:
• The flood will have their own units (infection forms, carrier forms, pure forms etc...)
• They can additionally infect units for a small material cost.
• We'll balance it so the flood HAS to infect others
• See above
• Understood?
Forerunners
What would the flood be without the forerunners? Without their uber weapons and helpful sentinels, all would have been lost against the flood some years ago already. Ok, to be serious: They will be in, but you won't be able to play as them. They will only be NPCs, being able to control planets, similar to the pirates, but only MUCH stronger. You'll begin to fight for the planets, not just slip in and say "Oops, everything's dead!" Their big ships will be really powerful, close to One-Shot-One-Kill-Strength, fortunately for you these ships will be few and far between so as not to make fighting them quite so painfull. Their smaller ships will do the rest. And these smaller ships will be similar to the Sentinels. It's the space version to be honest.
Ground will be quite different. You can expect Sentinels, Needler Sentinels, Enforcer, Onyx Sentinels (similar to space sentinels) and maybe some kind of transformer in forerunner-style I have to think of.
After you've read all this, prepare for getting pwned, guys. You'll need a big army in order to destroy the forerunner units. Ok, they'll have fewer ships to balance. But nonetheless the battle ahead will be long, and don't forget that everybody who gets in your way will fear you after you have defeated them. Online only of course, AI's too dumb for that.
The n00bs among you might ask why we had this kind of decision that makes your cute convenient life hell on earth. And who asks shall get an answer, polite or impolite doesn't matter: We want you to play as long as possible and experience most out of the Halo-verse we are creating. That's the same reason for our awesome shaders, our highly-detailed models and high definition textures. The same reason also applies to the next few paragraphs.
Questions by the community
Sorry guys, a bit bigger this time... Was a long pause... If you have any further questions, please ask them ON THE FORUMS: Z8.invisionfree.com), to me or the Organized Noob Inquisition. But please first take the time to look through the updates (at least my questions of the community part) and images, to avoid already asked questions. And also at least TRY to do it, so our comments section doesn't get spammed anymore... But you'll still get lynched if you ask when this mod comes out... But here we go!
• "Can you make a zip please?" – Blam has spoken. Download software that can handle *.rar
• "Will the Flood be playable?" – My beautiful update… Why does nobody read it!?
• "do u need empire at war2 to use this mod when it eventually comes out" – There's no "empire at war2"… But if you mean Forces of Corruption then yes, yes you do.
• "Update? " – Did I miss something?
• "from where can i download the full mod or it still not redy and if it's not when it will be" – You see that massive TBD at the top of the page? Dude, think before you ask…
• "... patience is a virtue?" – Yes, seems like it is true
The incredible DRY principle for increased effectiveness - Do repeat yourself
Some questions have been asked quite often in last time, so I'll answer them here. With names of course!
• "what programmes do you use to make all these models?" by NAPALMnNITRO (status: already rehabililated by ONISEC9... FUCK ENGLISH FOR INCREDIBLE TYPOS!!! [if applicable]) – for us all: Autodesk 3dsmax 8-2010, e-on Vue 7 xStream-8 xStream PLE, Adobe Photoshop CS3-CS4, Adobe Dreamweaver CS4, Adobe Fireworks CS3, Apophysis 2.02-2.09 including 2.06 and 2.08 3D hacks, Google Chrome (latest version), Apple Safari (latest version if it upgrades automatically), Mozilla Firefox (3.X, 3.5.X), Microsoft Internet Explorer 7-8, xFire (latest version), Apple iTunes (latest version, no I don't have an IPod or something like that, but others have), TweetDeck (latest version, was 0.32.5 as I know), Microsoft Word (2007), Calculator (Vista), Microsoft Windows Vista (Windows 6 Build 6002), Microsoft Windows Seven (Windows Seven Build 7000), Microsoft Xbox 360 (latest Kernel), Microsoft Xbox Live (latest version), Microsoft Paint (Vista), FlashFXP (I think I got 3.5.7), Internet Information Services 7.0, Adobe After Effects CS4, Adobe Premiere Pro CS4, Adobe Soundbooth CS4, Adobe Flash CS4, Adobe Illustrator CS4, Adobe Bridge CS4, Dropbox, TortoiseSVN (some version one or two months ago), VisualSVN (not sure which one), Pixologic ZBrush (v3.5 or so), Stardock ObjectDock (does it has any version), Last.fm Scrobbler (dunno why I have it), Microsoft Windows Media Player 10-think it's already 12, VLC Player (any will work), Microsoft Windows Photo Gallery, Ahead Nero PhotoSnap Viewer 8, Ahead Nero Burning ROM 8, TuneUp Utilities 2009 demo and of course mass of porns, drugs and alcohol! Sure you need all that crap?
Ads for some certain sites
This time no ads... Only links... And consider it as inofficial Apex stuff…
• Twitter: Twitter.com
• Facebook: Facebook.com
• DeviantArt: Anhnhan.deviantart.com
• Formspring (ask me something): Formspring.me
Greetings to our fans out there!
Anh Nhan
The banana king
P.S.: Sorry for the long and confusing update, I don't want to copy the text in word again (possible loss of special characters)...
EDIT: This gonna really hurt: I'm now officially busy with the Bad Company (2), so don't expect me to work within some time
/end file/