Hello Tycoons,

As the title says, I'm announcing the new update "Managers and Offices". I've been working on its content for a very long time now and I know that you are really excited about it.
WHEN?
At the moment the tutorial and the balancing still need adjustments and the last 2 tasks I'm working on are not working properly, but at this point, I can set the release month. It will be in February. Before that with a group of players I will test it from my discord, to be sure that you will like it and it will work properly.
What"s gonna be new in the "Managers and Offices" update?
One of the biggest issues with previous versions was that the late game has less and less content or things to do. Partially this and the need for more PP, RP (and reducing the required number of sites) made it necessary to add a new mechanic to the game: the managers.

You will start in a garage with your partner. You and your partners are going to be your "first managers". The maximum number of managers is 7, and you can get new managers as you progress - limited by the current date. You cannot fire yourself and your partner, but in return, you can set your own attribute points, and you can freely select who your partner is.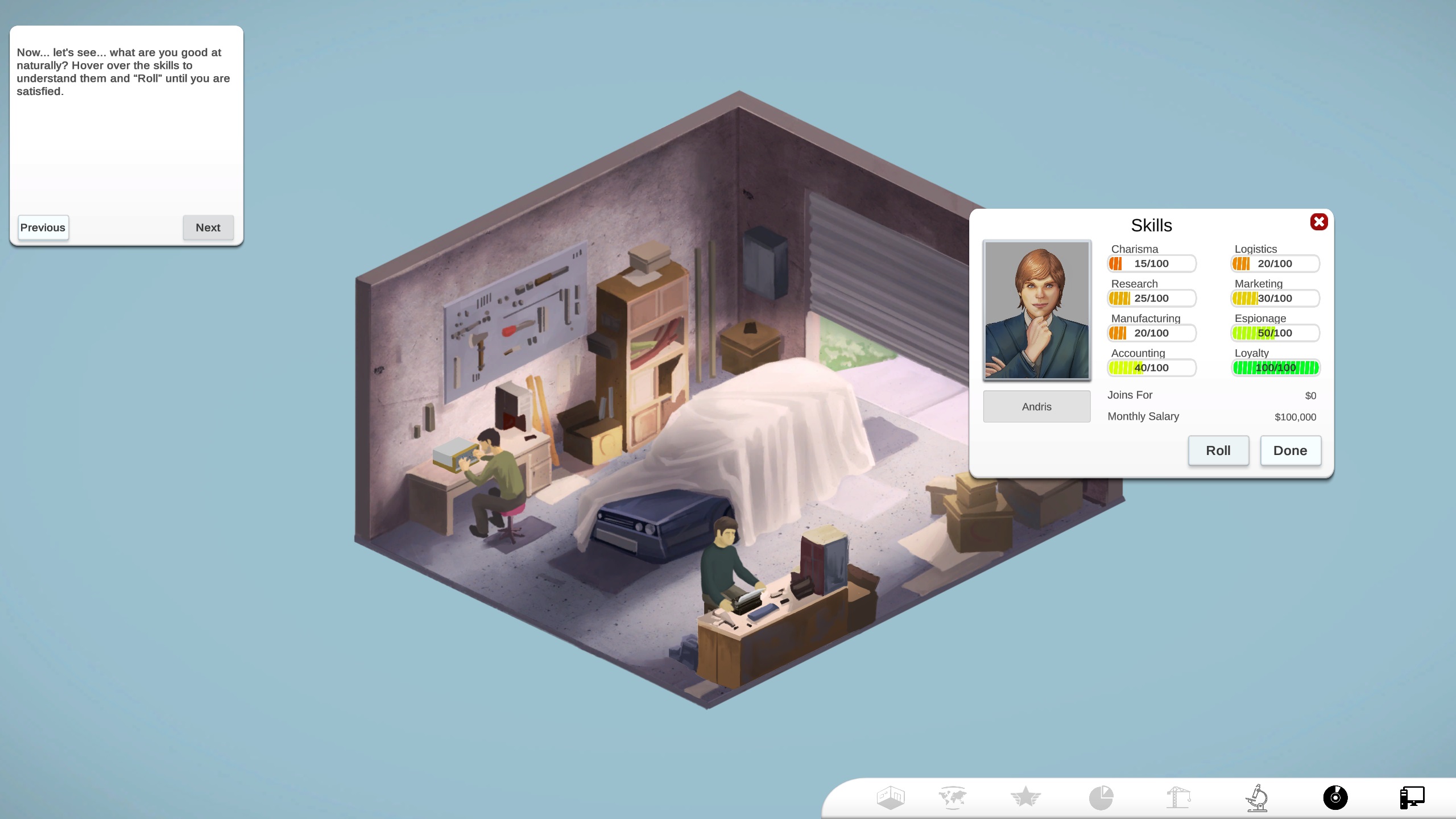 The others on the other hand are hired on the fly and you randomly find the next candidates. Just like in similar games, you can give tasks to your managers on which they work for a given amount of time, and they cost a given amount of money, too. You have to be practical and strategic about what you spend time on and who you hire.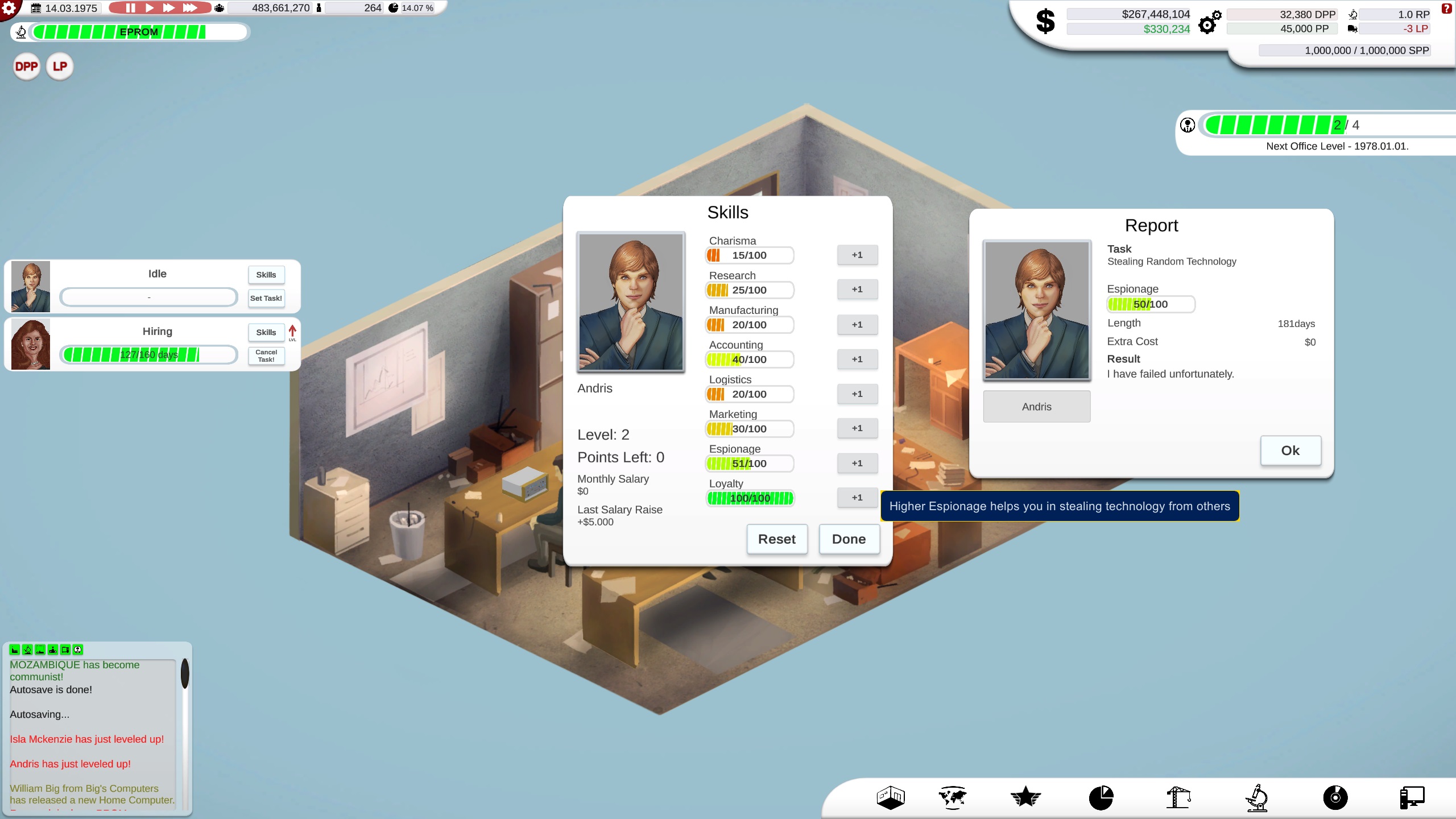 You can choose between "passive" and "active" tasks. Passive tasks can increase your RP, PP, LP, etc. while active tasks will let you get more fans, steal technology or find new games and software that you can pre-install on your operating system for your customers.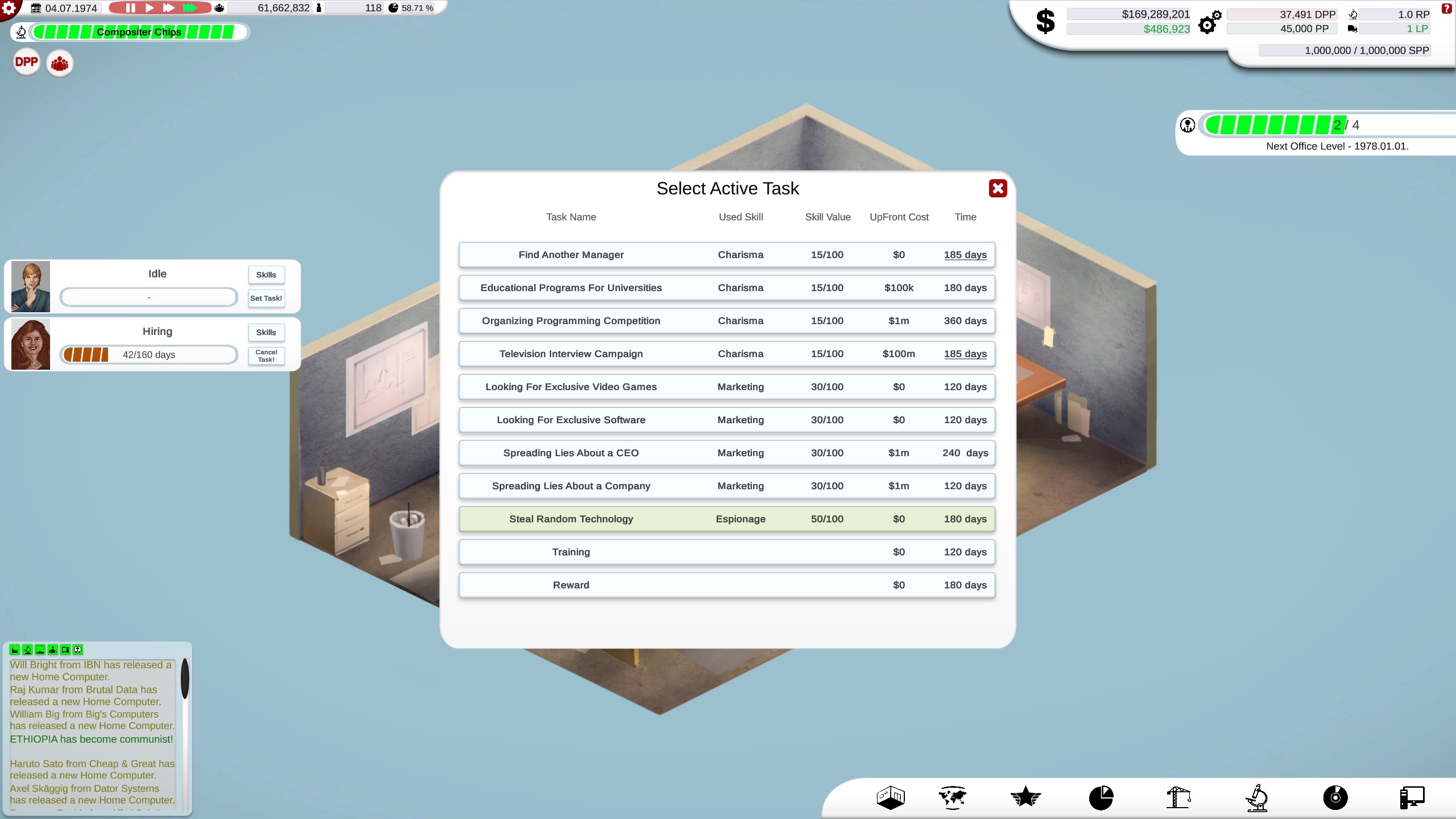 Offices?
To be honest, it is more of a visual element, than anything else. As you progress and time go, your office is going to become bigger and nicer. I wanted this because it helps you feel more like a CEO, helps you to immerse yourself into this world. The number of managers you can have depends on the year, and not on the office size. But you will see in your own office your own computers as your managers are using them.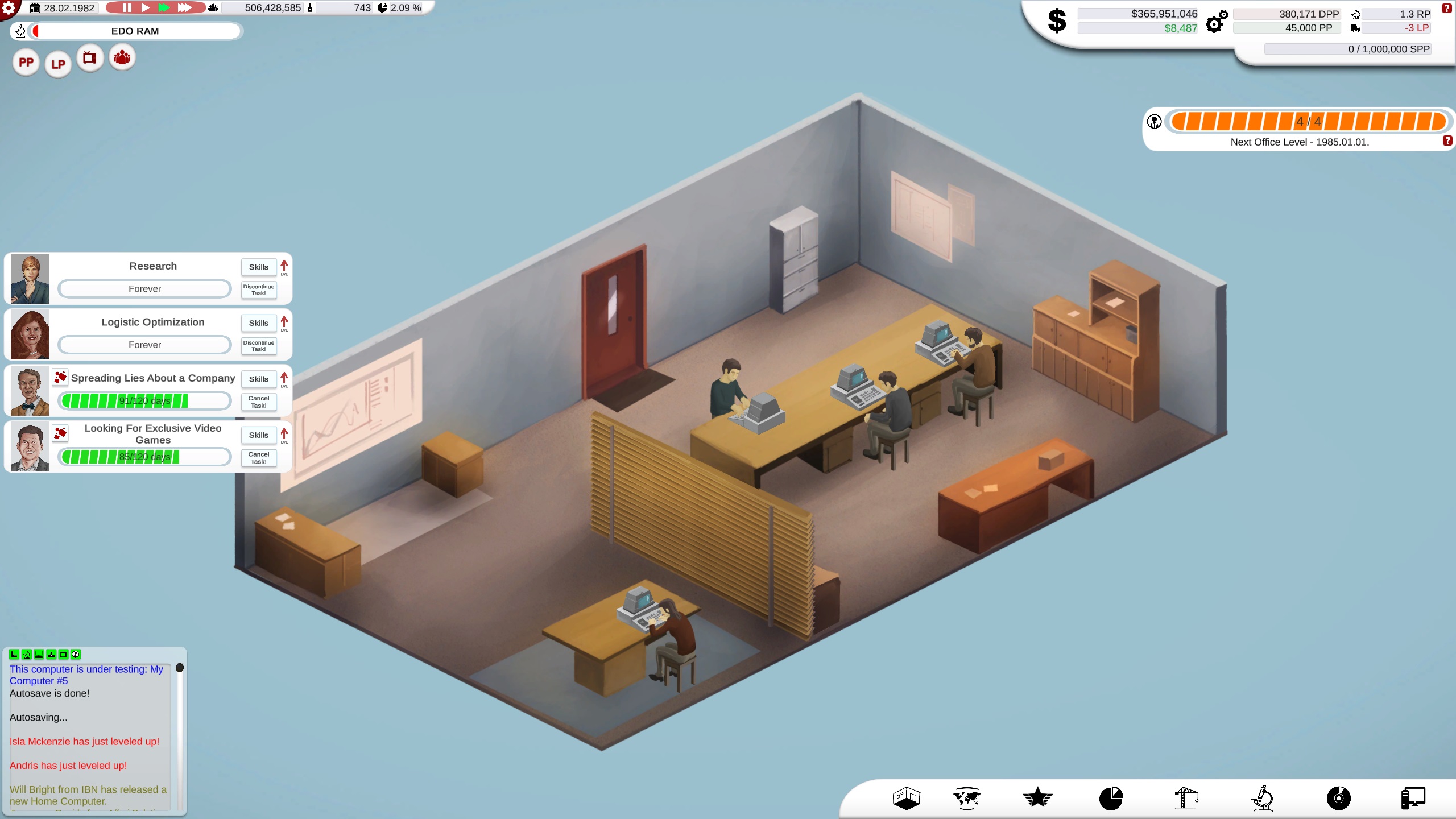 Making the game a bit more immersive is one of my big goals, until version 1.0
No more Factory Babysitting
One of the biggest complaints in the past was that managing the DPP/PP ratio by altering the factory output one by one is very tedious. I agree with that, therefore I've changed the system in a way that you don't have to do it anymore.
Basically, when you update your factory, you get a bigger maximum PP capacity, and when your DPP is lower than your PP, then your output is set accordingly - you are NOT WASTING MONEY on it anymore, you don't have to touch the sliders. When you set the sliders tho, then you are setting this maximum output, nothing else.
Better Tutorial
Another important change is that at this stage (getting closer to version 1.0) I will provide a better tutorial, which won't let you progress until you've done the basics and during that process, it will point with red arrows on the required buttons, etc. Leading your hand along the way. After you've completed the tutorial at least once, you can skip it.
I know that it is something that many of you will appreciate. I couldn't make it happen until now because the game's development is already slow, and altering a tutorial like that, again and again, would have just made it even slower.


Notes
Guys, please understand that localizations can come only after all the features and texts are finalized in the game. So after the beta, but before leaving Early Access. Yet again because supporting languages would slow down the development even more. I just cannot afford it to happen. If you are interested in the details, just check the forums, please.

The "Offices and Managers" update could be a separate game from Computer Tycoon, but I'm not a supporter of paid DLCs and I've promised to follow the roadmap, our vision (The community and myself is what I'm addressing here), and make it happen as ONE game.

The work you will get in February is the result of a lot of time and effort. You should know that what you see was developed, painted over years now. Many of the graphics were planned and created back in 2018 (!). The offices/manager animations and its prototype was done I think in 2019 (!).
It is taking a lot of time not only because I'm a solo developer, but because most of the changes have a complex effect on everything else you already have in the game, and the tasks often cannot be separated or prioritized in a way that I can just push out new releases on a weekly basis. In other words, it is a "deep" game, not a "wide" game.

I'm changing the most basic things in the game time after time, I'm not just adding a new avatar, skin for a character, a tweak, or enemy to an already finished system.

I'm really excited to see how you enjoy the update when it comes out, I'm VERY thankful for all the feedback and patience I've got from you over the years.
After This One?
After this update I will continue working on the next update that will add the diplomacy system (trading and making contacts with the other CEOs), the "CEO Stuffs" system which will let you buy a lot of cool stuff (did you want every a hoverboard?), the random events, and a lot of polish. The graphics and most of the texts are done already and I've put a lot of thought into these systems already.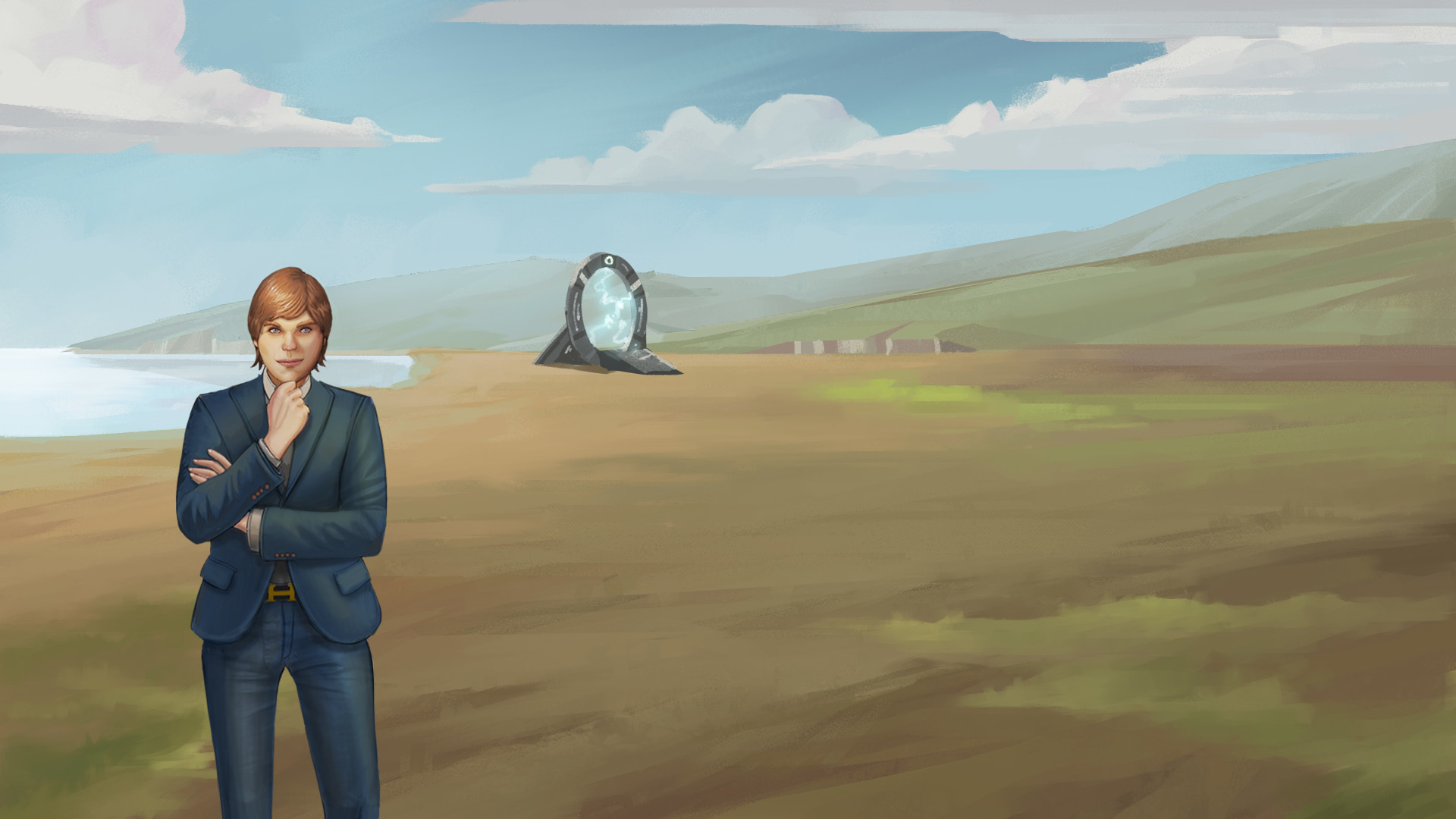 After that, we will reach the beta and I will start working on the localization.

That's all folks!

Please join my discord and newsletters! It helps a LOT!

THANK YOU again, my friends,
Andris aka Progorion