Imagine being able to dump your Minecraft creations into the real world for other people to find. You could put an exploding creeper in your school, a cheeky pig in your garden, or a giant enemy crab on the beach, if you like. The Minecraft Reality app for iOS lets you do just that.
It's been developed for iOS devices by 13th Lab – a bunch of clever augmented reality folks – with the help of Mojang. The app uses your iOS device's camera to track the surroundings, before projecting creations onto the landscape. You get to view the mind-boggling results on-screen. You can change the size of your object as you please, and even wander around it to view from different angles. It's seriously impressive stuff that's almost guaranteed to make people go "ooooo" and "ahhhhh."
Here's an example of the wonder-tech in action.
Thanks to super-clever GPS technology, you'll be able to plant your creations in specific places in the world for other people to find. They can then boot up the app and view your builds in all their glory. The app also comes with a few pre-loaded models to get you started. Minecraft Reality is available to download now. It costs $1.99.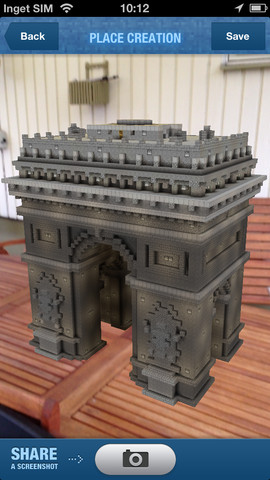 Please be careful when crossing the road, or operating heavy machinery when using this thing. Accidents are not the Mojang way. For more on Minecraft Reality, visit 13th Lab's official site.