Welcome in another update of Ancient Rome! Last time we showed exactly 16 players at the Romans. Now it is time for the Gauls: 1 Chief, 1 Standard bearer, 1 Musician, 13 (light, heavy infantry). Further details will be given later.
Now something about signifer.The signifer was the standard bearer carried the signum of the unit. Each century had a signifer (there were 59 in a legion) and within each cohort the first centuries signifer would be the senior. This standard served both as a rallying point for the soldiers and to communicate simple visual commands to the troops in battle. The task of carrying the signum in battle was dangerous as the soldier had to stand in the first rank and could carry only a small shield (parma). The pole could be topped with a leaf-shaped spear head or a manus (open human hand) image denoting the oath of loyalty taken by the soldiers.
Signifer equipment: Gladius sword, Puggio dagger, Parma shield and Standard signum.
Parma shield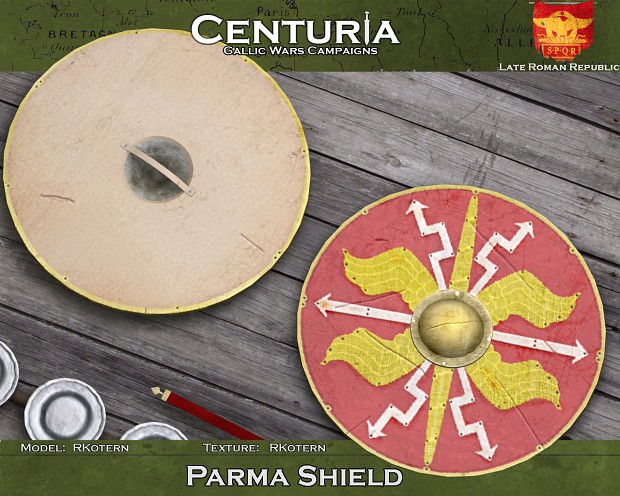 A small, round shield used by standard bearers in the Roman army. Defense was not as effective as the large legionary shield, but it was useful. During the battle standard bearer held together parma and signum in his left hand.
Signum standard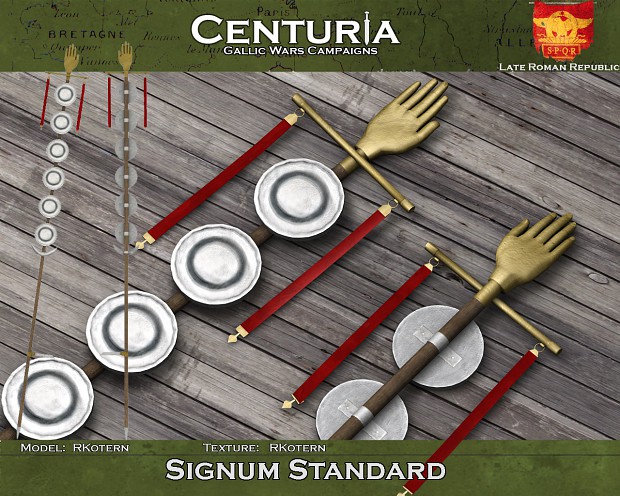 Signum was standard carried by signifer.
One of the types of shields used by the Gauls. Patterns on each shield were unique of each warrior.
That is it for this month guys, stay tuned for updates in the near future.
---
- Double Rings Studio