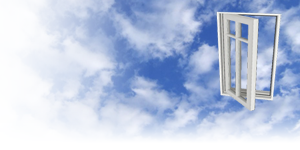 An Open Window: Project Launch Day -7
In my last update I talked about my intentions for this experimental MOD. I want to capture those few alternative aspects you really love in your favourite game. Today I will talk a bit about the concept of the MOD and how it came to be.
Before I dive into the actual subject matter, I'd like to say I was very pleased with the comments I got on my last news post. I want to thank everyone who posted for sharing the game that hold a special place in their hearts. I've checked out video trailers for these games and they indeed are very interesting. Also, it seems my article news style caught on and I'll continue updating this way.
The Concern of Concept
Creating a game concept is hard, especially if you want to be different. First there is the trouble of coming up with an idea and secondly actually developing it. What makes all the difference in the world is writing a concept document. While this might bring back memories of horrible school essays, it's important you organise your ideas and actually try to write down how the game is supposed to be played.
For AnOpWi, it took me a while to get ideas. My room was littered with small pieces of paper with random chains of toughts scribbled on them. I even put up a big whiteboard to help me organise my thoughts. Finally I came up with which aspects I wanted in my MOD: emotion, object-oriented gameplay and memories (along with a few others). I listed them as bullet points and started writing a story to connect the dots. After a few days I actually had something with which I could start experimenting.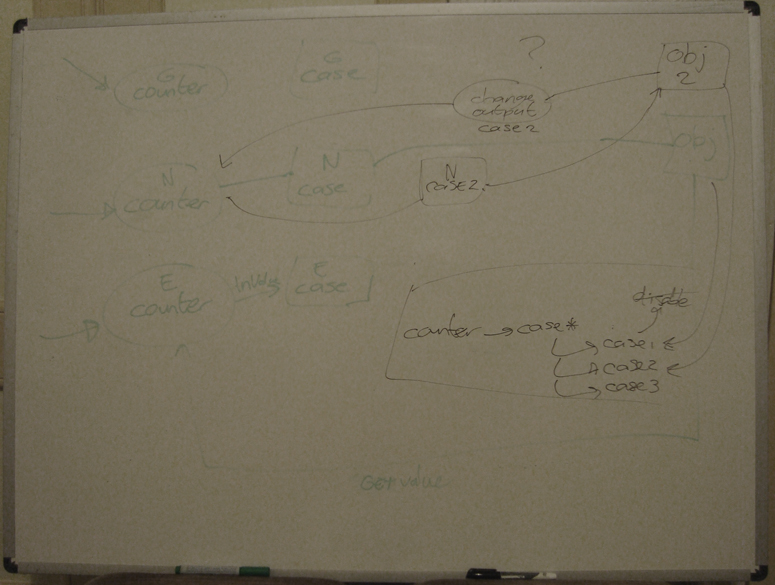 Creating digital worlds starts on good old analog whiteboard..
Experimenting is what you should do as much as possible before you actually start putting your game together. While your fantasy is unlimited, the engine you work with is not. You'll have to adjust your concept to what is actually possible, which means rewriting parts of your concept or even cut ideas completely. I realised that some of my ideas actually interfered with other aspects, so you're also going to have make choices, which isn't always easy.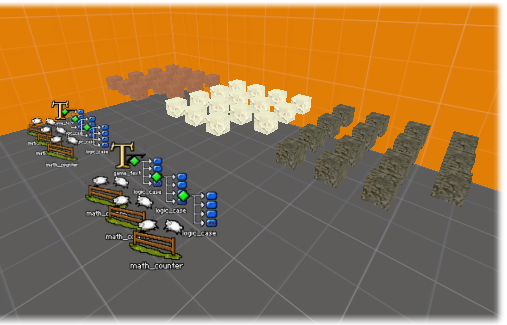 I started testing my planned systems and sequences in small test maps. While the screenshot might look like I'm re-inventing Pac-Man, these blocks are actually testing the backbone of my entity system. My complete inability to write code forces me to get creative with Source's entities. If you're starting with a new and unknown engine, it would be wise to learn as much as possible about it's structure and have a coder to back you up in case you have trouble getting something to work. Sadly, that's a luxury I do not have. Eat them up, nom, nom.

Of course there is a lot more to say about creating concepts but I'm trying to keep myself from turning this article into a wall 'o text. I hope you got an idea of the way I addressed the planning phase of the development cycle. As before, I'd like to end this update with another Question of the Day. Thanks for reading and I eagerly await your comments below.

Question of the Day:
If you could hire a game development team with unlimited budget and resources, which game concept or idea would you like them to make for you?