Introduction
ASoD is a revolutionary space RPG. It is a total single player sandbox where your goal is what you define it as. To support this there are a variety of play options from piracy to mining and ships suited to the task. There are also many solar systems to trade, fight, and explore in.
New Ships
ASoD 0.7 adds two new factions and two new ships. The first one is the Phoenix, an Mycerian freighter used by Starbus to move people across Myceria. This transport is unique in ASoD in that it is fast and well armed. However, it sacrifices cargo space to make this happen.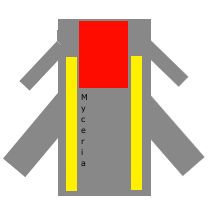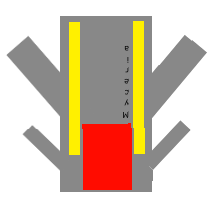 Combat is valued greatly in ASoD. With the new Wolf pirate faction, you get to buy the Wasp, the first ever bomber in ASoD! This ship shoots large, slow moving projectiles that travel a short distance but do a lot of damage. It also sports a top of the line engine and extremely thick shields. This makes the Wasp a deadly hunter prowling through the skies (or in less poetic terms, it can pirate nicely).



These new ships are also flown by the two new factions, Starbus (traders) and Wolf (pirates), and fully integrated into the game.
Let there be Sound
Music is now a part of ASoD! There are two tracks at this time, a generic track and a danger track. It switches between these smoothly by analyzing what types of ships are either within or just out of sensor range.
The new sound adds a new level of atmosphere to ASoD and goes good with just about every environment. The music was created by me using ZynAddSubFX and Hydrogen with some touch up work from Audacity. Finally, the warp sound is toned down. It now is quieter than the music and a lot less harsh. I got complaints regarding how loud the warp sound was.
Buy Low Sell High
Besides being the rule to financial success, it is a way to make money in ASoD. However, selling and buying were very difficult due to tricky keystrokes. That is no more. Now when you buy and sell a ship you still hold ctrl or alt like before, but you CLICK what you want to do!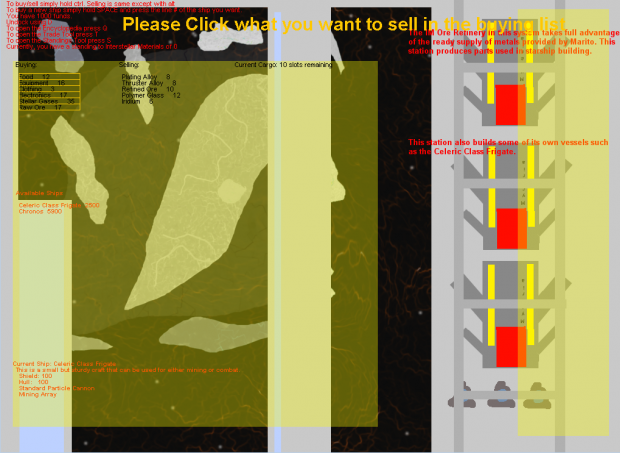 Notice that a grid appears over the commodities, this grid is sensitive to the mouse and will allow much easier buying and selling than ever! It also frees up more than 9 slots per list for commodities, making the rogue pirate bases work. Note: You still buy your ship the old way.
Deleting your old saves
When upgrading to a new version of ASoD, it is important to delete your saved games (it must be done or objects in this version won't be properly positioned). These files are called .amongSeasOfDust, .amongSeasOfDustStandings, and .amongSeasOfDustStarMap . They may be hidden on your PC and on windows vista are in Public, on linux are in /home/you, and windows xp are in c:\ . It is important to delete these to insure an authentic experience.
Note: The way these files are set up is not hard to figure out, you can manually migrate your money/ship/standings with notepad to the new files.
Early Release
ASoD 0.7 is being released ahead of schedule due to some personal issues in real life. I have not had time to work on completing Myceria, but I will catch up in the next release. However, this release adds many new features. Here they are in a nutshell...
Fixes
Decreased number of ship flashes.
Fixed error where a corrupt game file would reload in the wrong solar system.
Fixed error where NPCs that get shot at who haven't selected a target may go after player.
NPCs that are in combat bounce apart so that they do not rapidly move back and forth.
NPCs now do shield damage instead of skipping to hull.
All stations can now be bought and sold to even if there are more than 9 commodities in the list.
Piracy (taking cargo can) works again.
Fixed bug where patroller NPCs may decide to hold still for no reason.
Marcina starbridge in Lori renders.
Additions
New Factions: Myceria (Navy), Starbus (Transport)
New Systems: Edge (Disputed), Lium (Myceria), Marito (Myceria), Jueve (Myceria), Palicoli (Myceria)
New Ships: Phoenix (transport), Wasp (Bomber)
New Commodities: Passengers, VIPs, Prisoners, Plating Alloy, Thruster Alloy, Refined Ore, Polymer Glass, Iridium, Gold, Cobalt, Silver.
New HUD Readout shows non-hostile ships as green.
New Buying/Selling UI allows you to buy and sell via mouse instead of tricky keystrokes.
Music (situation based): Generic and Danger music.
Balancing
All NPCs respawn after player death creating even more active systems.
NPC bullets now only damage the target NPC.
Changes
Pionis got a revamped backdrop and the docked graphic for Meecor got a redoing.
Sigos Minor got a docked graphics redoing and story redoing.
Warp sound toned down.
Optimizations
NPCs are no longer drawn if player cannot see them.
Cosmic entities are no longer drawn if player cannot see them.
Visual balancing system now factors in the player ship's size when positioning on screen which effectively centers the player regardless of ship.
Feedback
Thanks for your interest in ASoD and I hope you enjoy the game. Please send me your feedback either via ModDB.com or masternerdguy@yahoo.com . Your feedback is valuable. Fly safe!