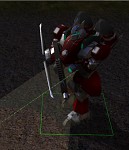 Past
Hello there! Yes, it's actually me again :). It's been almost a year now since I last made an appearance here, and I'd like to apologise to all the fans that have been languishing due to the lack of progress.
I feel I need to say a great big Kudos to Bob at this point, for having held up the flag while I was MIA! Many thanks to him for keeping you guys at least somewhat in the picture on what's happening, and his continued work and organisation on the game.
Enough of the past though - what's going on at the moment is far more interesting:
Present
As you may have read, our fellow dev Alter-Heide has been on a multi-week development drive to get things running again. I'd say he's overshot his target though, as he's added a plethora of new features:
GUI selection of your Engine
spanking new GUI all round actually!
a heat system limiting your speed and ability use
as well as all four Engines set up and ready to rumble
to name just a few. You could say its last year's "Spring offensive" goals achieved - with just a minor one year delay

.
As befit's the recent tempo of development, we've also been doing quite a number of test-games over the past weeks - and we've expanded the circle from just dev-internal, to closed alpha testing (within the Spring Engine Community). And, since we were at it, a little LAN-party fun with our mates as well

. Keep watching this space if you're interested in joining us!
Future
Finally, the question I'd guess many of you would like to ask: "Will there be a playable version released soon?" Well, we still have to do a lot of internal cleanup first, ensure that everyone is credited, and that the licence situation is clear for all files, before we can make the game accessible to all. But I'm happy to say that we fully intend to deliver a first public alpha in the near future!
We'll be back soon with more on what's to come and some Features explaining the game so far - see you then.