Welcome to Alpha Challenge 2015, the biggest community event of Cogmind Alpha Access!

You can go straight to the main event page to read about the rules, rewards, leaderboards, and dozens of achievements, but here's an introduction and summary of what all this is about.
While top scorers will naturally receive more recognition and prizes, this is also meant to be an event fun for all, and in that spirit simply by participating you might win something substantial (Cogmind gift keys!). You can even get your name in Cogmind's ASCII art gallery! (the item attribution reward)

There are quite a number of achievements--61 and counting--providing recognition for many unique styles of play and giving even those less familiar with the game a chance to put their name on the leaderboard. The achievements are "secret," however, so initially you can't aim for them; just play games and the event algorithm will parse and analyze all the uploaded score sheets to determine who currently holds the best ratings in each category.

During (and especially after) the event, I'll be sharing interesting composite data and graphs via /r/Cogmind, the main forum thread, and sometimes Twitter.
Good luck!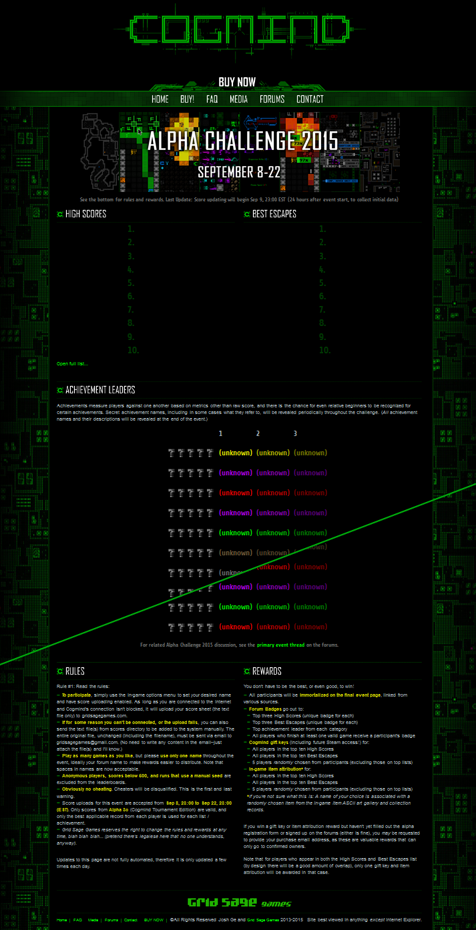 The event website awaits its first influx of data, to come tomorrow.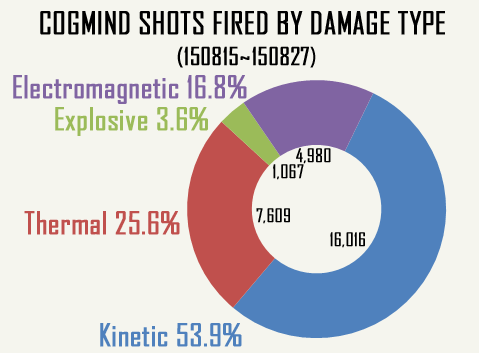 A small sample of the kinds of data that we'll get out of the event (this from the previous leaderboards testing period). We'll also get a look at where deaths occur, preferred player strategies, all kinds of meta data, and more.
To coincide with the event, Alpha 3c Tournament Edition was just released yesterday, including some important tweaks and useful little features.

Full changelog - Cogmind Alpha 3c (0.10.150908) Tournament Edition:

* NEW: Warning message and sound effect feedback before stepping on a known hostile trap
* NEW: 5 more metrics recorded on score sheet
* NEW: Added mention of accuracy cap (95%) and lower bound (10%) to the manual
* MOD: Robot meltdown frequency decreased significantly
* MOD: Slightly weakened effect of blade/segregator traps
* MOD: Blade/segregator traps ignore all storage/container parts
* MOD: Med./Lrg./Hcp. Storage Unit mass increased
* MOD: Programmer dispatch frequency varies less wildly
* MOD: Improved descriptions for Signal Interpreters, Terrain Scan Processors, ECM Suites
* FIX: Misdirection caused by system corruption failed to redirect (broken by Alpha 2) [Adraius]
* FIX: Unidentified prototypes in your inventory at the end of a run were listed as an ID'ed prototype [Adraius]
* FIX: Database data loss due to system corruption wasn't being applied, despite message to that effect [Adraius]
* FIX: Player names and manual world seeds including spaces weren't fully read from config file
* FIX: Armor Integrity Analyzers were only sometimes working as intended