Hello everyone! There has been more than a year since our last update in IndieDB. We (Fight4dream) are focusing on making new games and now it's the time to let you know our latest progress.
We are happy to announce our new game: ALIENGINE, can be released within 1 month if everything goes right.

ALIENGINE is an exciting dodging game with elements of aliens and space shooter. Players need to control the spaceship and keep survive as long as possible from endless waves of massive rocks, flying saucers, bombs and unidentified giant creatures.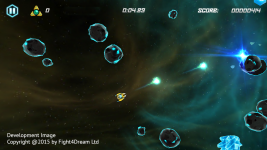 We develop ALIENGINE with one basic principle: causal and fun to play.
We hope our players can enjoy this game in every place and every time.

Storyline:
In order to systematically control interstellar travels, Galactic Federation
selected several dangerous districts for spaceship pilot ability testing.
Spaceship pilots will need to push their limit for better travel time record.

All spaceship pilots from under Galactic Federation want to prove their skills and
actively joined the test for competing the title of number one pilot in the universe.
Do you think you are the best spaceship pilot?
Let's try and challenge other pilots all around the universe!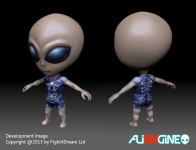 (Preview of the Alien Pilot: Grey)
We will keep update the latest information of ALIENGINE here and stay tuned.
Please follow us on facebook and twitter for more details, thank you very much.
Twitter: Twitter.com
Facebook: Facebook.com