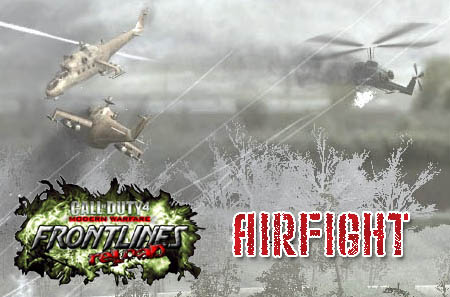 The gametype AirFight it's a Team Deathmatch between Choppers, where up to 8 Choppers can fight in the air at the same time, then the team which shot down more Choppers wins.
All players become the Gunner of his Chopper and must shoot down the enemy's Chopper taking care to not shoot his friends and his own Chopper. The ammo is very large but not infinite, but I bet someone will shoot you down first then you become out of ammo.
There's a limit of the engine to have at max 8 vehicles in the map, so that's why can only have 8 (4 to each side) at the same time. That's why there's a kind of spawn line to both teams, and if your team have already 4 choppers in the air, you gonna spawn as spectactor (invisible and immortal) and will can watch all the war, even walking around while you wait a chopper for you enter the battle.
Because that limitation I recommend just play this gametype in the Small rotation to not have many players waiting in line, aside will work fine until with 64 players without crash, but could happen to several players don't have time even to play once.
The Choppers start to spawn in a very random place in the map, so they can spawn really VERY HIGH and start to get down, this sometimes can cause a strange behavior on the first curve which the chopper will make in the air, and this first curve can pass your chopper into a building, mountain or even the ground, so don't worry if that happen with you, it's normal and will not cause you any harm to you or your enemies since you can't fire from there, and can't be hit also.
After the first curve the choppers will start to follow the originals paths of the map and this strange behavior will not happen anymore.
Of course you can't play this gametype into maps without Heli Support, or maps with a very bad/small Heli paths... how much more bigger the maps and paths more fun is this gametype, specially the ones witch have some buildings/mountains in the same high which the helis fly.
This is a respawn gametype.
---
Detailed Information @ www.mods.hajas.org