Hey guys!
I know you have all been craving updates, and they have stopped being posted as frequently so I'd like to address that first.
Cooper and I have started school now, so our lives have gotten insanely busy. This summer when we began, we had the ability to update every week. Now, getting substantial content in a week isn't as easy and lame filler updates don't seem fair to our community. This isn't saying development has slowed down, we are still really hammering away (no pun intended) at it, we just have less to show for it.
We thought of doing little Bio's or maybe go more in depth about the design of the game and how we went about doing certain things. If there is anything specific you guys would like to see or hear more about let us know! Comment, Private Message or E-Mail are all checked frequently.
On to the meat of this update, the Air-brakes, New Jump Jets and beginning of the HUD!
(If you aren't a fan of lengthy text descriptions, as always, there is video and still images below)
Crosshair:
Fairly simple, the only difference being the color of the outer ring alternates between Green and Red depending on whether or not the surface you're looking at is hookable. Of course you can turn off the color changing or the outer ring all together in the options menu.
I just had to post this image of the first crosshair we made this weekend, it makes Cooper and I laugh every time we see how ridiculous it looks. Definitely a "special" crosshair.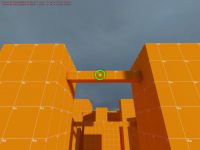 The new one doesn't look like it was drawn with a crayon....
New Jump Jets:
The old jump jets functioned exactly how they should have but not quite how we wanted. We were always looking for more of a high jump than a long jump. So now with some revised movement code we got the higher arc when the player jumps that we've wanted.
Air-brakes:
The air-brakes were a long time in design because we couldn't get them working quite the way we had originally imagined.We started by simply slowing the player overall but it ended up looking odd, because after he was slowed going forward, he started to fall but was still slowing. So we came up with the solution, while you hold the key the player slows in the direction he was moving when you started holding it.
As you can see it's really coming together and we are excited to say we are very close to starting our closed alpha. The fact that we are starting the HUD is also exciting, because it means that we are very satisfied with our game mechanics. The game will soon be receiving a slow but well deserved face lift.
Thanks for all of your support!
As I said earlier, if you have any ideas for an update you'd like to see let us know.
- Alex