This mod uses userpatch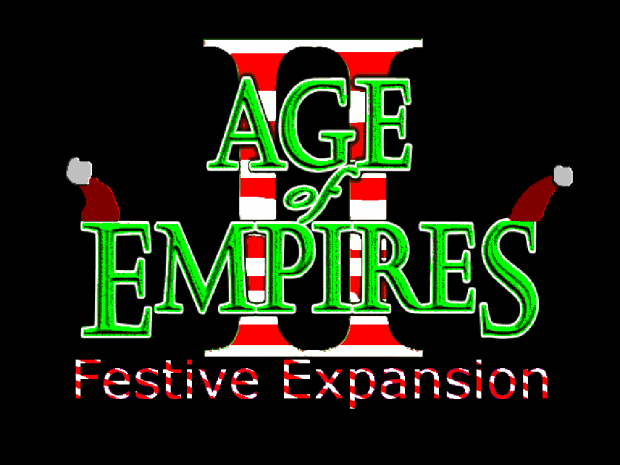 This is the logo for my mod
This is an unofficial expansion for age of empires ii the conquerors which is based on christmas.
you can play as the following civs such as:
the gold gaining heavily naval focused Festivians.
the dangerous anti building Humbuganians.
the cold and sturdy Frostoris.
knock down fortifications with the tanks of Humorish.
This mod adds some gifts in some buildings such as extra units and train the king of all siege weapons the behemoth
and the dark age has been slightly improved by adding war canoes in the dark age to have very early naval attacks
plus the fishing ships can be upgraded to heavy fishing ships and provide more eco
enjoy
some new units have been added
such as
War canoe: a light assault unit (dark age)
Slinger: light infantry good vs infantry (feudal age)
Heavy fishing ship: better than fishing ship (feudal age)
Hunting wolf: a scout unit and defensive unit (feudal age)
Centurion: heavy infantry with high attack and hp (castle age)
Juggernaut: does what the turtle ship does but is half the damage but not as resiliant (castle age)
Saboteur: stronger than petard bigger blast radius (imperial age)
Next level monk ??: stronger than monk (Imperial age)
Royal Knight: trained at castle but cannot be converted (Imperial age)
Siege scorpion: stronger than heavy scorpion (Imperial age)
Heavy Bombard cannon: stronger than bombard cannon (imperial age)
Behemoth: a vehicle with 4x cannons doesnt do more damage vs buildings like the bombard cannon (Imperial age)
Fire mage a monk unit that summons fire (imperial age)

A new building
such as
Fort: (new building for dark age) 4x weaker than a castle also fires slower provides 10 population and can garrison 10 but fires guard tower arrows
Mirror tower: Very strong slow reloading tower that has long range (Imperial age) requires mirror tower upgrade
and some new upgrades
Supplies: infantry -15 food (feudal age)
Arson: infantry +2 attack vs buildings (castle age)
Archery: archer units +1 attack (castle age)
Naval plating: ships +15 HP (castle age)
Communities: Villagers train 20% faster and +10 population (castle age)
Wolf armour: hunting wolf +15 HP and +2 attack (castle age)
Saddles: cavalry +15 HP +1 armour
Trebuchet armour: trebuchet +50 HP (imperial age)
Combat Gear: Villagers +10 HP and +2 attack (castle age)
Heavy siege engineers: Same as siege engineers (imperial age)
Heavy guns: artillery units faster projectile (imperial age)
Reconstruction: repairers work 20% faster (imperial age)
Slingshots: Towers +1 attack and arrows move faster (imperial age)
Mirror tower: unlocks the mirror tower (imperial age)
Heavy trades: Gives trade units +10 HP and +20% work rate and 1/1 armour (Castle age)
New civilzations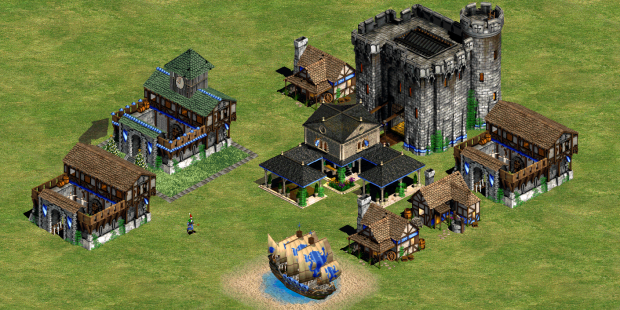 Festivians
Christmas Civilization
Start with 250w and 200g
Destroyed siege return 20% wood
Galleys +1 attack per age
Galley upgrades free
Start with 5 villagers
Unique units
Festive warrior (Wields a candy cane that deals area damage and is very good vs cavalry)
Firework Galleon (Slow but sturdy ship that shoots fireworks that generate gold on hit)
Unique tech
Decoration (Same as masonry but 2x the effect)
Epic Upgrade
Firework galleons give 2x gold and siege return 40% wood
Team bonus
Unique units 20% cheaper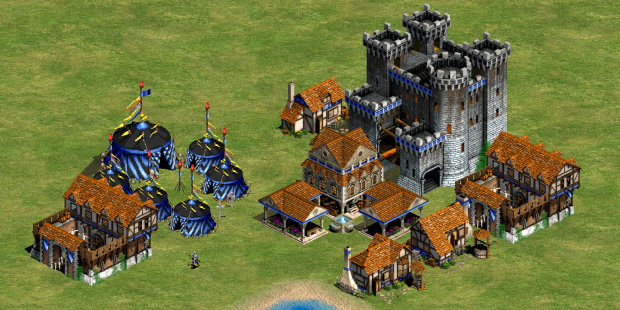 Humbuganians
Anti-Christmas Civilization
Villagers move 20% faster
Barracks cost -50 wood
Villagers +1 attack per age
Town centers +10 Garrison
Squires Free
Unique units
Torcher (anti building infantry that throws torches good vs buildings)
Unique tech
Humbuganiacs (Torchers +0.5 blast radius)
Epic Upgrade
War canoes throw torches and torchers 2x attack vs buildings
Team bonus
Scorpions +4 attack vs buildings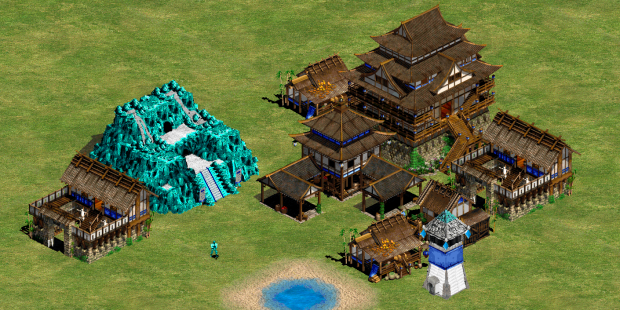 Frostori
Wintery Civilization
Walls effected by hoardings
Fortified walls free
Dropsites work 50% faster
Towers/Castles +2 arrows
Towers cost 50% less stone
Unique units
Iceite (light and quickly trained anti archer infantry)
Unique Building
Ice tower (A Strong tower that fires multiple arrows)
Unique tech
Frostice (Walls +500 HP, Palisades +50 HP)
Epic upgrade
Iceites train 75% faster and ice towers +4 attack and walls 25% HP
Team bonus
Towers +2 attack
Humorish
Funny Civilization
Siege workshops 50% HP
Siege units 15% cheaper
Walls +2 LOS
Redemption Free
Monks +1 range Castle/Imperial age
Unique units
Siege Archer (Anti-Building archer that strong but shoots flame arrows which is very good vs buildings)
Tank (Heavy siege weapon slow and tanky but deals strong damage but has no bonus damage)
Unique tech
Humori Code (Monks Regenerate when carrying relics)

Epic upgrade
Siege workshops 25% HP and siege fire 33% faster
Team bonus
Can train tanks at siege workshops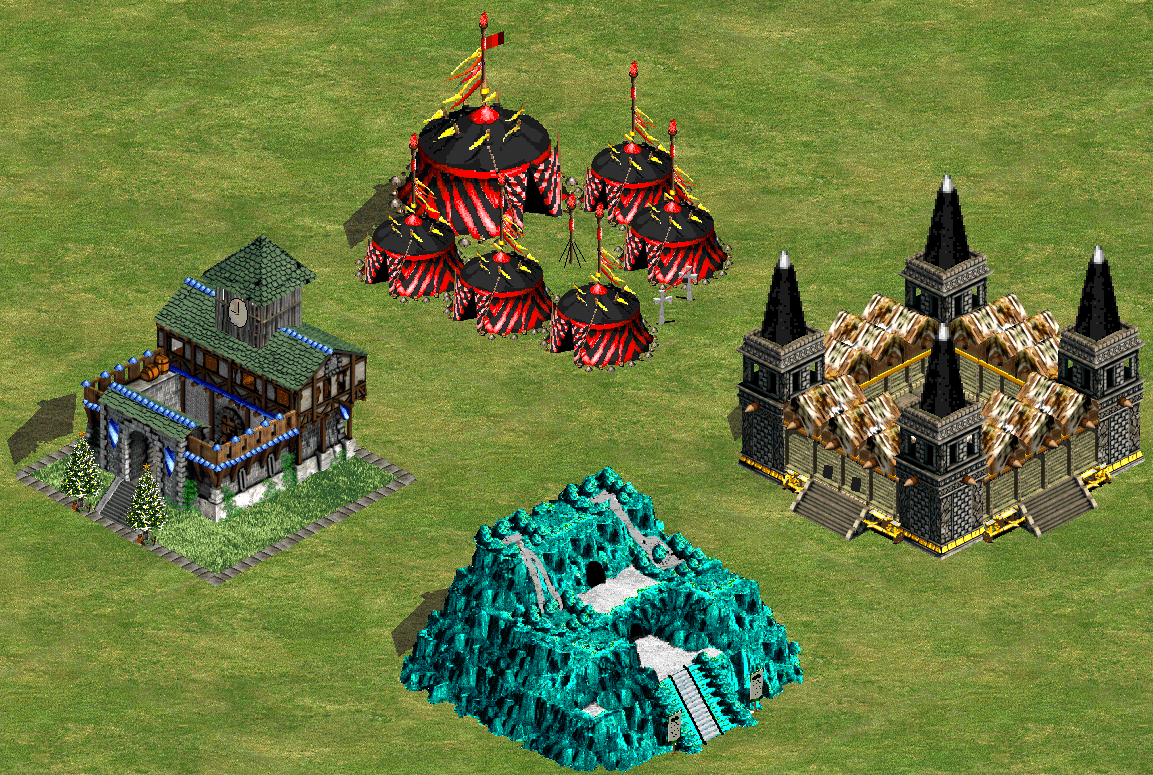 all civs get wonder powers now
How to get the wonder powers is to build a wonder and research a tech from the wonder.
this upgrade takes as long as the feudal age takes to research but costs 1000w 750f 500g
One for example is
Koreans wonder upgrade gives turtle ships +4 range and mangonels, onagers +2 range

Note: there may be a campaign containing four scenarios one each of the new civs.

enjoy