Hello everyone,
Some of you might already know me, but most likely most of you won't. I'm Abyssinian, formerly Chakotay(02) and I've been working on this Halo mod for a long time now. Ever since I saw Halo I've loved it and ever since I saw Nexus I knew it was the perfect engine for a Halo mod.
Due to the tragic events surrounding Halogen (something I will mention now and I never want to hear of again thank you very much), I decided to not come forth until I had at least two-third done. And now that moment is finally there. I started out knowing almost nothing about modding and still as of today, my texturing skills are minimal. But, the important thing is that this mod is here now.
There's too much right now to release at once, and I have very nothing ingame yet right now, as I want to finish all models and textures first. But I can show you a summary of some of the work I did so far.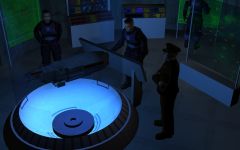 Please don't tell me "You stole that from H:FO." Like I said in the descriptions, I work for Ds and we're sharing it. Now I hope you all liked what you saw so far. I hope to see you all here often or at the forums. Link: Z7.invisionfree.com
Ciao,
Abyssinian