Another week has gone by, and, as promised, we've been focusing on Aelizia, Eclipsed's main character. Although only 15 years old, Aelizia has been through a lot. Like we've mentioned before, Aelizia's mother passed away recently, and she's still grieving. Her life has been through many changes in the last few years, starting when she manifested her Eclipse abilities. She learned to adapt, to persevere in the face of adversity, but now she must face tragedy head-on and discover how to live on her own.
Despite her youth, Aelizia is strong and resilient. Filled with memories of a happier time, she has a strong will to live, and will do whatever it takes to survive. Knowing she's in danger, she keeps to the shadows, hiding beneath her hooded cloak. Wary, shy, she doesn't want to stand out. All her life, she's been one of many, a part of the crowd, supposedly insignificant like her social status has taught her. She's no one special, or so she has always thought. Until everything changes and she has to rise to the occasion, proving to everyone that she's tougher than people give her credit for. Showing them that she can make it on her own, she can defend herself. Her courage outweighs her fear and she will make it out of Mirstone alive.
Aelizia's concept art development has been harder than anticipated, with high and low points. We started on a roll, but then encountered some obstacles along the way, mainly due to miscommunication and misunderstandings. Thankfully, we were able to find our way back to common ground, and we're back on track. But let's start at the beginning.
After compiling a great number of references to serve as inspirations for the creation of Aelizia, it was time to take the first step in the development process: the creation of silhouettes, as many, and as varied as possible. At this point, the only thing we had defined was that Aelizia was going to wear some sort of hooded cloak or cape, so we let creativity guide us: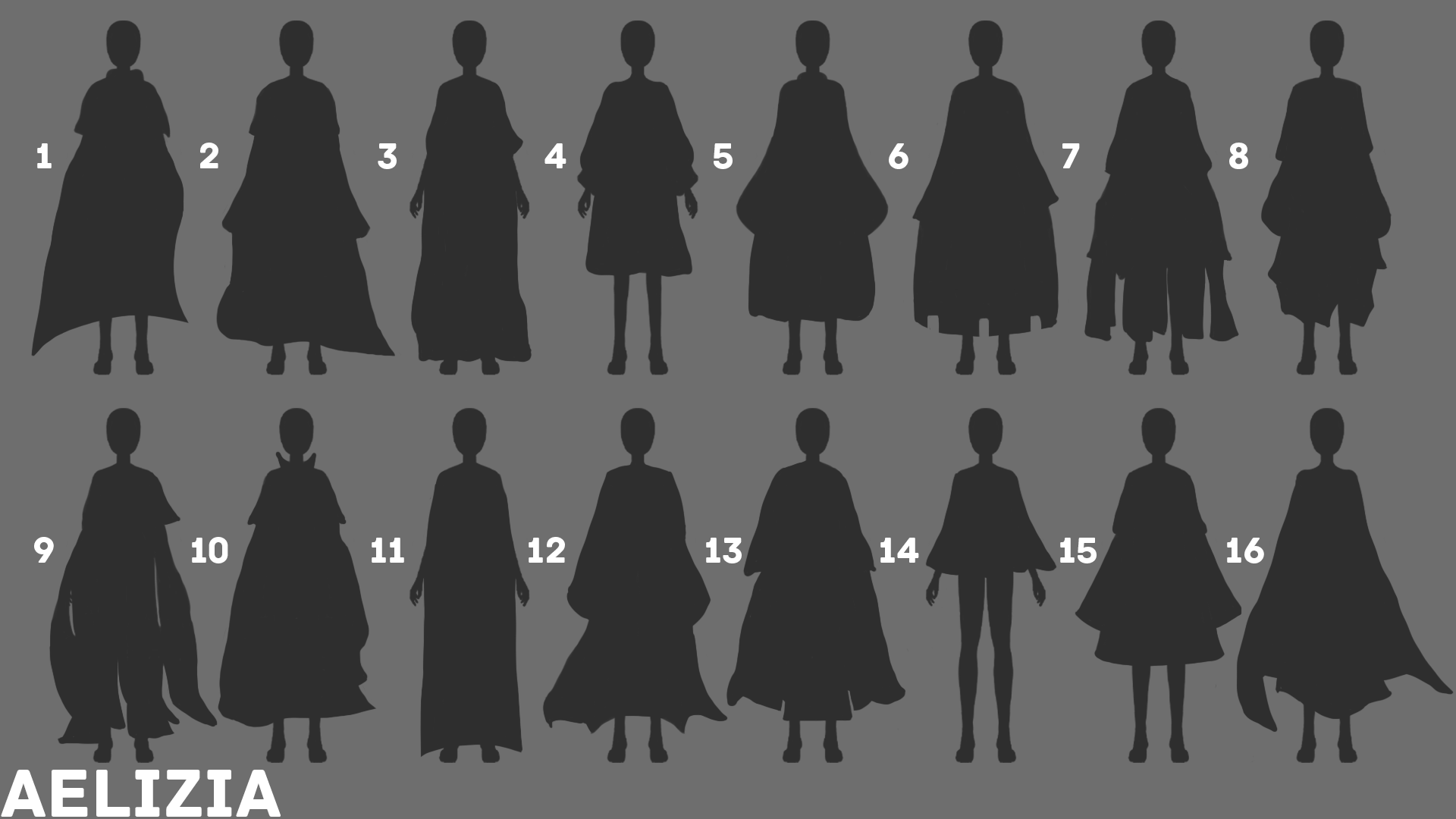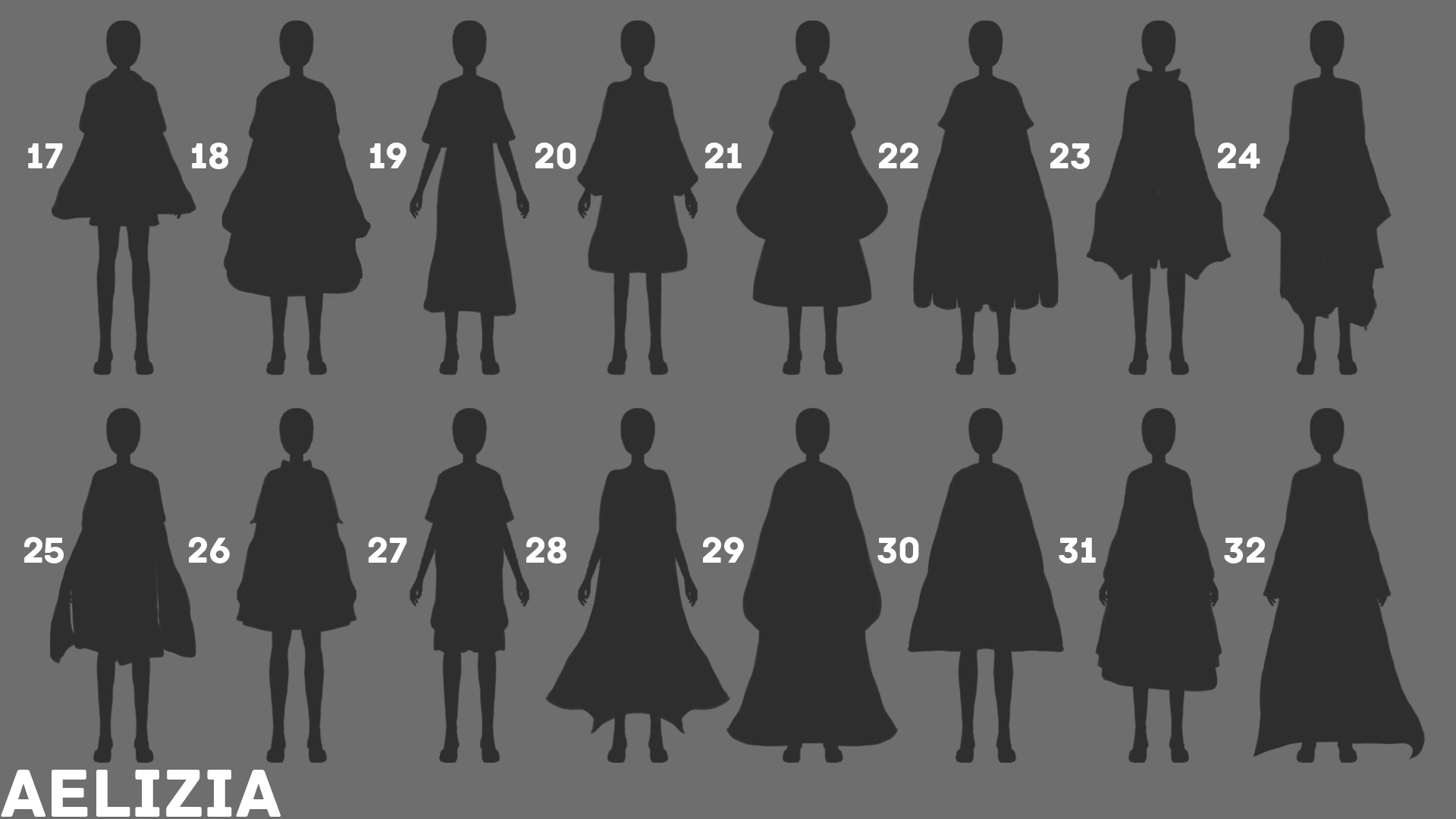 This process helped us figure out the path we should take, since we chose the silhouettes that best represented our idea and weeded out those that were unsuitable or just didn't work with what we had in mind. Thus, we selected the best eight and added different hoods to the cloaks: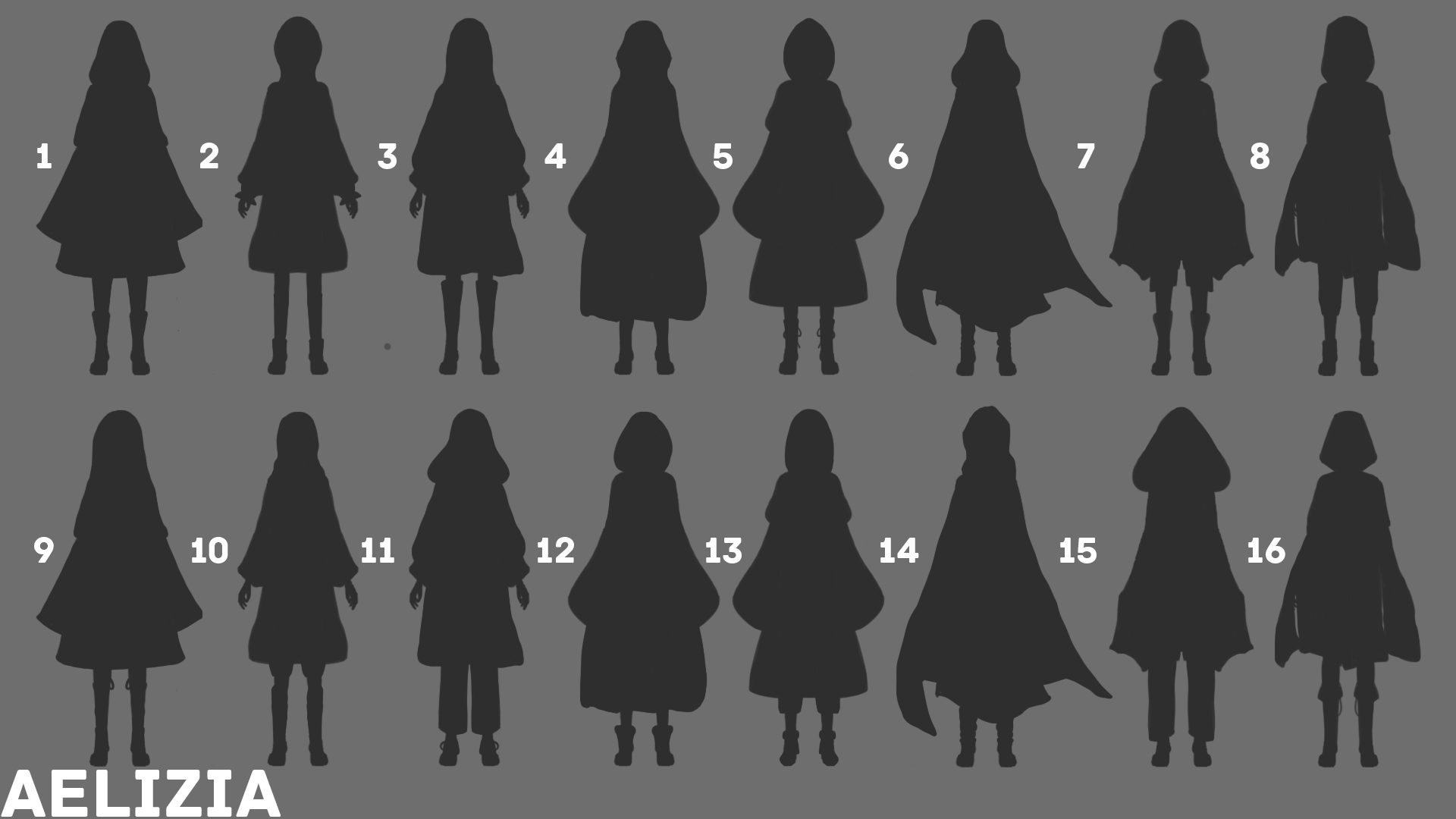 We felt it was finally time to move on to sketches and start to see what Aelizia looked like. Once again, we chose the eight thumbnails which best suited our idea of who Aelizia is, her background and what she has gone through and developed some sketches: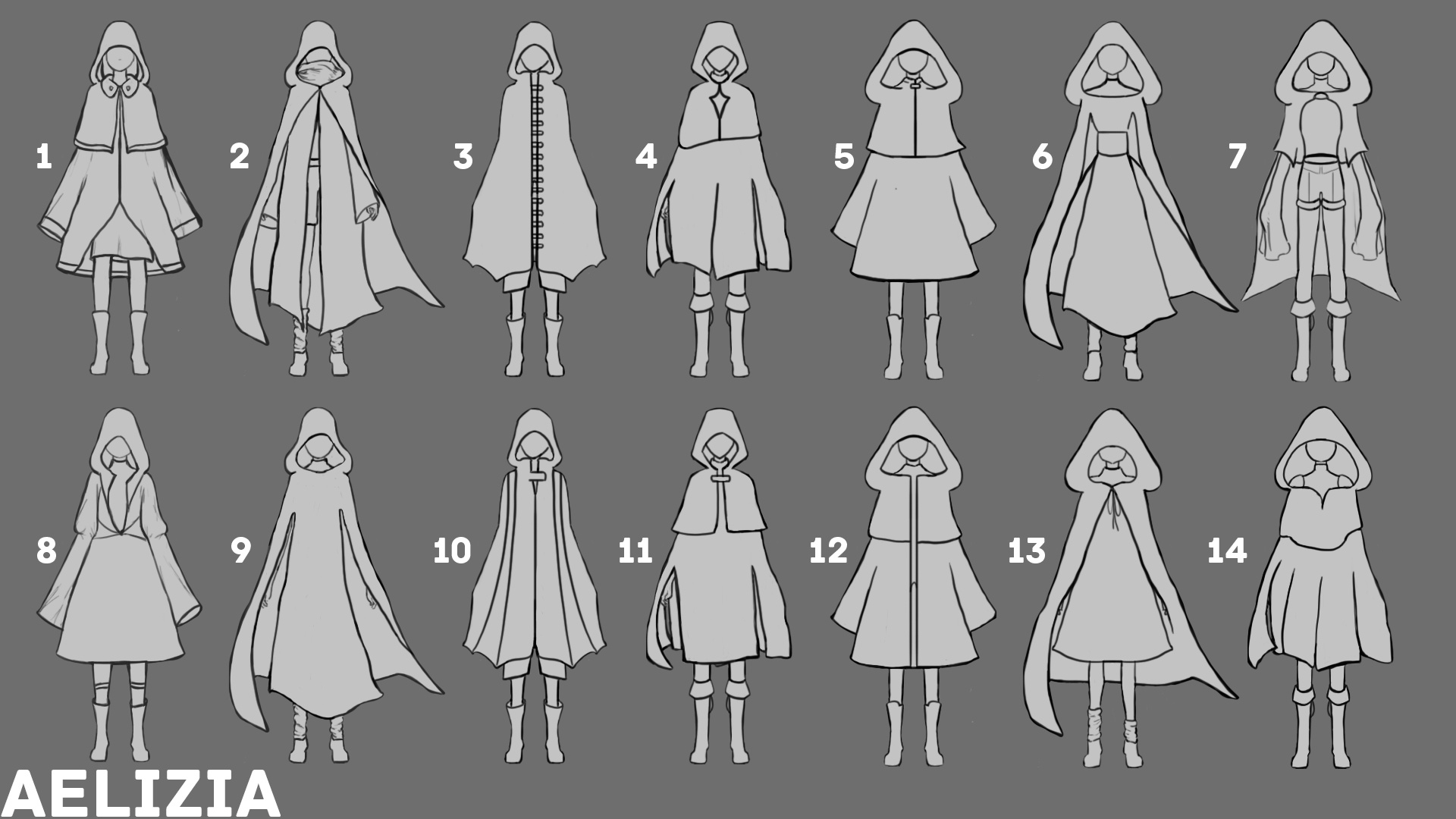 We kept following this process of sketching different options, picking out our favourites and then developing them. However, the more sketches we had, the more we developed one sketch in detriment of others, the further we seemed to get from that initial "idea" we had for Aelizia. The cloak started to disappear, "transformed" into something else entirely, and we just didn't like where we seemed to be heading.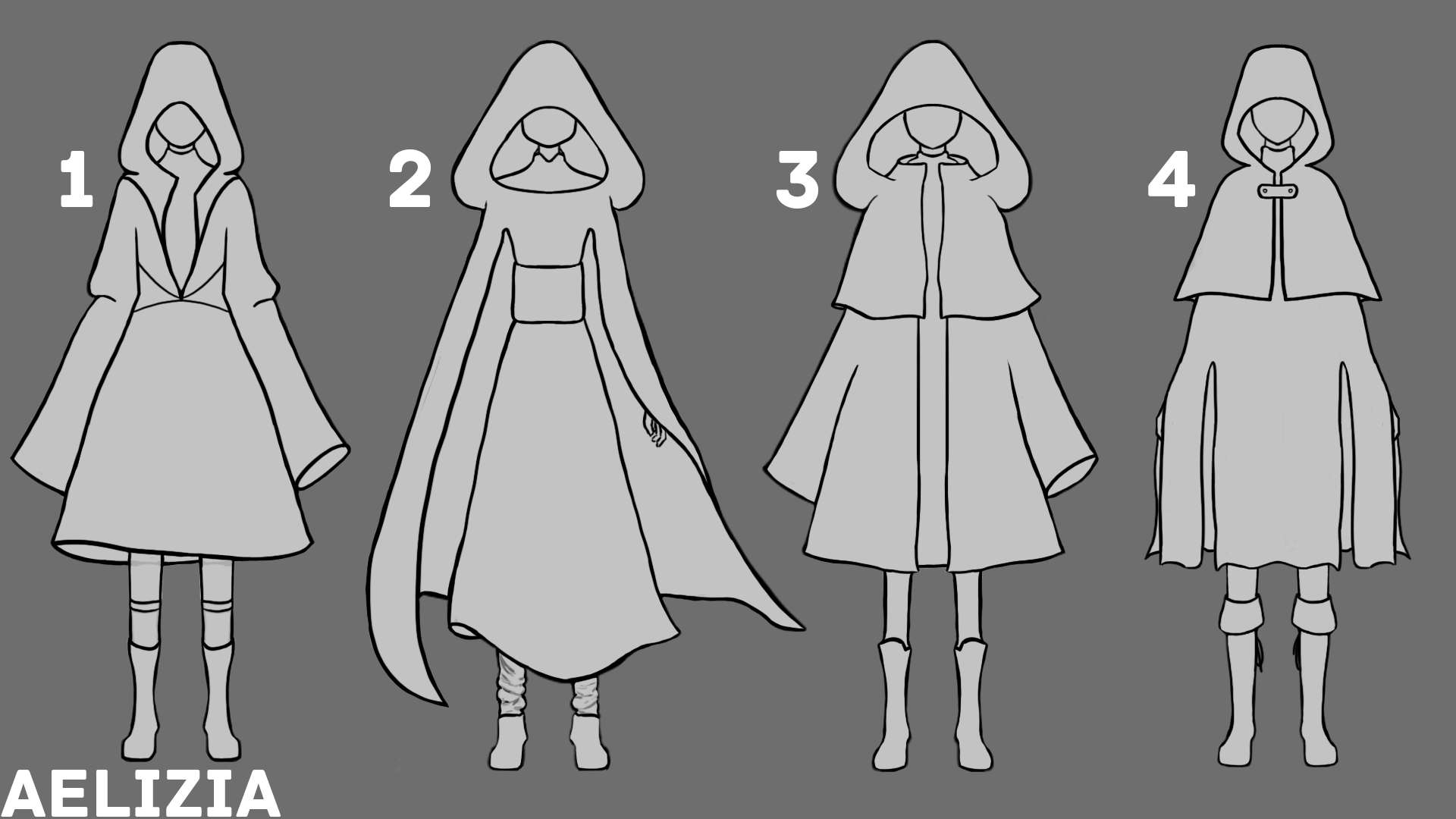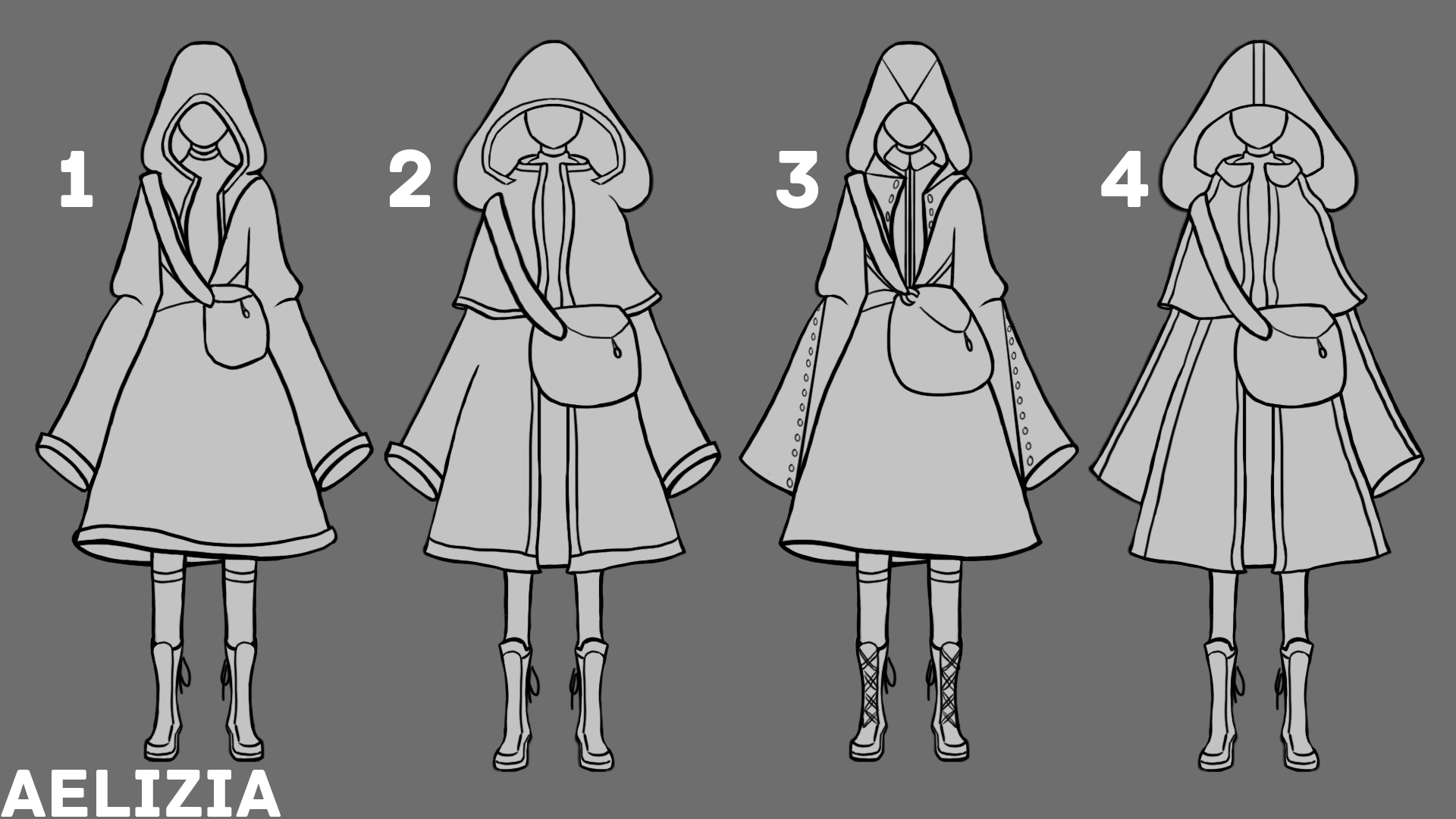 And then we hit another snag. We started looking further ahead to character animation and the very important movements Aelizia makes with her hands and realised that having such big sleeves which covered the hands would bring about many problems in the future and would make some animations very time-consuming and problematic. So, Joana, our game artist, went back to Photoshop and redesigned the sleeves, making them shorter and tighter, so that they move naturally with Aelizia's arms.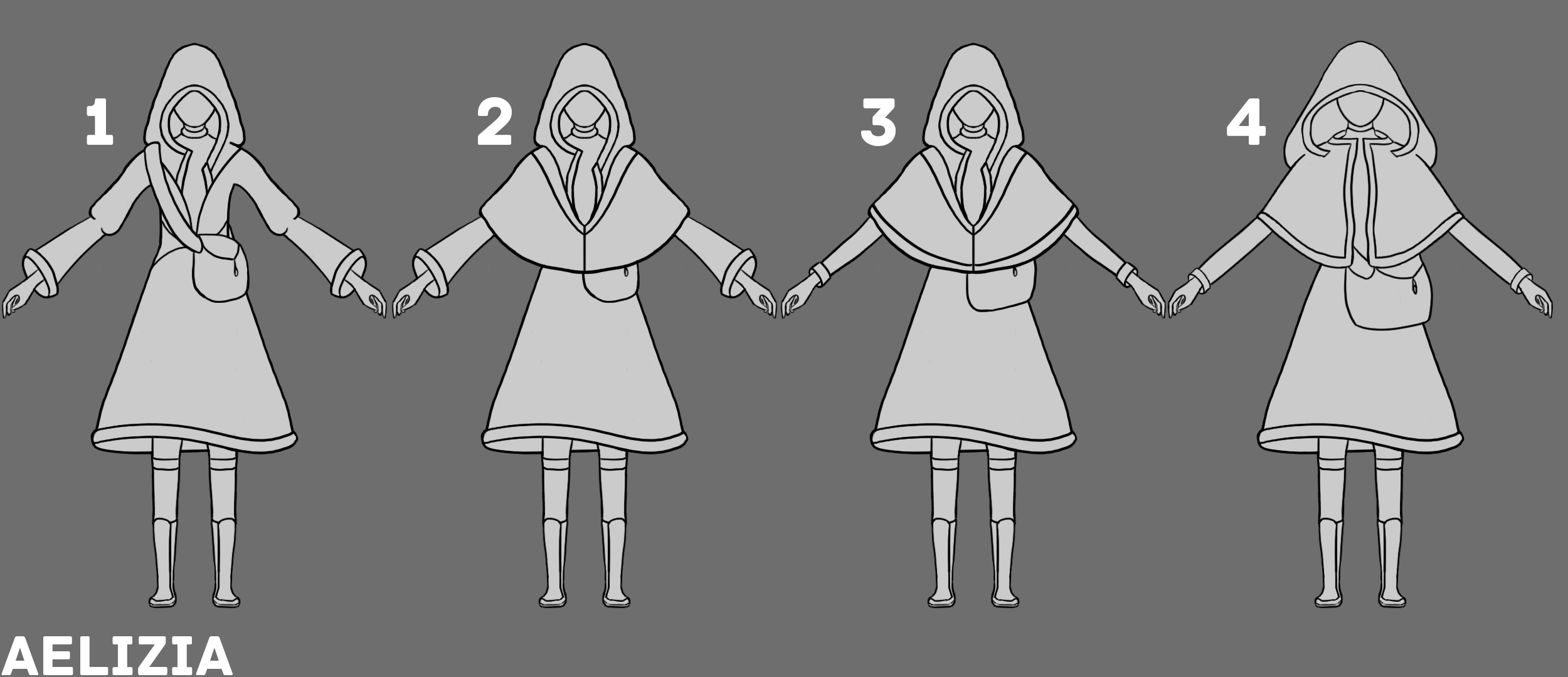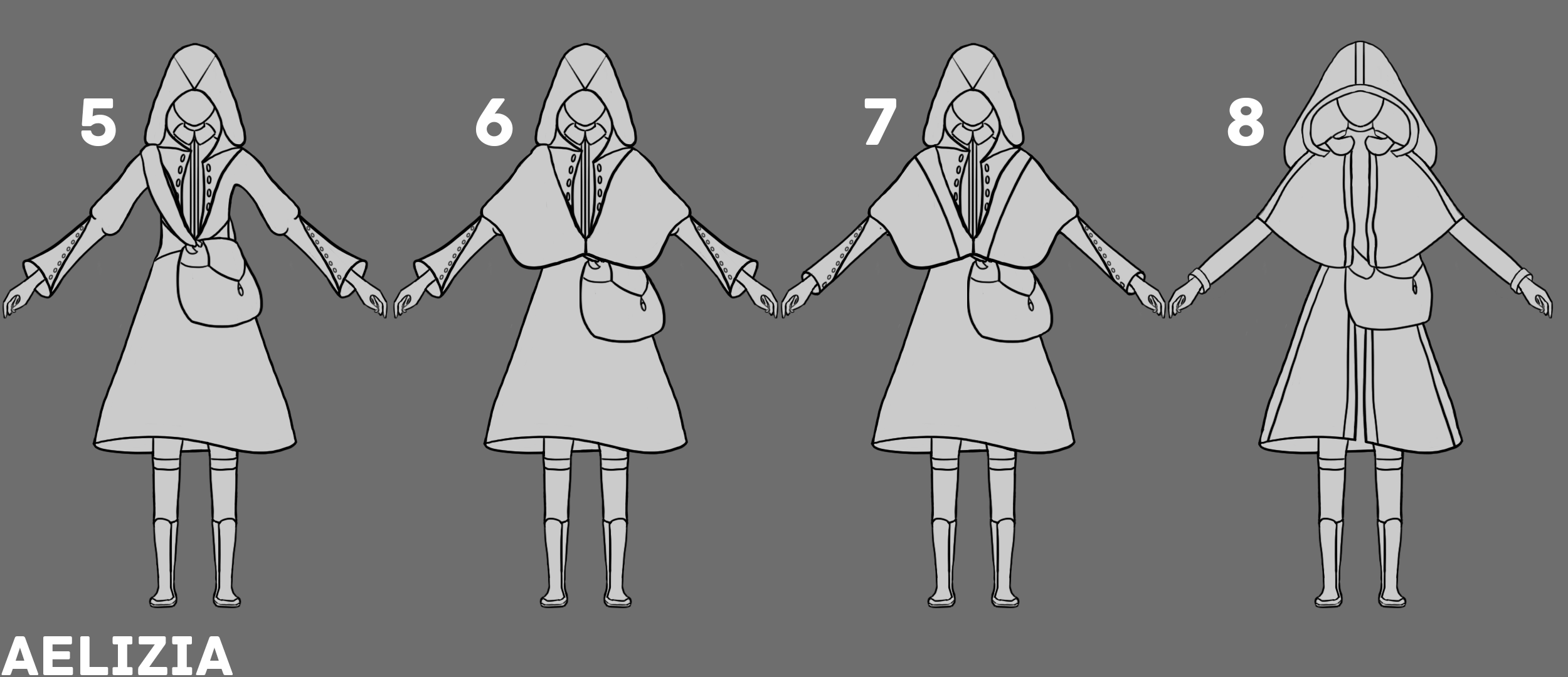 But sill, we weren't satisfied. Somewhere along the development process, we had lost the clear notion of cloak we had tried so hard to represent. It had become more like a shawl or a wrap, and the hood looked out of place. So it was back to Photoshop one last time: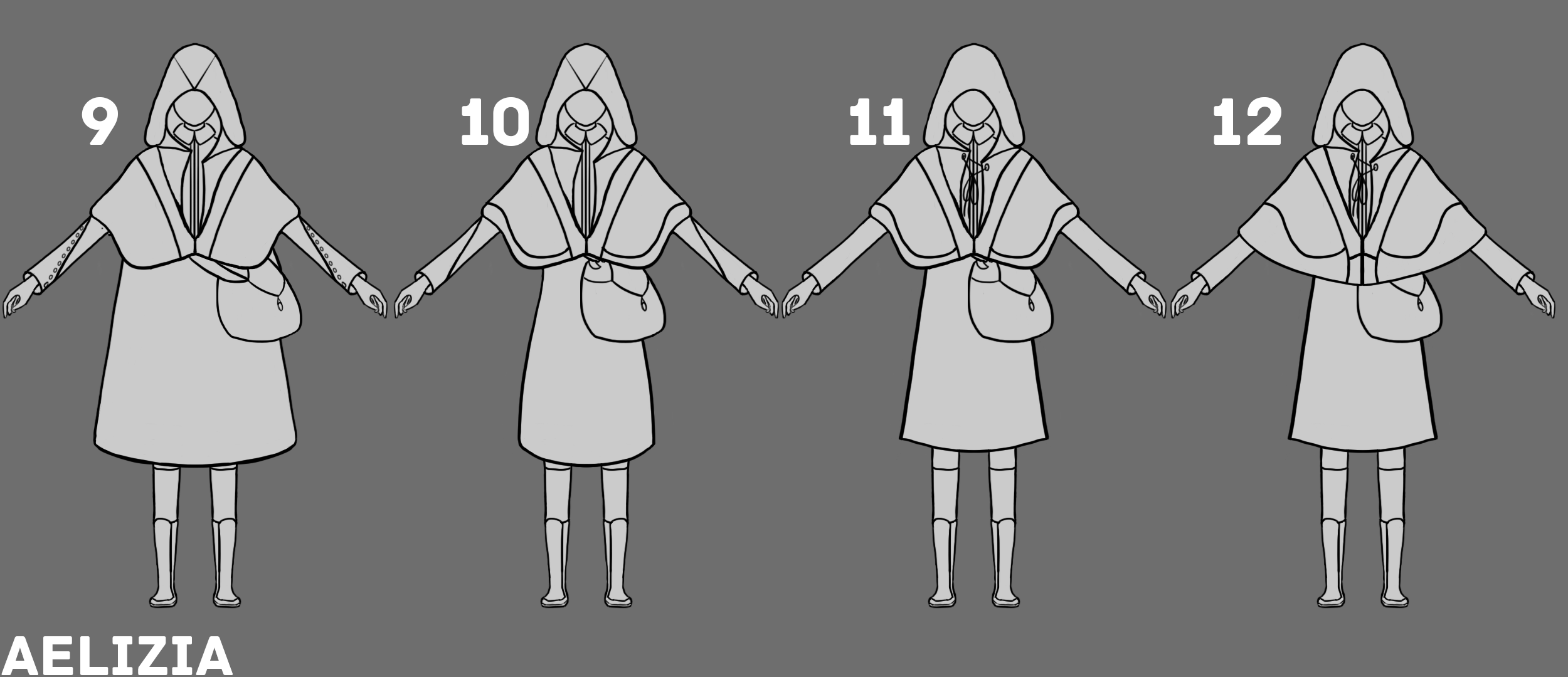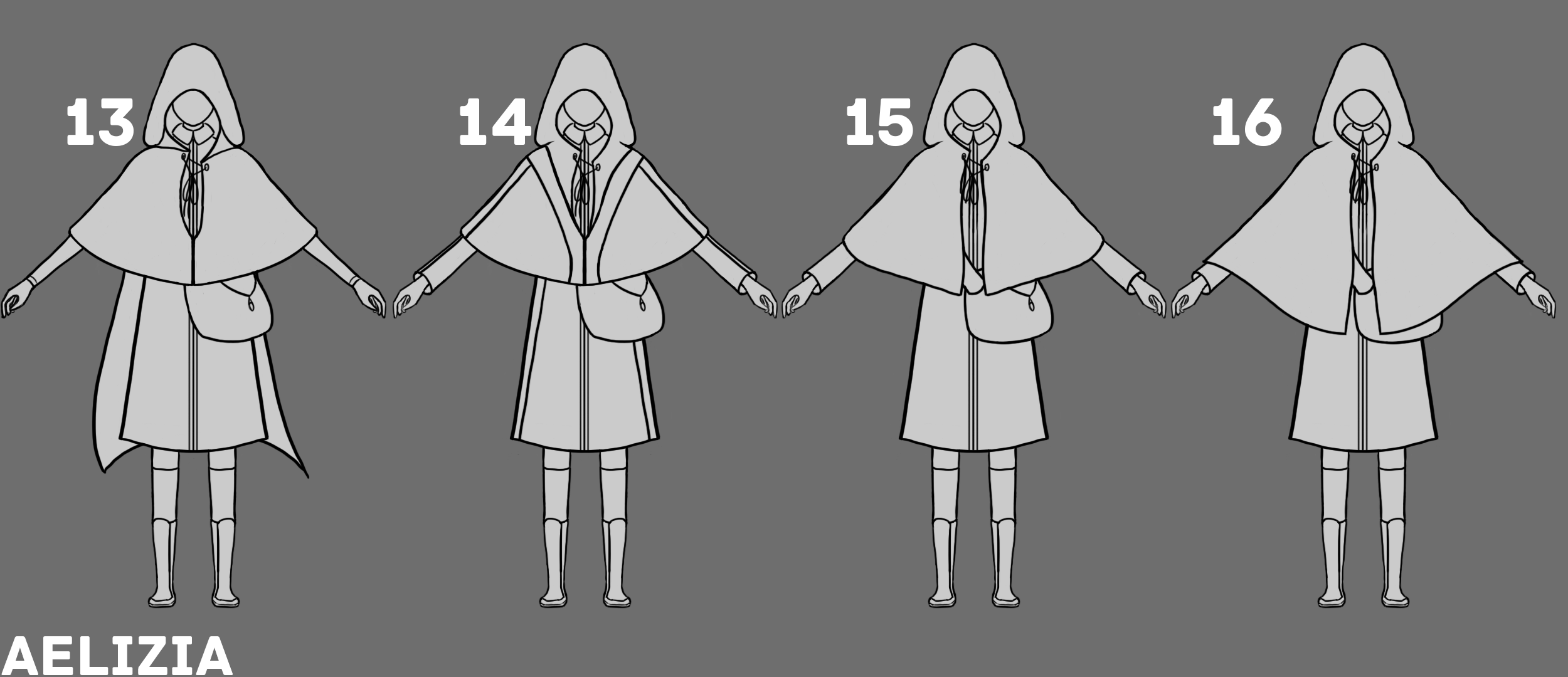 And voilà, fourth time was the charm! We finally arrived at a representation of Aelizia's clothing that suits both the narrative and her character and background: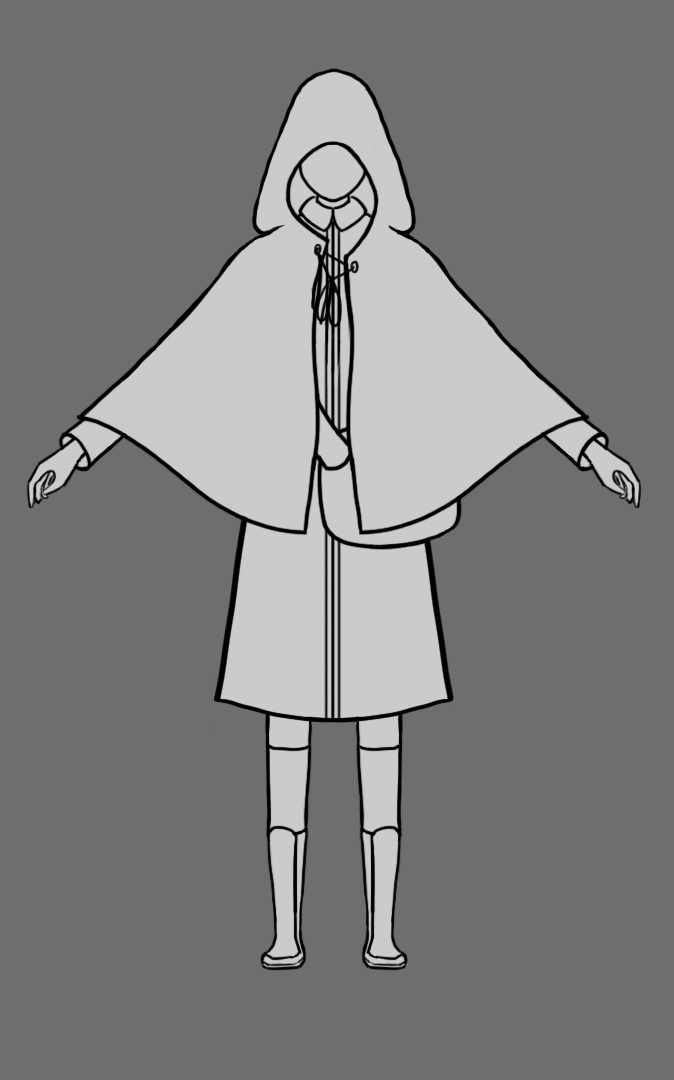 Of course, some details have to be added, like Aelizia's facial features, and others (like her shoes or the size and position of the bag, for example) might still change in the next phase of the development process, when we test colours, patterns and textures. But we believe this is a great starting point for Aelizia's model sheet, which will be revealed soon.
Intrigued? Stay tuned for more Eclipsed news!
#gamedevelopment #indiedevelopment #indiegame #indie #gameart