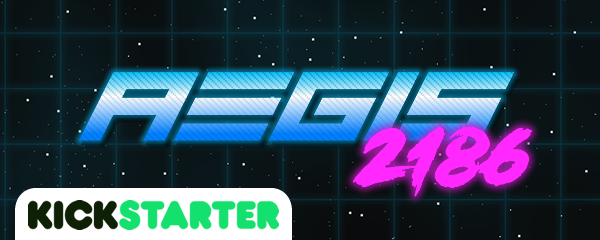 Hello again IndieDB'ers!
We are here with an exciting update for AEGIS 2186!
Our Kickstarter is live right now over at: HERE!

If you like the project, please consider supporting the project over there! You can get an alpha copy, be credited in-game as an early backer forever & help the game meet it's full potential by backing now!
---
With Kickstarter we can really push deveopment forward and get the final game out this year! If we meet our stretch goals we can guarantee a Steam early-access release this coming Spring (or sooner!) with all the fancy bells & whistles like achievements, trading cards and Steam leaderboards so that you can compete against your friends and the rest of the world!

We are looking at further fleshing the game out with new ways to play, firstly an unlockable Hardcore mode with different rules, separate leaderboards and a brutal & unforgiving challenge for veteran players. And secondly, a challenge/duel mode using Steam integration where players can challenge friends & other players to see who can get the best time in a one-chance one-off competition!
It will also be possible for us to work with artists to create an original 80's style synthwave soundtrack!
---
We've got 25 days left on the Kickstarter and a long way to go! The initial response has been really promising but we need your help if we want to reach the finish line!

Are you a game reviewer/press/streamer/youtuber and interested in covering our game? Get in touch and we will send you the latest alpha demo!

Thanks for reading, more updates coming soon!
-JollyfishGames
Follow our progress here!

Kickstarter: Kickstarter.com

Twitter: Twitter.com

itch.io: Jollyfish-games.itch.io

Facebook: Facebook.com
Here's our latest trailer if you missed it!


Thank you! <3