Hi all! As you probably know by now, I spend a lot of my Olvand time in caves these days, battling monsters. One important thing that I started to notice more and more, is that Olvand had grown into a 'shoot at everything that moves'-type of game combat-wise. I wasn't too happy with this discovery, because I think these games are interesting nor satisfying; I'd rather have players hide somewhere and wait until the right moment arrives, then having them clicking as fast as they can until a monster dies.
To put it more concrete, what would you think is more fun if you have to kill a 90 HP monster: having 20 bullets that do 10 damage, or 2 bullets that do 100 damage? I'd say the last one, as that option requires you to wait until you're sure you can hit a monster, and if you succeed you really feel like YOU have done it, instead of just firing bullets until you hit it enough times by accident.
Unfortunately, it's not as simple as limiting the number of bullets in Olvand, as you have an unlimited supply of those. So how do games with similar combat systems fix that? With long cooldowns! As an experiment, I greatly increased the cooldown time of all Olbs, and saw the effects immediately: because you now won't get another chance immediately, you have to tactically time your attacks, which makes combat much more fun.
It also turned out to have to downsides, however: (1) it made the player much more vulnerable to monsters and (2) it turned out to be frustrating for players that they have to wait so long before they can act. I'll discuss these things in detail below.
Missing monsters
So you've run at a monster, giving all you got... and there you are, next to that dangerous monster, with all your attacks on cooldown. The monster, on the other hand, still has plenty of Olbs to shoot at you, and does so while you desparately try to get away. Getting away, however, had basically the same effect as not doing so: as long as you are within range, the monsters hit you always, everywhere. [The live playtest with friends] in particular showed that this caused aggressive playstyles to be very inefficient; as soon as your attacks are on cooldown, the monster starts shooting back, and there was no way to get out without saying goodbye to half of your health.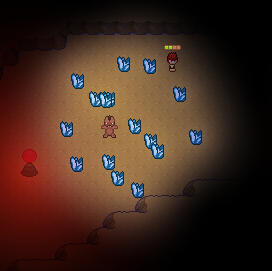 The solution? Making monsters miss sometimes. The larger the distance between you and a monster, the larger the chance it will miss you. If you're not too close to a monster, AND a little lucky, this means you can now get away without being hit. On top of that, it turned out to introduce another nice fun factor as well: trying to get away and seeing how an Olb juuuuust missing you is freaking AWESOME! I speak from experience :).
Giving players something on their hand: the quick olb
Another (but related) problem was the fact that having long cooldowns also means that players will spend more time waiting. While this might not necessarily be a bad thing in general, it might definitely be one for some players, who have more 'active' style of playing. Olvand's gun customization is one of its main features of the game , so I believe I should try to support as many playstyles as possible. Besides that, you also need Olbs when mining or lighting up caves, so there are also other reasons why I don't ALWAYS want to keep my players waiting.
The solution? A new, weak Olb, but with basically no cooldown:

If all your other attacks are on cooldown, you can still go on and on shooting this one at your enemies, so you are at least doing something. And like all other Olbs, it can be combined with all other Olbs to create short-cooldown but weak versions of them. For example, when combined with fire, you get a fire that you can use to light up various parts of dark areas quickly, but that also goes away quickly, when you combine it with the freeze olb, you can quickly stun others, but for a short amount of time. As always, there's much more, but I'll leave figuring out these combos to you.
If you want more development, see [twitter] or [facebook]. If you want to be a tester, you can subscribe on [olvand.com].