Finally!
After years in the making, I'm proud to release my fan game tribute to a fantastic SNES game series:
Download it now to find all the DK coins, KONG letters, and the secret level hidden in the first release of the game!
It includes the first world, that's 7 levels plus a bonus one!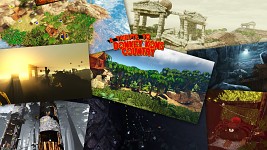 To convince you, what about watching the release trailer?
Or watch another level walkthrough, this one is called "Barrel Roll"!
But I think the best way is to try it by yourself! Let me know what you think!

Have fun!
Igor