Concept
In Hollywood Zombie Pinball Apocalypse the player controls a horde of zombies through the many universes of Hollywood. Seen from a bird's eye view, the zombies behave like pinballs and perpetually flow towards the bottom of the iPad screen. The player must contaminate humans, including movie stars, in order to replenish his Fame Meter and complete each level. Certain Hollywood Legends offer devastating powers once infected, which allow the player to reach new and unexplored sections of the universe!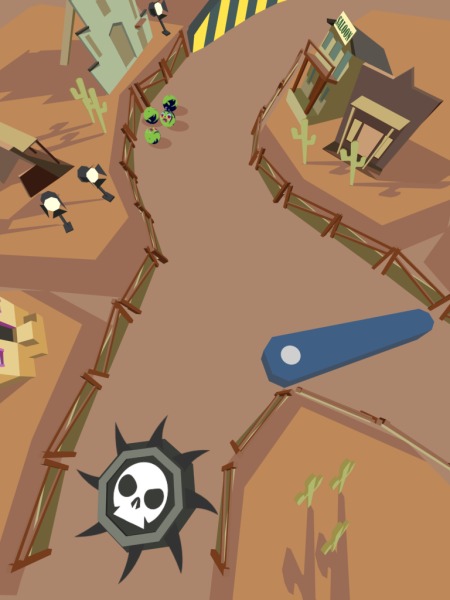 Gameplay elements
Here is a short description of our game's various gameplay elements. The many different inspirations of HZPA are divided into the following categories.

HOLLYWOOD – The setting
Our game levels take place on the Hollywood movie sets. Therefore the visual environment not only includes typical objects of the dream factory (movie cameras, spotlights, rigs…) but also movie décors. These settings correspond to several movie genres, here represented by game worlds. Right now, we're working on the "western" environment… More details coming soon!
ZOMBIE – The avatar
Our avatar is a zombie horde. At the beginning of a level, the player starts with a lone zombie and then contaminates other Hollywood inhabitants on the way. His horde grows and increases its power! Our zombies are spherical just like pinballs: they roll at high speed and can be angled, stopped, and
propelled… Infecting movie stars will even bring the horde mighty powers!
PINBALL – The interactive elements
As well as the zombies shape, references to pinball games are shown through our interactive elements. Whether it is bouncing on bumpers, triggering flippers or riding on rails, interactive element inspired directly by pinball add a fast-paced, dynamic boost to the game!
APOCALYPSE – The Fame Meter
The Fame Meter is a gauge which fills up when infecting humans. As it decreases with time, it is necessary for the player to contaminate humans on a massive scale. If the gauge is full, the horde unlocks new abilities as well as awesome super powers!
To conclude
There are three intentions leading our game's development: providing fun continually, achieving an arcade game play, and eventually a good accessibility for any kind of player. We hope you're interested by the game, and we'll keep you up to date about our project. Team member bios are coming soon! :)