Hi all! As promised last time, this week and the one after next week I'll tell you about the new Olbs that are in development for Olvand rose. I'm adding these new Olbs because collecting Olbs has become a lot more attractive now we have caves, so I might as well add a few new cool ones. This week: invisibility.
Why?
The beauty of Olvand's gun system of course is that everybody can pick their own playing style. That doesn't mean, however, that there are no similarities in the ways people play. So far, I've been able to identify three main playing styles (although people often use hybrids as well, so you might wonder how useful this categorization is):
* A ranged one, where people use Olbs with long ranges, and kill monsters without coming too close.
* A tanky one, where they use a combination of strong insta-kills Olb combinations, as well as some healing Olbs in case they get hit.
* Something using the freeze olb, where they first stun/silence the enemy, and then come a little closer quickly to kill it off.
A playing style that I am really missing here, and that I believe could add a lot more fun and variety to the game, is a more stealthy style, where you could avoid the enemies altoghether if you do it right. Or, to look at it from another direction, it might get a bit boring that you have to kill EVERY single enemy you encounter. Having some stealth option to make the enemy lose track of you might give you the needed variety.
What?
My first try at introducing a more stealthy playstyle is the invisiblity Olb:

I'm not happy with this symbol, but it turns it out it's pretty hard to capture the concept 'invisibility' in a symbol, let alone a 6 x 6px symbol. This is the best I could do, so we'll have to do with it for now.
In any case, what the Olb does is make invisible the thing it hits for 15 seconds. Combine this with the mine olb, and you can quickly make quickly make yourself invisible: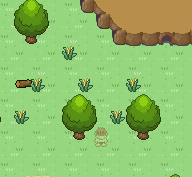 In combination
But what makes Olvand's Olb system really shine, at least in my humble opinion, is the fact that you can combine any Olb with all of them. What special combinations are possible with this new invisibility Olb?
* In combination with the mine Olb, you create an invisibility mine. You can put it somewhere for yourself or somebody else to get invisible when desired.
* In combination with the freeze Olb, you can create invisible iceblocks. Iceblocks where already used often to create obstructions for enemies, but with this combination you can even make invisible obstructions. The quickly light up when you bump into them, though, so players know what's stopping them.
* In combination with the health Olb, your health and level become invisible temporarily. This way, your opponents cannot see whether you are an expert at full power or a nearly-dead newbie, which can either save you from a deadly attack or prevent that your opponent flees quickly..
* In combination with the fire Olb you can create a fire that makes you invisible when you stand close to it. This way, you can create an area in your game where, temporarily, nobody can see you. If hope this will lead to awesome tactical play, similar to how the bushes work in League of Legends.
... and of course, there is much more (as I said, you can combine it with any other Olb), but why don't you guys discover the rest yourselves once Olvand rose comes out?
If you want more development, see [twitter] or [facebook]. If you want to be a tester, you can subscribe on[olvand.com].