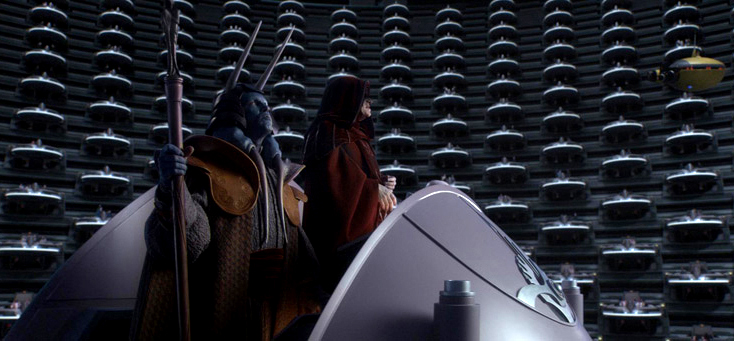 "Senators, friends and trusted allies..
It's a sad day.... And will in the future be a day or mourning.. Those
that we trusted the most have betrayed us. I stand here with a list of names of all those who perished in the bomb yesterday. 178 senators and over 1000 others didn't make it out of the building before the bomb went off.
I stand before you today with a heavy heart, no longer can I deny what is right in front of me. I can no longer deny the truth. The Jedi has betrayed us and everything they stand for, the Jedi has betrayed even me. The corruption of the Jedi Order have spread far beyond containment and I do not have the strength to prevent the inevitable. It is time to do something about it, until the Jedi Order has been cleansed we cannot ensure the safety of the Galactic Alliance. The Jedi was once honest and sought to save us from corruption and darkness. I was one of those Jedi, but they has become what they sought to destroy! No longer can we tolerate this and we must secure the freedom of everyone under the protection of the Galactic Alliance. To do this we must immediately contain the threat that the Jedi pose! I say enough is enough, and with your support my fellow senators, troops will be dispatched immediately to arrest all Jedi and seize their assets!
The Galactic Alliance has failed and will soon start to fall into chaos and anarcy or maybe even civil war. Already are our neighbors gearing up for assault, the Mandalorians have been increasing their military even though this is officially peace times. And for what? To defend against a rumor? Doubtful. Their intentions are clear, as we speak they are waging a war on the Hutt Empire to cut our nation in two, with the intend on forcing a trade of regions. Will we stand for such an insult? To ensure the safety and prosperity of our nation, for the common good of our people and the freedom of all that hold deer and seek to protect. The Galactic Alliance will be re-organized into a
New Galactic Empire! For a safe.. and secure.. society.
Now senators, there is much to be done. If we are to stop this corruption before it spreads or makes and escape to haunt us later. We must act now, with an iron fist we must beat down this insurretion before it begins!"

Long Live the Empire!