Today, I was going to show you both the GDI Titan AND Juggernaut and a handful of civilian people.
WAS.
My computer's disk drive decided it was time to kick the bucket, which is awful. THANKFULLY I have the good sense to back up my work, but apparently not as frequently as I should.
Not too terribly much was lost TS:AE wise. Pretty much everything from the last news update is gone, Including infantry and the extra modular buildings unless I can somehow get this disk drive to work again. I have a friend looking at it, and hopefully some magic can happen.
If not, it isn't an incredibly huge loss, but it will take some time to bounce back from.
Thankfully, not all was lost on this recent turn of events. I do have some stuff to show, although it isn't the spectacular display I had promised.
I had transferred some work over to my flash drive to take with me on a trip, and while not all of it survived, here are a few containers and the revamped cargo train. There are two pieces to the front engine that can be added in as optional to provide more power to your cargo convoys. All of the containers are vehicles currently, but that means that they can be manipulated by carryalls and do various other things that you can't do with a building.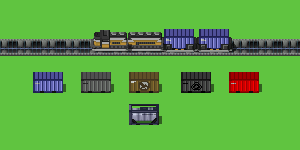 *sigh* hopefully that spectacular post will come next week.
Keep your fingers crossed.