We have a Experimental version of the HaZardModding Coop Mod for you available to try!
Please notice that this version is not meant to replace the old version (5 Build 16), at least not yet!
So why do we release this version you might think... Well, there are two reasons. The first reason is that we wanted to host a event to promote the Mod a bit. We planned the promotion to be set shortly before Christmas. But there where so many difficulties that needed to be worked out, that we are now having a after Christmas event instead.
It is more fitting anyway since you have to shoot the trees in order to win. The second reason is that we need our Mod tested and the best way to do this is to give it to the very people that want to play it.
Our updated version of the HZM Coop Mod Installer, will restore the previous HZM Coop Mod Version upon uninstall, so that you can safely test the Experimental version!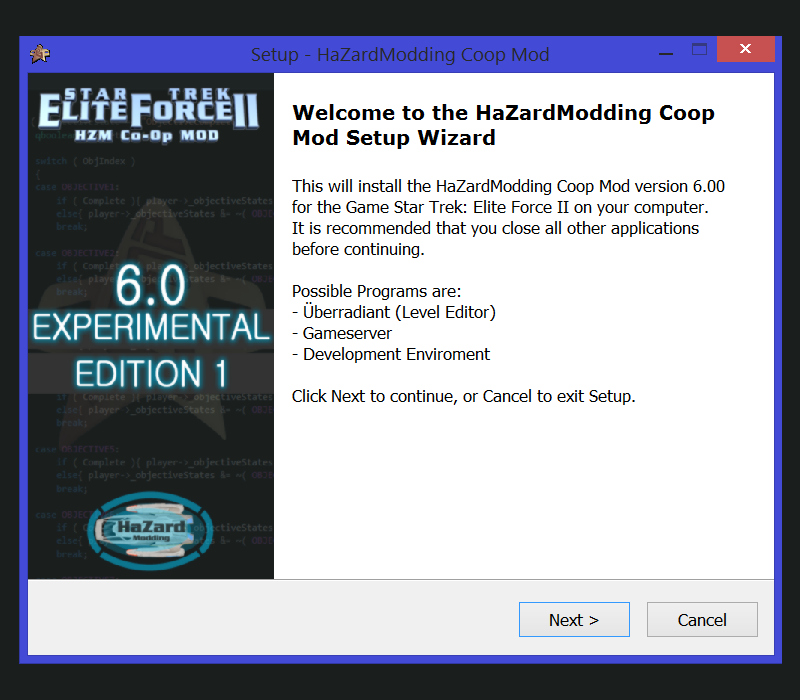 Download the Experimental Coop Mod version.
So now here are the details about the After Christmas Event:
Find all 11 Christmas Trees on the map coop_icestation, to qualify for the Event. Each of the first 10 qualified Participants can select 1 game from the list further bellow.
Please Note: This Event is NOT sponsored, supported or endorsed by Ritual Entertainment, Activision, Facebook, Moddb.com, Steam or any other third party. All Tradmakes, belong to their respective owners.
The Rules, Conditions and Requirements are:
The event ends on February the 1st 2015, or when 10 winners have been declared
No use of cheats (especially NOCLIP) in game
No use of Spectator Mode : Free-form
No use of any cheating, treasure hunt or help Websites or Documents
You can only become qualified once, one gift per participant
You need to be a real or natural persons, no Robot- or Hack-Programs accepted
You need to play in MultiMatch, go to Start Server and Select the map coop_icestation in the menu
You need to have a proper name in game, the name can be set under MultiMatch, Player Setup, names like Redshirt or Spieler are not accepted
You need to Submit both screenshots to HaZardModding until the end of Feburary the 1st 2015
You need to download and copy or install the given Test Version of the HaZardModding Coop Mod, for the qualification code to be generated
You need to find all 11 Christmas Trees on the level coop_icestation
You need to have a Steam account to activate the gift
You need to be legally permitted to participate
You must request only a game you are legally permitted to own
You do not need to register to Facebook or Moddb.com, but it would make things easier
We will not accept or ask for payments of any sort, all contents are provided for free
We will not ask you to give us any personal data, or passwords
We reserve the right to deny any participant the Gift if we have reason to assume a misconduct
We can only send you the gift via steam, either directly through Steam, or via E-Mail, either way you need to have steam installed to redeem it
We can not take any responsibility for any damage that might be caused by our Coop Mod, the gifted Game or anything else related to this event
We will not collect any personal information of any participant, and certainly we will not keep any personal data that might has been accumulated beyond the duration of this event
We do not provide any Hacks, Trojans, Maleware, Spysoftware or any other Software for that matter, and we do not endorse it either
Any recourse to courts of law is excluded
The available Games as STEAM Gift are listed bellow, please note if someone else already qualified and requested a game of which only 1 Copy is available, then this game becomes unavailable for the remaining participants.
1x Alan Wake Franchise
1x Aliens: Colonial Marines
1x Brink Complete Pack
1x Chrome + SpecForce Bundle
3x Duke Nukem 3D: Megaton Edition
1x Garry's Mod
3x Insurgency
1x Killing Floor
2x Left 4 Dead 2
2x Postal 2
1x Star Wars Jedi Knight: Jedi Academy
1x Star Wars Jedi Knight II: Jedi Outcast
1x The Void
It is not required to participate, but we would be glad if you follow us on Facebook: Facebook.com
Or join the Facebook Group: Facebook.com