Today's update is about the Chapters of the mod. I looked back on our previous updates and saw that there wasn't that much actual information on the layout of the mod, so I thought I should fill you all in on how things are set up.
In Development will have 6 Chapters. The first three are games that the developer has finished (the memory part of his brain), while the remaining three will delve into the other parts of his mind. Once the player leaves a "game", the chapter ends.
So far, we've been working on the mod chronologically, meaning once Chapter 1 is done, we'll move on to Chapter 2, though this might change if development on the mod needs to speed up. While the first chapter is being worked on, I've put some time into writing out step-by-step what happens in the chapters.
Today, I'll be showing you what I've wrote for Chapters 1 and 2, albiet with major plot points removed. Be warned, anything here is subject to change, since the mod is in development. (/pun)
Chapter 2
Title: Duke-Life (WiP)
Theme: Action games & movies (explosions, jumping through glass, shiny weapons, one-liners, seldom use of doors for entry).
Weapons: Dual Pistols, Dual Uzis, Dual Shotguns (everything's better when you have two), Debug weapon TBA
Goal: Player must head to the Bank to cash Random Citizen's check. Since the roads are cut off, he must plow through corporate buildings run by terrorist groups. The player first meets **** in this chapter, who tells them where he is and why he's in a developer's mind. Possibly introduce new dement type.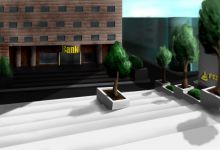 Chapter 1
Title: Call of Honor (WiP)
Theme: Lemming-like enemies, One-man army, impossibly stero-typical nazis. Keep things light to introduce player to the "game" concept first.
Weapons: Thompson, Springfield, Pointer
Goal: Player wakes up on a boat, gets smacked in the face by a Sargeant and told to disable the Artilery cannon that's attacking the beach. Player defeats a Super Nazi before disabling the cannon, and must head down to the boat for extraction. Introduce the "hunter" Dement.
As for the demo, we have changed it to cover the entire Chapter 1, since the 2nd half of it will definately provide an extra "push" for the mod's setting. Here's how the 2nd half of the chapter is looking:
The map starts with the player rushing back into the base with the Dements hot on your heels, and ends with a L4D crescendo-style flourish.
That ends In Development's 3 day update. I hope you enjoyed this style of releasing updates, since it's not something that many mods do (and for good reason, my brain is frazzled!).
Mod of the Year
I've noticed many mods make news posts about reminding people to vote for them for MotY, some who deserve them and others who don't. I've always thought that it was about the best released mod out there, so I completely disregarded it. However, a friend recently told me that MotY has a category called "Best Unreleased Mod", and so that completely changes things for me and In Development.
Am I going to push In Development into your face and urge you to vote? No. However, I'm not going to discourage you from voting for us. I personally think that some other mods that have a chance of releasing in 2010 should win Best Unreleased, like Mortewood Plaza. That mod could be completely released by the time we release our 1 chapter demo.
Basicly, I don't think we should win. If you like our concept however, vote for us. I'd be happy if we get honorable mention at this point.
In Development's development has only just begun. I started this mod with no prior experience with C++ or the Source engine, and look how far we got with just 6 months of work (2 of those months were spent learning, mind you). By this time next year, who knows how the mod will look by then? Only one thing is a given...
It will be sexy.