The Independent Games Festival, the popular industry event highlighting and awarding the talents of independent game developers, has announced the winners of the 2010 IGF Student Showcase, which recognizes outstanding indie game development taking place on school and university campuses around the world.
This year's set of ten Student Showcase winners include titles such as Utrecht School of the Arts & USC's virtual paper-folding puzzle game Paper Cakes, DePaul University's first-person 'sound visualization' title Devil's Tuning Fork, and Chalmers University's ingenious card-shuffling platform game Continuity.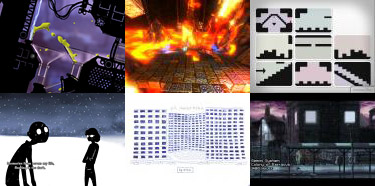 These ten games will go on to compete for the Best Student Game Prize, announced on stage at the Independent Games Festival Awards, held Thursday, March 11, 2010, in San Francisco at Game Developers Conference 2010.
The Student Showcase-winning games -- all of which will also be playable at the IGF Pavilion on the GDC 2010 show floor -- were chosen from a remarkable field of entries by an opt-in subset of the more than 150 notable game industry figures judging the IGF Main Competition.