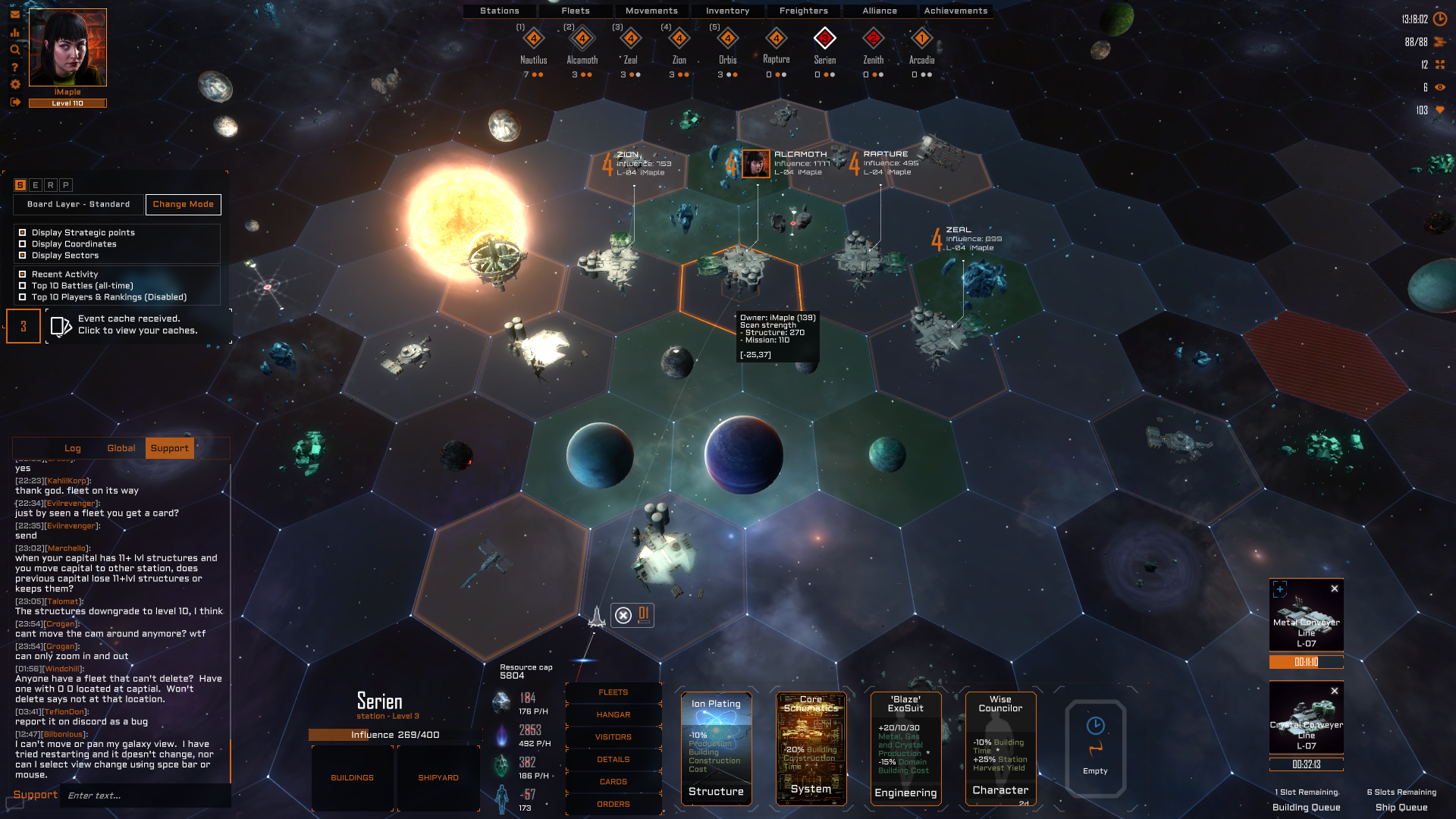 We're happy to announce the first patch for Alpha 7. From finding the most obscure bugs to completely breaking the balance, you've been a tremendous help for the dev team. Thank you all for helping us create a better game.
---
General
Covert Ops now spawn ready and no longer require an hour to become available.
Fleets can now choose to stay at the station they built.
You can now return to the login scene / server list instead of closing the game.
Added an option to disband Mercenary cards to receive two copies of lower level Mercenaries.
Bugfixes
Fixed a bug causing industrials to return without resources if the construction failed.
Fixed an issue causing fleets to return without completing Events and Missions.
Fixed a number of sorting issues in the Rankings.
Fixed a calculation error causing outposts to have less HP than intended.
Fixed a bug preventing escalation probes from disappearing after the mission has been completed.
Fixed a bug where OOS penalty wasn't applied during combat.
Fixed a bug causing Rivet Potential to increase Station Influence instead of XP Generation.
Fixed an issue causing the Link Coordinates function to display an empty line in chat.
Interface
Changed movement filters to "Military", "Exploration" and "Industry".
Names, Stations and Outposts are now clickable links in reports.
Added combined fleet stats to fleet operation tooltips.
The player rankings now display profile pictures.
Escalation probes now display a tooltip when hovering over them.
Replaced the static ship images in the shipyard with rotating 3D models.
The HUD now displays server time.
QoL Changes
Hovering over a station now highlights all of its outposts.
If a station is selected, it will also be selected as the sender when opening the freighter menu.
Shipyard now calculates the total stats of ships selected for construction.
NPC stations now assemble their ships in fleets instead of remaining in the Hangar.
Fleet Events that expired without being completed or ignored now spawn in the active state instead of the pending state.
Viewing a card no longer closes the cache opening scene.
Card selection window now displays how many copies of each card are available.
Hovering over conditional stat boosts of a card will now display a tooltip in the card selection view.