Version 0.2.4 Released!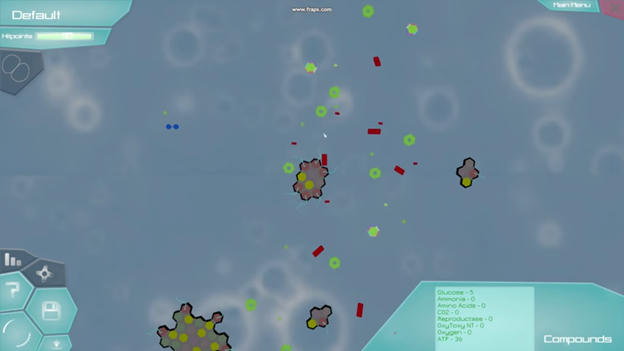 Another half-year, another release! And this one brings you the long-awaited GUI update, which we kept promising soon while we were too busy to work on it! But it is done! And so we release! Yay!
Note, the linux release this time is on mega, thanks to issues uploading to GitHub.
New Features
All the features from the previous release
A super-awesome new GUI! Yay!
New microbes, new behaviours!
Some microbes are now toxic, so be careful who you kill!
Others will hunt you down and shoot at you. Choose your battles wisely.
Revamped reproduction! Swim, eat, metabolize, reproduce!
Sound effects for everything, from button-clicking to microbe death!
New compound models, for ammonia, amino acids, and reproductase!
An arrow in the editor so people will remember which way is forward!
Name your species! Click on your species name in the editor, write something, then hit F12!
Thanks to the 2-week pre-release, we have fixed a whole lotta bugs!
Controls
Point mouse to turn
WASD to move around
Mouse scrollwheel to zoom
E to release toxins (if you have any)
ESC to toggle menu.
F1 to toggle alternate reality (Debugging feature)
` to bring up console (Debugging feature)
F2 to switch between microbe stage and microbe editor
F4 to save your current gamestate
F10 to load your previous saved gamestate
F12 to save a name-change
Known Issues and Disclaimers
The save button in the editor to save your creation is working, but the load button does nothing. Instead you can open the console with '`' (the key left of 1) and enter: loadMicrobe("MyMicrobeName") and hit the enter key
You guessed it, honeycombs. Membranes are hard, but we now have another prototype, with some nice behaviour we're getting closer to putting in-game.
For other less major things, go see our Issue List.