Hi all;
This is the first news post after White Night release; and first is first, "THANK YOU!"
Really, thank you for showing your interest this much, for all of your feedback. White Night got more than 8000 downloads in total and it has a solid 9.5 / 10 rating with 61 votes. Thank you all.
Now, let's begin our session today.
Translations
I was hoping more people would be interested in translations, but it turned out to be fewer than I expected. White Night is English only at the moment. However, there are translations on the way.
Turkish, Czech and German translations of White Night are ready. French, Italian, Spanish, Greek and Swedish translations are on the way. If you want to help with translation of another language, it'd be highly appreciated.
Bug Fixes
There are some bugs and mistakes I noticed after release. Sorry guys, but I'm working on them. If you can inform me about the bugs and mistakes you encountered, there is a chance White Night will be completely bug-free with the upcoming update.
Some people told me that there are some black lines on some of the textures. I'm looking into the matter, but to be honest, I have no idea what might cause this. Also, closing off SSAO seems to worsen things. This occurs only for some specific nVidia cards and I can't test the results properly. So I can't promise if this issue will be solved.
Postmortems

I didn't want to go with "hey guys, I have an experimental game here..." etc.; but there were things I wanted to test and see the results of them in White Night; like why I added an intro, why I gave David a voice to distance the player from the protagonist. If you, by any chance, are interested in how's and why's of White Night, check my postmortem posts.
Interview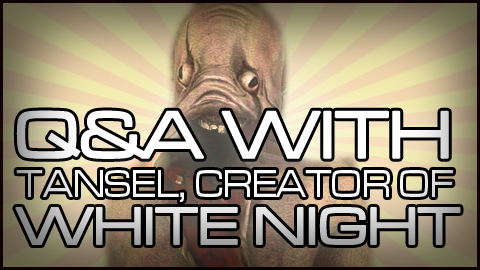 I'll have an interview with Morfar (for Nordrassil Radio). It's a bit unusual, because they usually interview with internet stars, which obviously I am not, but hey, thanks for the chance man! If you have any sick questions and planning to ask, don't ask me. Instead, post your question under this video; and there is a chance your question will be picked.
That's it for today! See you (your questions to be exact) in the interview.