So, here it is, the first small essay about where exactly What Remains takes place, and other cool stuff. Some parts the cautios reader already knows, some stuff is new. Everything is still vague enough to don't drop in spoilers by accident.


What Remains will take place in the northeastern region of the former United States of America in the year 2097, precisely in the Midwestern Commonwealth, merged from the states Indiana, Wisconsin, Michigan or Illinois for example. Even though the region might sound familiar to our real life universe, the war has left scars on the actual people living there, the fauna and flora, and the very landscape itself.
Craters as big as cities, former flatland now turned into big ranges rendering the travel impossible, former lakes or rivers either dried out, or with now complete altered courses, all due to the devastating power of the bomb.In prewar days, the Midwestern Commonwealth consisted of many lakes and rivers, so does the postwar area look like. There are many swamps and riversides, it's rainy, but there are also parts where the land completely dried out and turned into a desert.
In the north, you have radioactive snow falling down, you don't want to go there (eventually you must in the game, though). Ash and death is everywhere.You'll meet a lot of new critters, consisting of natural (although perhaps mutated?) animals, as well as human organizations trying to come by.At the start of the game, you'll only find a very inaccurate weathered prewar map, like this here. (*) You'll really want to find someone who can draw you a better one as soon as you can, as the landscape has changed and trusting prewar maps may be a certain death for your character.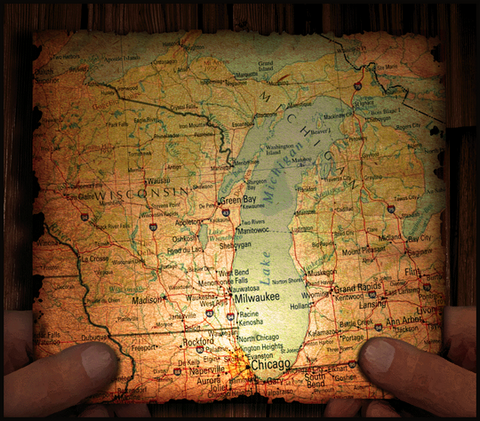 *not the final version

The game tells a linear story, staggered into chapters, with always some months, sometimes even years between each chapter, to compensate the huge size of the actual gameworld.
The slated number of actual hours spent with gameplay is around 20 hours, maybe a bit more.
Depending which traits you choose, what age your character is (and other variables) the start of the game changes.
A huge part of the game will be spent on your characters story and progression, to connect loose ends, to answer questions about yourself (and maybe even the himself?)
Although What Remains is not aiming for an "epic-safe-the-world" campaign, you'll be able to alter the very future of the locations and people ingame, aswell as your characters future.
Help communities ingame, or watch them dying. It's your choice. Often choices won't come out as you expected, though.