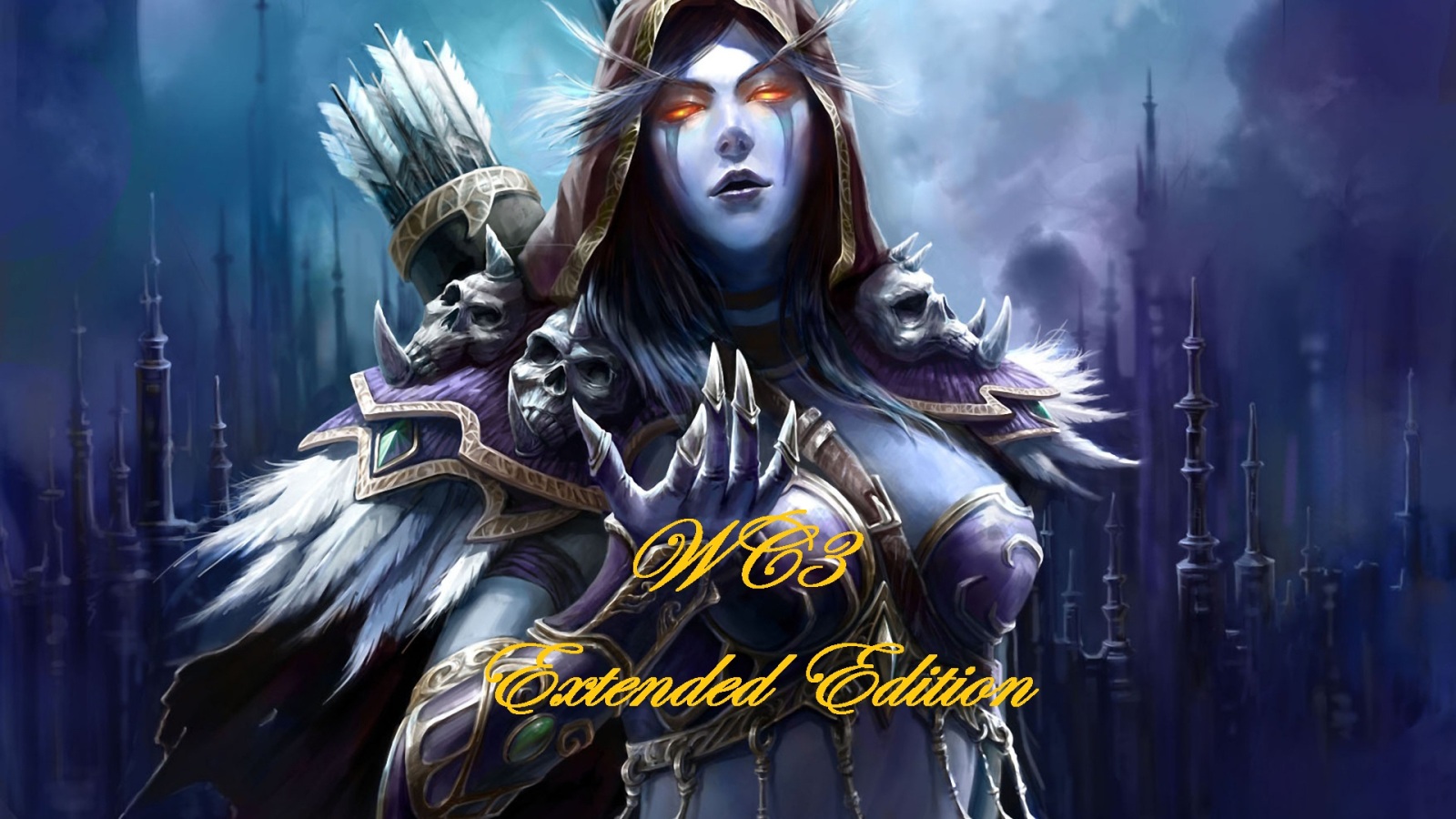 After a long time, Warcraft III Extended Edition is getting an update - and a pretty big one. The main changes in version 1.0 are a new system for picking factions, some new content and 2 new maps. It also includes balance changes and bugfixes.
---
Faction Picking
At game start, each player choses a faction from the list of factions. The factions in the list depend on the chosen vanilla faction.
Possible choices are:

Human:

Alliance - the vanilla Human faction.
High Elves - a faction centered around the High Elves of Quel'Thalas.

Orc:

Thrall's Horde - the vanilla Orc faction.
Fel & Dark Horde - a mix of units and heroes from the Fel Horde in Outland and Rend Blackhand's Dark Horde.

Undead:

Scourge - the vanilla Undead faction.
Forsaken - Sylvanas Windrunner's Forsaken, inspiration taken from The Frozen Throne's Undead campaign and WoW storyline.

Night Elf:

Sentinels - the vanilla Night Elf faction.
Watchers - similar to Sentinels, but with a greater focus on Huntresses and melee combat.
Ilidan's Naga - a faction inspired by the Naga faction from The Frozen Throne's Human campaign.
---
New Content & Balance Changes
New Maps:
High Elves:

Silvermoon Ranger's Scout ability replaced with Summon Wolf Companion ability. This ability summons a Wolf Companion unit, which lasts for 70 seconds. The Wolf Companion gians new abilities and more hitpoints and attack damage with each level.
Sword Mastery bonus damage is now 2 instead of 1.75 times the normal damage.
Orb of Slow now costs 400 gold instead of 550.

Fel & Dark Horde:

Black Drakes are now trained in the new Black Dragon Roost building.
Black Drakes now cost 6 food instead of 5.
Fel Orc Warlocks' Lightning shield ability replaced with Raise Skeletal Orcs ability, which summons 2 Skeletal Orcs from a corpse. Skeletal Orcs last for 45 seconds.
Added the Ogre Magi as a trainable unit in the Spirit Lodge. They can initially cast the Eye of Kilrog ability and can learn Feedback and Arcane Lightning.
Gul'dan's Shadow Orb now costs 500 gold and gives +5 Attack, +100 mana and bonus hitpoint regeneration.
Added the Troll Reflexes upgrade in the Barracks. This updrage increases and the attack and movement speed of all Troll units by 10%.
Reduced the hitpoints of Fel Orc Peons from 320 to 300.
Fel Orc Grunts now cost 235 gold onstead of 200.

Forsaken:

Fallen Rangers and Spectres can now learn the Shadow Meld ability.
Spectres start with 0 mana and can now be reanimated into Fallen Rangers by using their new Reanimate ability, which costs 200 mana.
Spectres now cost 2 food instead of 1.
Noble Sacrifice now revives 3 friendly units instaed of 2.
Mind Poison now stops the target unit from casting spells and deals 15 damage per second for 15 seconds.
Replaced the Disease Cloud ability on Meat Wagons with the Forsaken Plague Cloud ability, which deals 4 damage per second to enemy non-undead units for 120 seconds.
Stonemaul Ogres now have 1100 hitpoints and have been given the Taunt ability.
Stonemaul Ogres's Crushing Blow ability must now be unlocked with an upgrade available in the Slaughterhouse.

Sentinels:

Feathermoon Captains' Spy ability renamed to Scout Ahead.
Feathermoon Captains' Scout Ahead ability now requires the Tree of Ages.

Watchers:

Huntresses have 3 more attack, 75 more attack range and 100 more hitpoints compared to Sentinels' Huntresses.
Maiev's Elite now cost 4 food.
Maiev's Elite hitpoints reduced from 750 to 700.
Maiev's Elites' Blink now requires the Tree of Eternity.
Maiev's Elites' Backstab ability now costs 125 mana.

Ilidan's Naga:

Mur'gul Reavers' attack reduced to 16-19. Their attack cooldown time has been reduced from 1.60 to 1.40.
Mur'gul Reavers cost increased from 120 to 130.
High Priestesses no longer have the Resistant Skin ability.
Healing Waters ability cooldown increased from 2 to 3 seconds.
Summon Sea Elemental ability now costs 200 mana.
Coral Beds have been given the Replenish Life ability, which restores the hitpoints of a target friendly unit.
Tentacle Guardian had it's attack range reduced from 350 to 325.

And many more minor balance changes and tooltip changes that I forgot to mention.
---
Some hotkeys may not work.
There might be typos and inaccuracies in tooltips.
Some features might be over or underpowered. Balancing the game will require feedback from players.
The Hive Workshop.
Jiuce_F.
Ujimasa Hojo.
Sellenisko.
Sin'Dorei300.
Blizzard Entertainment.
And all others whose names I either forgot or couldn't find.
Names are listed in no particular order.