Introducing the Total Chaos Directors Cut, due April next year. This version adds 2.5 – 3 hours of extra content to Total Chaos, expanding the story-line and adding many new goodies including more enemies, weapons and chapters.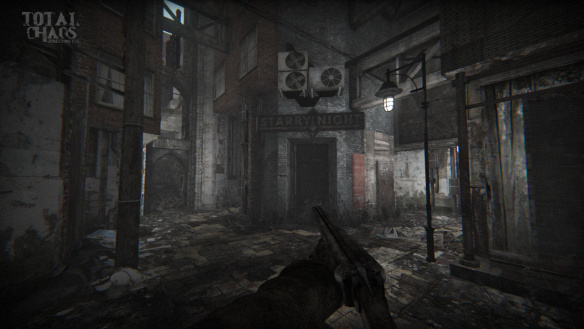 3.5 New Chapters
The upcoming expansion content will add 3 new chapters interlaced into the standard campaign. The chapters include:
Madness, fight along a coastal district through abandoned police stations and utility holdings to unlock a security gate from a nearby offshore prison. The only twist, is the prison is submerged under the ocean.
Forgotten, fight through a suburban district on the south side of Fort Oasis in one of the biggest and most open maps ever made for Total Chaos.
Crossroads, fight through a forest at the foot of Fort Oasis' central district.
Along with the new chapters, several changes and extensions have been added to the current collection of maps, including added boss battle arenas!
11+ New Weapons
The Directors Cut will also include 11 new weapons, including the Pipe SMG and Revolver pistol. Along with these, there will also be deployables, including bear traps and landmines.
Crafting will come with significant improvements too, including the ability to strengthen weakened weapons and to sharpen most of your melee arsenal to add a damage boost.
The amount of items you will find on Fort Oasis has been drastically increased also, allowing the ability to find different armor sets to improve the odds of your survival.
But with more weapons and armor, comes even more powerful foes…
7+ New Enemies
The enemy roster will have significant increases, including The Rotten (seen above), a monster that rushes in packs.
The current enemy roster will also see improvements, including Brutes having the ability to wield melee weapons!
Expected Release?
Currently I'm aiming for a April 2019 release, although this could change depending on how development goes from here.
Originally I planned to split this content up into 3 separate updates, although ultimately I figured this would cause fatigue in replaying the mod over and over again to experience it.
In saying that, after the release of the Directors Cut, there aren't any immediate plans to make more expansion content, although we'll see how it goes.
More info soon, stay tuned!
Retro Release!
Total Chaos Retro Edition is also now available to download! You can grab it right here at ModDB!